How
companies
get more
done with
freelancers
Upwork Enterprise combines
technology with talent
sourcing and compliance services. The result is work delivered to you faster and more affordably.
Request A Demo
Leading companies choose
Upwork enterprise:
How Upwork


enterprise
helps you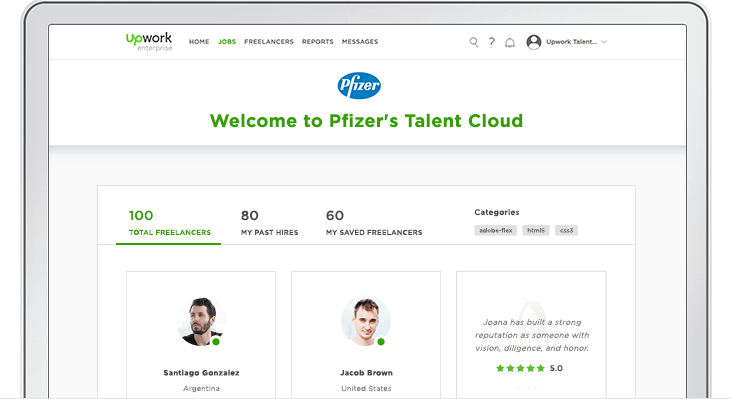 Find top independent contractors
Support your in-house team with direct access
to pre-vetted developers, designers, writers,
translators, analysts, and more.
Learn more
Centralize freelance contracts
Contract talent, track work, and pay freelancers
from a single platform. Give your admins full
visibility across departments.
See product tour
Rest easy with
worker
classification
Our comprehensive compliance
services classify
your freelance
engagements and protect you from
misclassification risk.
Learn More
" If it wasn't for Upwork Enterprise...this program wouldn't thrive the way it did.
Anthony Massarweh / Program Manager
Get the talent
you need in
3 days,
not 30
Save
60-90%
Over traditional
agencies
deliver world-
class work
4x
faster
Resources
and best
practices
Customer stories, context, data,
and third-party research to
jump-start your success.
Want
to
learn more?

get more
done with
freelancers.
See how your team can