Fast access to quality
talent
Get agency-quality work
from a pool of experts —
from web and mobile
designers and developers to
creatives, writers, and
analysts.
Learn More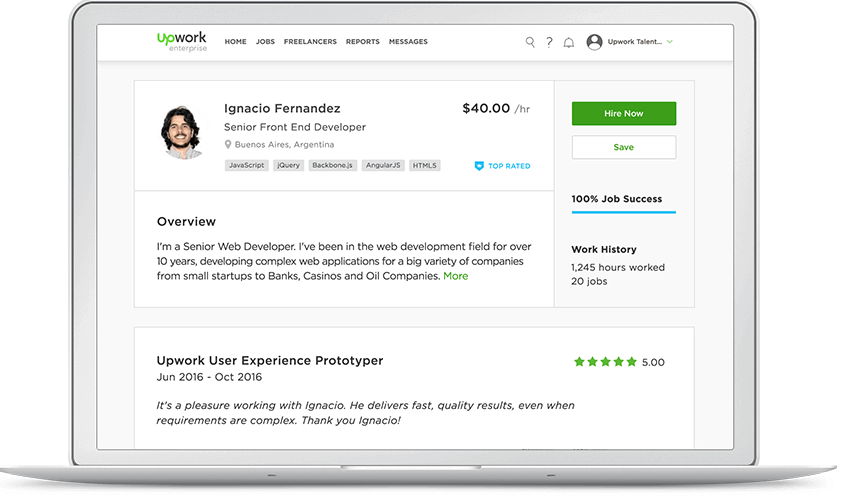 Choose
skills
on demand
from 5,000+
Upwork Enterprise helps you extend your in-house team with direct
access to millions of independent
contractors, freelancers, agencies,
and consultants.
Content
writing
Blogging & article
writing
Copywriting
Editing
Translation
Creative &
Design
Web design
Graphic design
Videography
Illustration
IT &
Engineering
Web development
Mobile development
Software development
QA testing
Sales &
Marketing
Email marketing
Lead generation
Marketing operations
Web analytics
Business
operations
Admin assistance
Analytics
Data entry
Project management
Proven talent
proven success
Freelancers are verified through work history, client feedback, skills tests, and more. Algorithms use these data points to identify the best performers and acknowledge them with a Top Rated badge on their profiles.
For added assurance, Upwork Enterprise clients get access to an even smaller subset of freelancers we've pre-vetted with skills-based tests and interviews.
FAQ
Freelancers in our marketplace vary widely and include independent professionals, consultants, agencies, IT development shops, and more.

They tackle a wide range of projects — big or small, one-off or repeat, individual or team-based. Whether you need a content writer for an SEO-friendly blog post, or a 24/7 software development team to build a mobile app or create a web portal, you'll find talent on Upwork ready to support your business.

A freelancer is commonly used to describe a person that sells their services on a project basis rather than work on a regular basis for one employer. On Upwork, freelancers include a wide range of entities, such as independent professionals, consultants, agencies, and other independent contractors (IC). You can learn more about the differences between and an IC and an employee here

While ultimately it's your responsibility to make sure a freelancer meets your needs, we have several measures to verify that freelancers are who they say they are. In part, this includes authenticating email addresses, displaying feedback on freelancers' past projects, and providing results of online skills tests.

For added confidence, Upwork Enterprise clients have access to a pool of freelancers we've pre-vetted via skills assessments and interviews.
What work
can you get
done?
Here are a few projects recently
completed through Upwork.



"Companies that aren't distributed can't possibly say they hire the best people… the world is a big place.
Tom Preston-Werner / Founder
Want
to
learn more?

get more
done with
freelancers.
See how your team can