Digital Experience Designer
Utilize 8+ years experience in communications design for software, media, and nonprofits. Optimize your digital experience by improving your website, social media, or other cloud-based systems in line with your business goals. Form trust around your brand and represent your service offering in the best possible way online. Hire me for the following services: - Account-based data mining - Strategic GTM planning - Content design and execution This "gig economy" thing is new territory for many business leaders, so it's necessary to make deliberate decisions based on data. My background includes work with teams big and small - from global agencies to startup nonprofits around the country. With this multi-disciplinary background, I'll explore your audience, and goals to draw up a strategic roadmap. I can help with development and implementation of end-to-end systems that leave a delightful impression on your users. From initial planning and journey mapping to developing and managing all of the necessary digital assets, my experience revolves around strategy, analysis, design, and development to plan, produce, and optimize the components needed to facilitate a meaningful presence. I've had to privilege to collaborate with a diverse set of teams on these websites: musmktg.com pacteraedge.com eastsideaudubon.org mdlogix.com lobesmusic.com My goal is to help your team achieve the common goal - while learning as much as I can in the process! I like to innovate, but I also like to build on what works. Peace out ✌🏻
Create Comprehensive Marketing Plan
Feb 15, 2022 -
Nov 3, 2022
Digital Marketer needed for social media and Squarespace development
Dec 16, 2019 -
Nov 3, 2022
Wordpress & Wix manager for several company & client websites
4.60
Mar 28, 2022 -
Oct 10, 2022
Technical Marketing Specialist
5.00
Jan 10, 2022 -
Mar 31, 2022
Keyword Research for YouTube Videos
4.45
Oct 27, 2021 -
Oct 29, 2021
Content Plan for Marketing Agency
5.00
Feb 29, 2020 -
Oct 1, 2020
"Hayden did a fantastic job, would work with him again."
Portfolio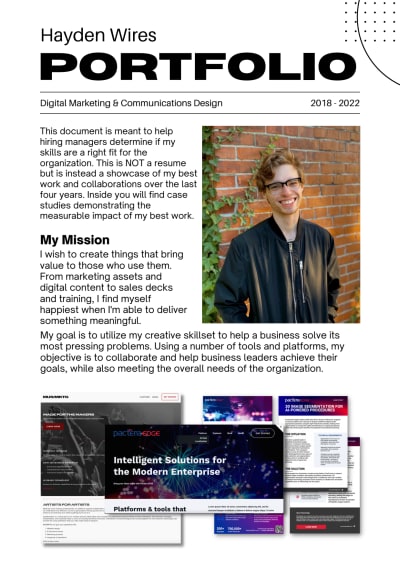 Best Works 2018-2022
Web refresh for healthcare company
Skills
Logo

Brand Strategy

Social Media Strategy

Design Writing

Facebook Marketing
View profile
Digital Experience Designer
Specializes in
Utilize 8+ years experience in communications design for software, media, and nonprofits. Optimize your digital experience by improving your website, social media, or other cloud-based systems in line with your business goals. Form trust around your brand and represent your service offering in the best possible way online. Hire me for the following services: - Account-based data mining - Strategic GTM planning - Content design and execution This "gig economy" thing is new territory for many business leaders, so it's necessary to make deliberate decisions based on data. My background includes work with teams big and small - from global agencies to startup nonprofits around the country. With this multi-disciplinary background, I'll explore your audience, and goals to draw up a strategic roadmap. I can help with development and implementation of end-to-end systems that leave a delightful impression on your users. From initial planning and journey mapping to developing and managing all of the necessary digital assets, my experience revolves around strategy, analysis, design, and development to plan, produce, and optimize the components needed to facilitate a meaningful presence. I've had to privilege to collaborate with a diverse set of teams on these websites: musmktg.com pacteraedge.com eastsideaudubon.org mdlogix.com lobesmusic.com My goal is to help your team achieve the common goal - while learning as much as I can in the process! I like to innovate, but I also like to build on what works. Peace out ✌🏻
Create Comprehensive Marketing Plan
Feb 15, 2022 -
Nov 3, 2022
Digital Marketer needed for social media and Squarespace development
Dec 16, 2019 -
Nov 3, 2022
Wordpress & Wix manager for several company & client websites
4.60
Mar 28, 2022 -
Oct 10, 2022
Technical Marketing Specialist
5.00
Jan 10, 2022 -
Mar 31, 2022
Keyword Research for YouTube Videos
4.45
Oct 27, 2021 -
Oct 29, 2021
Content Plan for Marketing Agency
5.00
Feb 29, 2020 -
Oct 1, 2020
"Hayden did a fantastic job, would work with him again."
Portfolio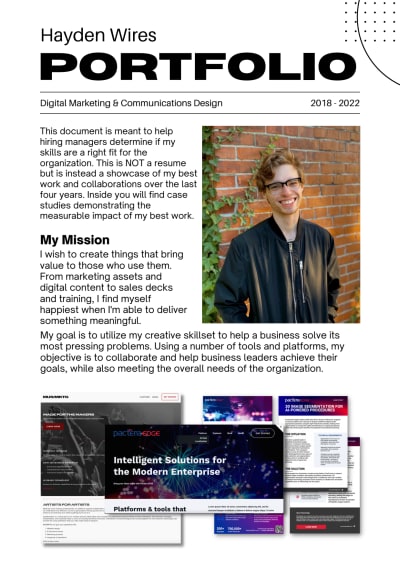 Best Works 2018-2022
Web refresh for healthcare company
Skills
Logo

Brand Strategy

Social Media Strategy

Design Writing

Facebook Marketing
Hours per week
As Needed - Open to Offers
Search for other talent
Browse similar freelancers
Browse and buy related projects