Development & IT Consultation with Samuel Sandeep K.
Development & IT Consultation with Samuel Sandeep K.
I can share details and work on developing business applications using C#(c++) , SQL, HTML, CSS, JavaScript, Xml.
I can explain and work on Database development techniques and assist in designing robust Databases.
I can explain and work on data analysis techniques such as text analysis, named entity recognition, text summarization, keyword searches, regression analysis, analytical approach.
I can explain and work on NLP techniques for designing and developing artificial intelligence solutions.
I can explain, share information and work on designing, and developing graphs, metric reports, and dashboards for business transition using Microsoft Report Builder, Power BI.
Get personalized advice on:
Data Analysis & Reports
Database Development
Web Programming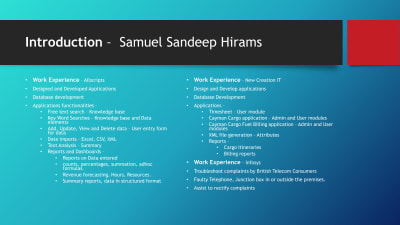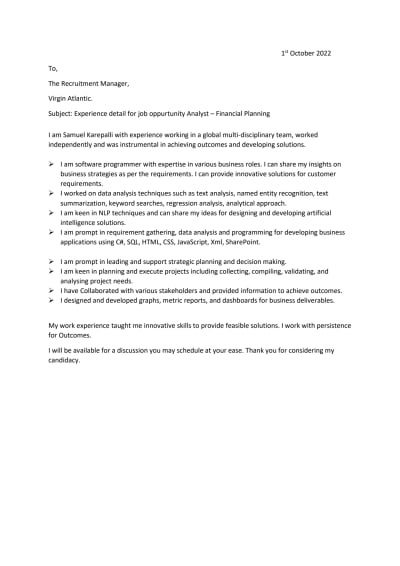 You're covered with payment protection so you can cancel and get a full refund up to 24 hours before your consultation.
Bengaluru, India
 - 7:01 am local time
I am Samuel Karepalli with experience working in a global multi-disciplinary team, worked
independently and was instrumental in achieving outcomes and developing solutions.
➢ I am prompt in leading and support strategic planning and decision making.
➢ I am keen in planning and execute projects including collecting, compiling, validating, and
analysing project needs.
➢ I have Collaborated with various stakeholders and provided information to achieve outcomes.
➢ I designed and developed graphs, metric reports, and dashboards for business deliverables.
➢ I am software programmer with expertise in various business roles. I can share my insights on
business strategies as per the requirements. I can provide innovative solutions for customer
requirements.
➢ I worked on data analysis techniques such as text analysis, named entity recognition, text
summarization, keyword searches, regression analysis, analytical approach.
➢ I am keen in NLP techniques and can share my ideas for designing and developing artificial
intelligence solutions.
My work experience taught me innovative skills to provide feasible solutions. I work with persistence
for Outcomes.
What to expect
Schedule the consultation
Choose from the freelancer's available days and times.
Get advice for your custom needs
Share details about your project and what you want to talk about. The freelancer will review and reach out if they have questions.
Join the Zoom meeting
1-on-1 meeting with the freelancer to discuss your needs and project.
Approve the work
The freelancer will finish up the documents you asked for and send them to you for approval:
Before the consultation
Here's what Samuel Sandeep will need to know before you meet
Please let know about: 1) Project work 1) Any programming requirements 2) Would it be working in a team or individual contributor role 3) What time should be available to work on the detail 4) Any Data Migration requirements.
This project doesn't have any reviews.