You will get a professional project schedule with the added value of risk analysis.
Chuka N.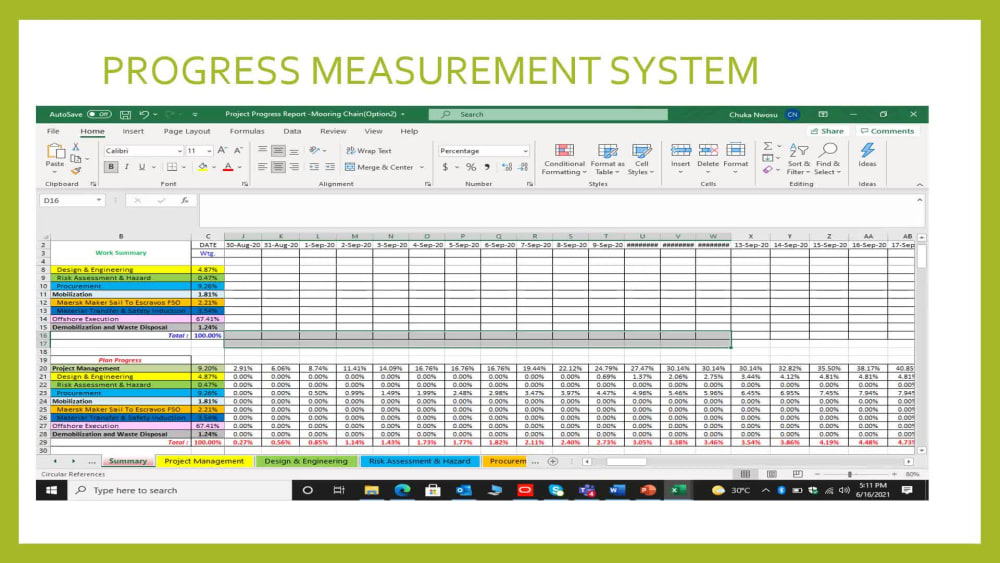 You will get a professional project schedule with the added value of risk analysis.
Chuka N.
2 days
delivery —
Nov 28, 2022
Revisions may occur after this date.
Upwork Payment Protection
Fund the project upfront. Chuka gets paid once you are satisfied with the work.
Project details
What I offer is design & management of project schedule and timeline created using Oracle Primavera P6/ Microsoft Project/Professional and Microsoft Excel (according to the specification of the client). I also create project Management dashboard report in excel. I also offer services of Cost estimation, Cost control and Cost/Schedule risk analysis.
What's included
Delivery Time
2 days
3 days
4 days
Optional add-ons You can add these on the next page.
Additional Project (+ 1 Day)
+$20
Frequently asked questions
About Chuka
Planning Engineer, Project Management Consultant and Risk Analyst.
Planning Engineer, Project Management Consultant and Risk Analyst.
Lagos, Nigeria
- 5:48 pm local time
Introduction
I am a Planning Engineer with experience in developing project schedule for onshore & offshore construction and installation work.

Education & Experience
I studied Chemical Engineering and have attended several courses on Project Management & Planning. I have worked as a Planning Engineer for close to 10 years.

Core skills
I have very high proficiency level with the following planning tools:
Microsoft Project Professional &
Oracle Primavera Planner.
I also have experience in Project monitoring and control, schedule management and integration of various sub-contractor schedules into one master schedule for the project.
I am also adept at interface management(with various subcontractors).
I can review and approve a project schedule (level 1-6)
I am also an experienced project cost controller.
I will develop a progress measurement system template in excel to suit your progress reporting needs
I will fully manage your project from start to finish including preparing daily, weekly & monthly progress reports.
I will prepare project cost estimate in Primavera P6

Strengths
I have very good interpersonal & communication skills.
I have very excellent work ethics and have a knack for getting things done quickly and according to specification.
I am very transparent and forthcoming and willing to share ideas in order to solve problems or improve on the way things are done.

Career highlights:
In my budding career as a Planning Engineer I have successfully planned several big construction projects in the Oil & gas industry. Some of these projects are;
(1) Bonga FPSO Flex joint Replacement(ongoing)
(2) FSO Mooring Chain replacement(completed)
(3) Erosion Control works on exposed sections of Oben-Geregu-Ajaokuta Pipeline ROW(ongoing)

Other skills
I can prepare powerful presentations in MS PowerPoint.
I can prepare all project management deliverable like Schedule Management Plan, Project Control Plan to mention but a few.
Steps for completing your project
After purchasing the project, send requirements so Chuka can start the project.
Delivery time starts when Chuka receives requirements from you.
Chuka works on your project following the steps below.
Revisions may occur after the delivery date.
Internal Review of schedule
This review is carried out to ensure the schedule conforms to standard scheduling practices.
Schedule Risk Analysis
Use Primavera Risk Analysis to risk the schedule so that the project duration is as realistic as possible.
Review the work, release payment, and leave feedback to Chuka.