You will get Amazon account appeal/Plan of Action for account suspension/reinstatement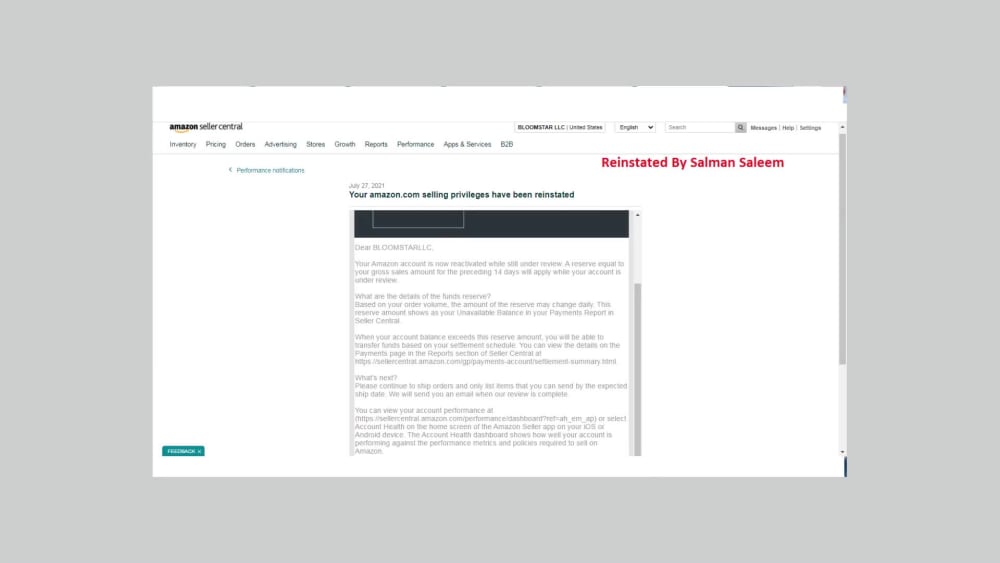 You will get Amazon account appeal/Plan of Action for account suspension/reinstatement
2 days
delivery —
Nov 30, 2022
Revisions may occur after this date.
Upwork Payment Protection
Fund the project upfront. Salman gets paid once you are satisfied with the work.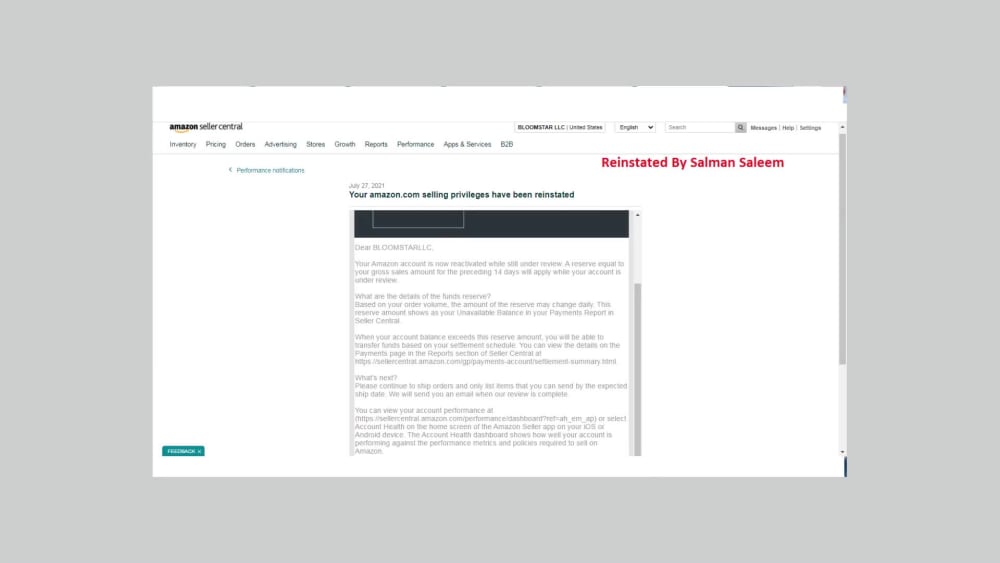 Project details
Your account is suspended, I'm there for you if you want to get reinstated and start selling again!

I will give best appeal at reinstating your account. I will write customized suspension appeal letter and plan of action for each situation that will help to reactivate your account.


Feel free to order or contact me. 24/7 Just send:

1. Send screenshot of Suspension from Amazon .
2. I will do a free consultation and give you the exact strategy to get your account back.
3. Receive and Submit Plan of Action.
4. Start selling again


I will assist you in:

· Late shipment rate >4%

· Restricted product removal

· safety complaints

· FBA warnings

· ASIN removals

· Inauthentic claim

· Used as Sold new

· ODR >1%

· Misuse ASIN variations

· IP/Counterfeit/Copy write infringement


I handle all cases that do with Account suspension
Field of Law Business (Corporate)
Target Country Worldwide
Language English
Service Type Legal Writing
What's included
Delivery Time
2 days
1 day
1 day
Frequently asked questions
Salman has done a great job unlocking my Walmart and Amazon sellers account
Amazon Walmart Appeal Writing Account Suspension/Reinstate Specialist
Gujranwala, Pakistan
- 8:27 pm local time
Hi there, I'm Salman Saleem certified Amazon PPC Expert. I would write a customized appeal/POA for Amazon/Walmart account reinstatement. I have more than 2 years of experience working as an Amazon/Walmart Account health specialist.

I also have experience with Walmart Seller Account approvals, if you are already a seller on marketplaces like Amazon, eBay, Alibaba & AliExpress you can signup on Walmart USA more easily than the seller who doesn't have a presence on other marketplaces.

Certification:
Google Ads Search (2020-2021)
Google Ads Shopping (2020-2021)
Google Ads Display (2020-2021)
Sponsored Ads Certification Foundation-USA (2020-2021) by Amazon Advertising

Let's Chat consultation is free.
Steps for completing your project
After purchasing the project, send requirements so Salman can start the project.
Delivery time starts when Salman receives requirements from you.
Salman works on your project following the steps below.
Revisions may occur after the delivery date.
Amazon Suspension Response
Please share screenshot response from Amazon support team.
Appeal/POA (Plan of Action)
I will write appeal/POA after identifying reason of account suspension. POA would be in detail and according to the format that Amazon support team requires.
Review the work, release payment, and leave feedback to Salman.