Stella isn't taking new orders for this project right now. Here are some similar projects to explore.
You will get a custom made NFT art collection with 100, 1k and 10k NFTs
Stella C.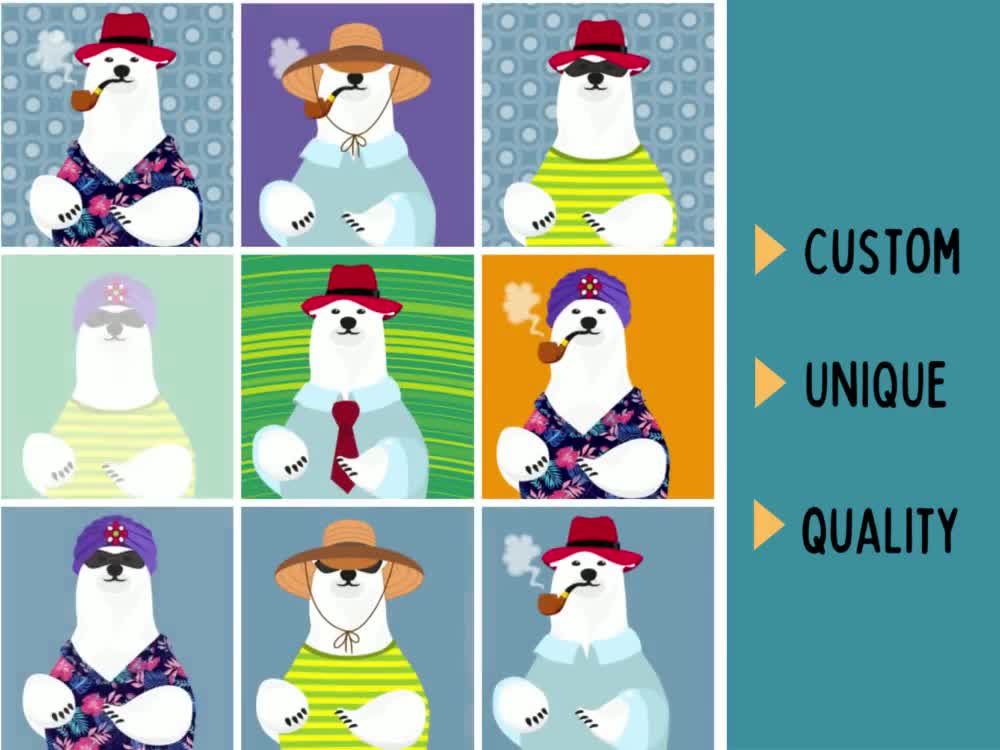 You will get a custom made NFT art collection with 100, 1k and 10k NFTs
Stella C.
One Base Character
One NFT for One Base Character
4 days
delivery —
Sep 26, 2023
Revisions may occur after this date.
Stella isn't taking new orders for this project right now.
Upwork Payment Protection
Fund the project upfront. Stella gets paid once you are satisfied with the work.
Project details
Thanks for considering my NFT Art Collection service. I am a digital marketing specialist and graphic designer with over 10+ years experience and many happy customers.

Offer:
100% Unique concept character artwork in any style ( realistic, crypto punk style, ape style, axie style, cartoon style, flat style, sketch style and much more).
Additional accessory and attribute sets of any theme (background colour, skin/fur, head wears, eye wears, mouths, costumes, and more)


Packages:
Base ART
1 Base body
1 outfit
1 Background
3 Accessories

1K Collection
1 Base body
6 outfit
6 Background
11 Accessories [over 1000 NFT Collection]

10K Collection
1 Base body
9 outfit
10 Background
19 Accessories [over 10000 NFT Collection]

Process:
When you place your order, First I will sketch your art and confirm that you are happy, then start to finalise the project.


IMPORTANT: It's an offer for 1 collection: 1 base NFT art plus 100, 1000 or 10 000 NFTs with different hats, teeth, glasses, colours, or other traits. You will receive PNG and .AI source file 2000x2000 px 300 DPI

Before ordering, write to me and we will be able to discuss your character's details, traits/accessories, etc
NFT Art Style Cartoon Art
What's included
Delivery Time
4 days
10 days
14 days
Optional add-ons You can add these on the next page.
100 NFTs collection (+ 4 Days)
+$115
Frequently asked questions
About Stella
Social Media Manager & Web Designer
Social Media Manager & Web Designer
London, United Kingdom
- 12:02 pm local time
Hello! My name is Stella, and I am a Social Media Manager and Web Designer, with over 10 years experience.

I specialize in managing social media channels for businesses of all sizes by crafting creative and engaging posts that inspire followers to like, comment, and share. I possess the skills to generate online buzz for your brand through creative posts and bespoke graphics on social media platforms like Instagram, Facebook, Twitter, LinkedIn, and Pinterest. I can take over complete account management responsibilities, including Content Creation, Organic Growth and Engagement, Social Media Strategy that aligns with your brand's identity, Influencer marketing, and Community Management.

When it comes to web design, my aim is to make the process of creating your website a pleasurable experience. If you're just getting started on WIX, and you need someone to take charge of creating the site from start to finish, or if you have a site already that needs optimizing, or even a complete redesign, I can quickly get you on the right track!

I am diligent and devoted to my work, always striving to provide quality and timely deliverables while closely listening to my clients' needs. Thank you for taking the time to review my profile. I am excited about the possibility of working with you!

Here's what I can do for you

✔️𝐒𝐨𝐜𝐢𝐚𝐥 𝐌𝐞𝐝𝐢𝐚:
📌Facebook Page Management
📌Facebook Account Management
📌Instagram Management
📌Pinterest Management
📌Graphic Designing for Social Media
📌Social Media Captioning
📌Post-scheduling and engagement
📌Branding Alignment
📌Niche-based Hashtags
📌SEO-based Captioning
📌Weekly Content Calendar
📌 Video Editing (REELS, IGTV, TIKTOK)
📌 Engagement Increase
📌 Facebook and Instagram ADS
📌 Short form content creation

✔️Web Design:
📌WIX Website Creation and Management
📌WIX Landing pages
Steps for completing your project
After purchasing the project, send requirements so Stella can start the project.
Delivery time starts when Stella receives requirements from you.
Stella works on your project following the steps below.
Revisions may occur after the delivery date.
I create the first draft and send to client for revision
Once the client is happy with the artwork I'll finalise the project
In this step I'll generate the NFTs and send zip file to client
Review the work, release payment, and leave feedback to Stella.