You will get eye-catching social media imagery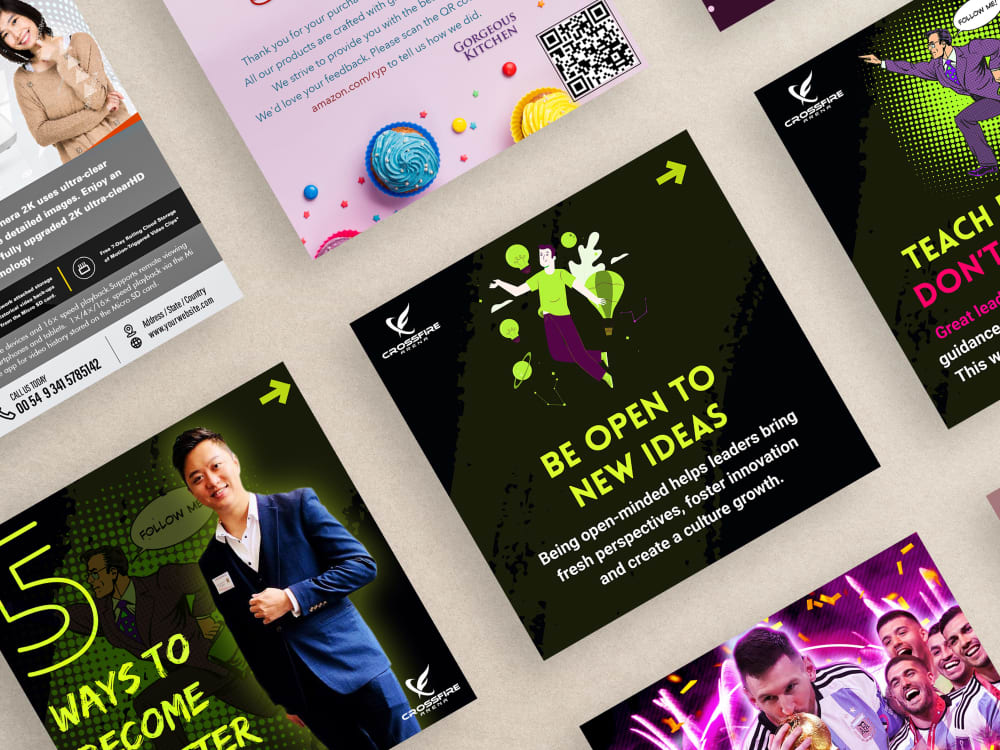 You will get eye-catching social media imagery
Starter
1 social media post for One Platform
2 days
delivery —
Sep 30, 2023
Revisions may occur after this date.
Upwork Payment Protection
Fund the project upfront. Muhammad gets paid once you are satisfied with the work.
Project details
Hi, thanks for visiting my profile and especially this particular Gig.

I'm offering my social media imagery Design Services, I Can Design anything from a simple Instagram Post to a high-end web banner.

I can Design:
Instagram Post (official size that will fit )
Facebook Post(original size)
Banners (Web, Facebook, YouTube, Spotify, etc.)
Video thumbnail for YouTube and Instagram

WHY YOU SHOULD HIRE ME!
NO NEED TO PAY ME UNLESS YOU ARE SATISFIED WITH THE DESIGN
All you have to do is just message me and tell me your requirements I will prepare the samples and will send them to you, you can pay me only if you like Designs, Sounds Good right?
3 VERSIONS AND UNLIMITED FREE REVISIONS
I Provided up to 3 versions of a single Design you can keep the one you like and not just that you can ask me to make as many changes as you want for free.

All my Designs are original Creative and a head turner

Still not sure? Am I missing something? PLEASE MESSAGE ME I will reply instantly and will answer any question you have.

Regards

M Sharafat
Main Type Advertisement
Social Platform Instagram, Facebook, YouTube, LinkedIn, Twitter, Pinterest, TikTok, Reddit, Discord, Snapchat, Product Hunt, Tumblr, Twitch, WeChat, WhatsApp
File Format AI, EPS, GIF, JPG, PDF, PNG, PSD, BMP, SVG, TIFF
What's included
Delivery Time
2 days
2 days
3 days
Optional add-ons You can add these on the next page.
Additional Post (+ 1 Day)
+$5
Great to work with Sunny. He gave us exactly what we were looking for and ahead of schedule, too.
Experienced Graphic Artist/Designer.
Haveli Lakha, Pakistan
- 5:20 pm local time
"Everything is designed. Few things are designed well." -- Brian Reed

Thank you for visiting my profile.

My areas of expertise are:
✔ Logos
✔ Brand identity/Ad campaign
✔ Flyers
✔ Brochures
✔ Invitation/Wedding Cards
✔ Postcards
✔ Business Cards
✔ infographics
✔ Product packaging
✔ Professional Photo Editing
✔ illustrations
✔ Social Media covers
✔ Leaflet, Poster, Media Kit
✔ Invoices, Bill Books, Menus
and several other graphic design solutions.

I also provide a variety of Photoshop services, including photo editing, photo retouching, product photo editing, color corrections, object removal, background removal, creating movie-like posters, Photoshop manipulations, and more.


WHAT ARE SOME GOOD REASONS TO HIRE ME?
• I will put "YOU" before me.
• Quick turnaround
• Original and Creative Designs
• I keep up with the most recent design trends and guidelines
• I'm good at Problem Solving and finding solutions
• ability to manage workload
• 24/7 availability
• Free and timely revisions

Let's rock together :-)

Sincerely,

Muhammad Sharafat
Steps for completing your project
After purchasing the project, send requirements so Muhammad can start the project.
Delivery time starts when Muhammad receives requirements from you.
Muhammad works on your project following the steps below.
Revisions may occur after the delivery date.
Submit your Cover details and wait for my fast 24 hours Delivery.
Review the work, release payment, and leave feedback to Muhammad.