You will get fully branded & editable Canva social media designs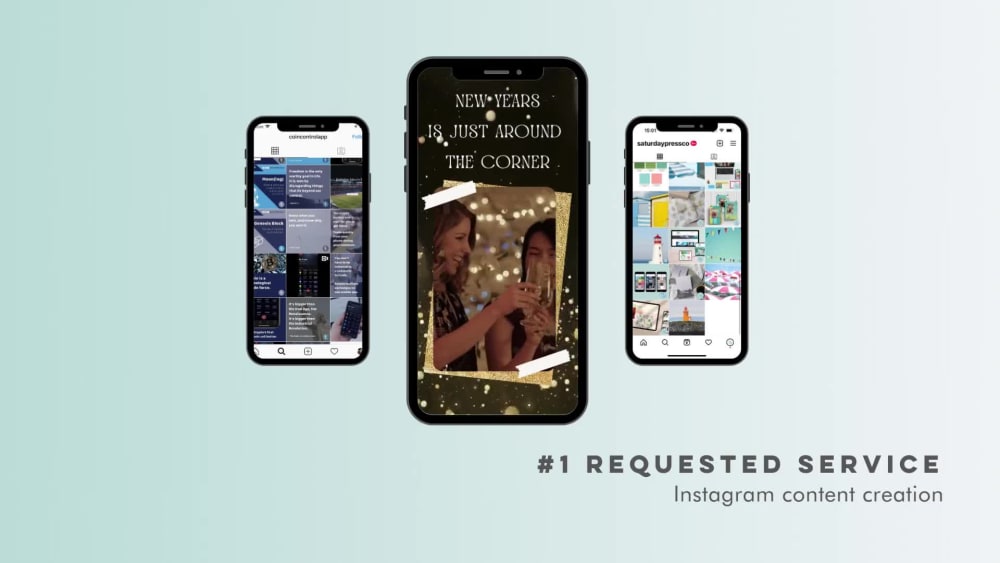 You will get fully branded & editable Canva social media designs
Basic Design Package
3 fully branded & editable static post designs. One size each.
5 days
delivery —
Sep 26, 2023
Revisions may occur after this date.
Upwork Payment Protection
Fund the project upfront. Kate gets paid once you are satisfied with the work.
Project details
You will get fully branded and editable social media posts and/or ads designed in Canva that will bring your company to the next level. With over 10 years of experience in freelance and agency environments, I care deeply about helping startups tell their story through design. The work I deliver is creative, strategic, thoughtful, and of high quality.
Main Type Post Template
Social Platform Instagram, Facebook, YouTube, LinkedIn, Twitter, Pinterest, Reddit
File Format JPG, PDF, PNG
What's included
Delivery Time
5 days
7 days
10 days
Optional add-ons You can add these on the next page.
Additional Post (+ 1 Day)
+$50
Social media templates (IG reels, quote images for IG and FB, YT thumbnails)
Custom Canva Templates
Stylist needed to advise and source props (remote)
I hired Kate to assist in creating scenes for which we had to source props start to finish. Kate was the perfect candidate for this and did an excellent job. Her creativity blended with an understanding of what goes well in scene that stands out yet has mass market appeal - those two things are not always easy to get right. Highly recommend. 10/10.
Wix Website Designer needed to give strategy portfolio a facelift
Kate was EXCELLENT. I'm so lucky to have worked with her- not only is she artistically and strategically talented, she is the most patient woman on the planet. I cannot be more grateful that she exists. I was a stressed out ball of mess regarding this project and she, not only gave me an excellent result, but also kept me from having multiple panic attacks throughout the process. I seriously can't recommend this woman more to anyone that needs web designer, strategy, content, etc.
Design easy Website
She was exceeded my expectations and even went as far to help me with personal work at no extra cost. She's professional, kind, and a great person to have work for you.
Social Media & Digital Ad Designer
Reykjavik, Iceland
- 3:18 pm local time
American citizen living abroad 3/4 of year.

I make things look good.
I believe that good brand stories come with great visuals.
In the past twelve years, I have spent my time helping small and large brands tell their individual stories visually across all manner of digital platforms and marketing materials. Now, I focus my time on smaller businesses specifically and helping them develop, audit, or expand their stories through design.

Check out my .pdf & work examples for monthly packages - I can save you time, energy and money!

I FOCUS ON:
Social Media Content Design
Digital Ad Creation

DESIGN PROGRAMS:
Canva
Illustrator, Photoshop, Procreate

PRIOR EXPERIENCE & CLIENTS HAVE INCLUDED:
Arby's, Stolichnaya, Garnet Hill Kids, Rack Room Shoes, Off Broadway Shoes, NBC, Cynthia Rowley, Nicole Miller Bridal, Under Armour, Bonne Maman, Le Creuset, Johnston & Murphy, iHeart Radio, Purina, PepsiCo, Devil's Backbone Brewing (An Anheuser-Busch Company)

WHAT I CAN DO:
✓ establishing color palettes, fonts, iconography
✓ simple logos & wordmark logos
✓ mood boards
✓ copyright-free image sourcing
✓ social media content: posts, reels, ads, banners, cover images, etc.
✓ branded YouTube Intros & Endcaps, thumbnails, banners, etc.
✓ short video ads (up to 15 seconds)

WHAT I DO NOT DO:
✗ complex logo design
✗ copywriting
✗ social media strategy, marketing strategy
✗ social media scheduling/planning/management/engagement
✗ lead generation, analytics, sales
Steps for completing your project
After purchasing the project, send requirements so Kate can start the project.
Delivery time starts when Kate receives requirements from you.
Kate works on your project following the steps below.
Revisions may occur after the delivery date.
Client sends design elements
Client sends any and all info needed to complete task, including needed design elements such as logo(s), color codes, fonts, brand guidelines, etc.
Send first draft, follow up via revisions, etc.
Review the work, release payment, and leave feedback to Kate.