You will get professional exhibition stand backdrop trade show booth x banner
Ali H.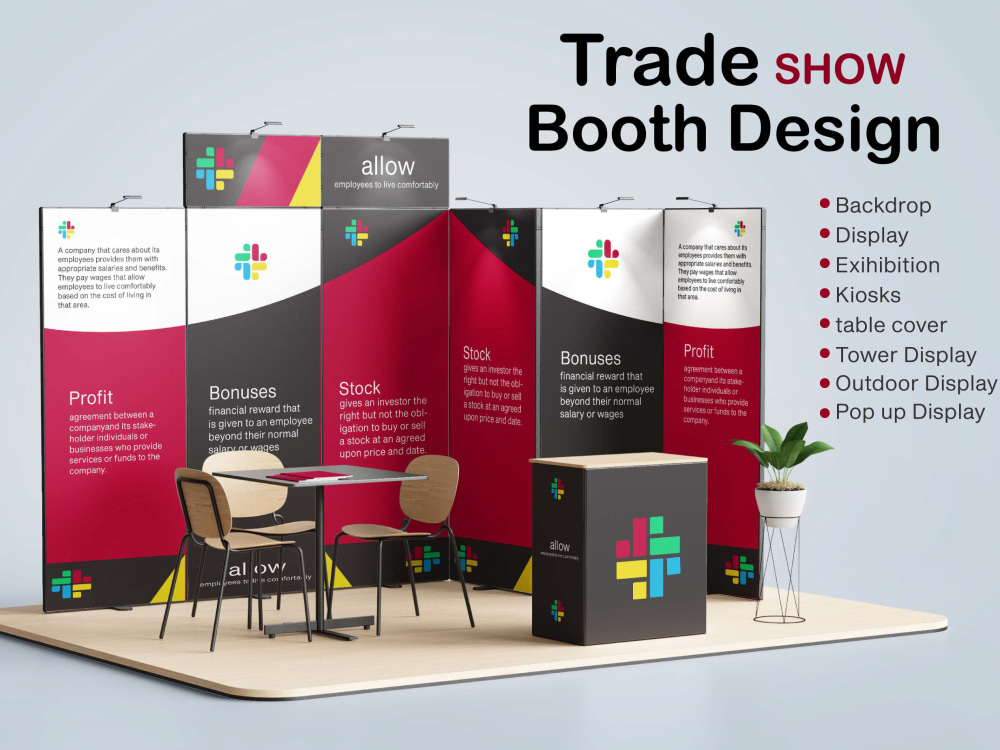 You will get professional exhibition stand backdrop trade show booth x banner
Ali H.
STARTER
1 Design + 3 Days Delivery + Source File + unlimited R+ Print-Ready Pdf File
Number of Revisions

Unlimited

Number of Exposed Sides

1

Number of Design Concepts

1
3 days
delivery —
Oct 6, 2023
Revisions may occur after this date.
Upwork Payment Protection
Fund the project upfront. Ali gets paid once you are satisfied with the work.
Project details
Hi!
Are you looking for professional designer for your trade show expo event?
If yes: Welcome!

More than 100 businesses have found their trade show / Backdrop / advertising materials (Digital and Print) with my assistance. I will work with you to create compelling visuals that elevate your brand. I will design an attractive outdoor banner, backdrop, trade show, exhibition, for your next event.

My Services:
Trade show booth
Backdrop
Tower Display
Snap Frame
Tradeshow booth
Pop Up Wall
Signboard
Billboard
Roll up (Standee)
Promotional Table
Table Cover/ Podium
Flying Banner
X Banner
Blimp Square Tower
signage
Booth & Repeat backdrop designs

Why me:
Fast Delivery 100% Professional Work
High-Quality Print Ready Files (CMYK)
Quick Response
Unlimited Revisions
After Sales-Support

If you have any other special needs, please don't hesitate to contact me first to discuss it.

place an order and get amazing service.
Booth Type Custom-Made Booth
Booth Layout Peninsula (Three Sides Exposed)
Industry Construction, Events Planning, Hardware & Electronics, Marketing & Advertising, Medical & Pharmaceutical
What's included
Delivery Time
3 days
2 days
1 day
Unlimited
Unlimited
Unlimited
Number of Design Concepts
1
1
2
Optional add-ons You can add these on the next page.
About Ali
Shikarpur, Pakistan
- 8:33 pm local time
I am a freelancer graphic designer with background computer science. I create meaningful and long testing design. I have more than two years of experience in the design field. I keep good friendly communication throughout the process and deliver high-quality work to every customer. I have experienced in illustration, Line art, Logo Design, Vector tracing, Background removal, Image editing, object removal, Adobe Photoshop, Adobe illustrator and canva.

my experteze.
-Logo design
-Flyer design
-brochure design
-Trade show design
-Stationery design
-Wrap advertising
-Vector art
-Illustration
- Banner Ad
-Youtube tumbnail
-Poster design
-Infographic design
-Menu design
-Canva
-Template design
-
Steps for completing your project
After purchasing the project, send requirements so Ali can start the project.
Delivery time starts when Ali receives requirements from you.
Ali works on your project following the steps below.
Revisions may occur after the delivery date.
first step
I will make your project by using adobe illustrator and photoshope.
Review the work, release payment, and leave feedback to Ali.