You will get Shopify Expert Shopify Developer Shopify E-Commerce Store shopping website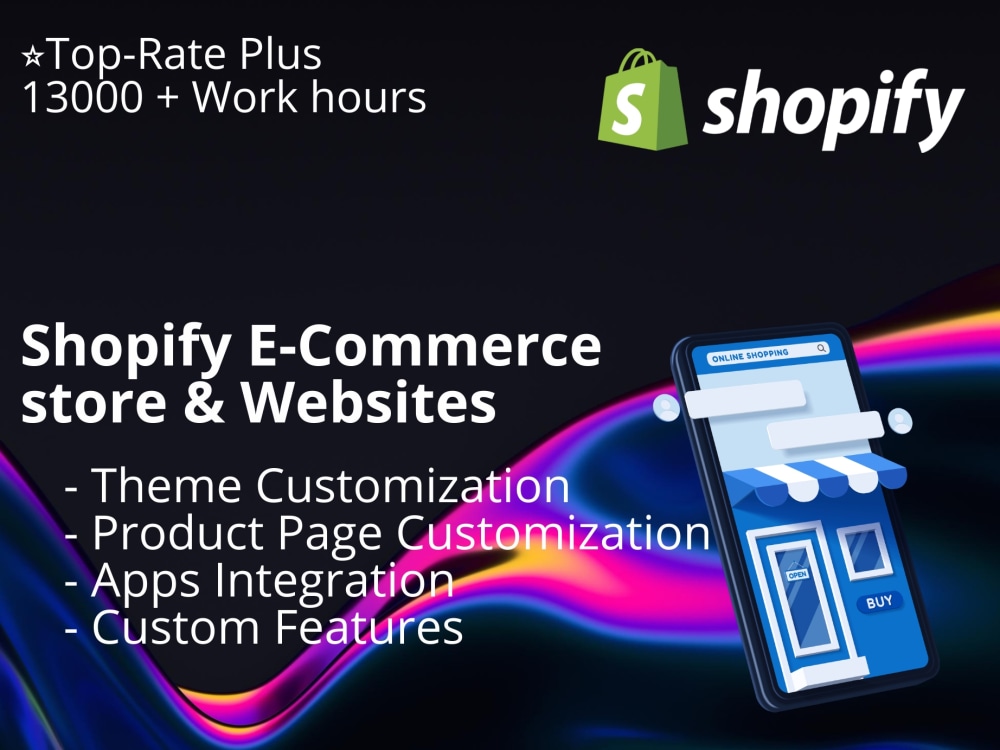 You will get Shopify Expert Shopify Developer Shopify E-Commerce Store shopping website
Basic Pack -Homepage Mockup
Single Responsive and attractive homepage mockup for your Shopify store
Number of Plugins/Extensions Installed

0
3 days
delivery —
Dec 9, 2023
Revisions may occur after this date.
Upwork Payment Protection
Fund the project upfront. Tajinder gets paid once you are satisfied with the work.
Project details
"Building Shopify Stores, Raising Online Brands."
Hi, I am Tajinder Singh and I am an expert in building Shopify stores or Shopify websites that drive growth and profits. I have extensive experience in building and managing complex E-Commerce websites / E-commerce store infrastructures on Shopify.

⚠NOTE - The price will be finalized after discussion.

My services include:
✔E- Commerce website on Shopify engine with Amazon integration
✔Convert PSD/Sketch/Ai to Shopify integration
✔Store Migration from Magento, Woo-commerce to Shopify
✔Customize/Redesign responsive website
✔Install the required Shopify Apps
✔Set up an online Shopify store
✔Integrate payment methods
✔Fix bugs/errors
✔Add products
✔Set up a custom domain

Are you looking for a Shopify website for your business that converts your visitors into customers and ready to elevate your business with my Shopify store expertise?

Contact me today!
Tajinder Singh.
.
.
.

#Shopify #expert #e-commerce #shopifydeveloper #estore
Shopify expert, Shopify developer, Shopify, Shopify store, Shopify e-commerce website, E-commerce store, eStore, eCommerce store, online store
Platform Shopify
Supported Plugin Types Payment, Social Media, Dropshipping, Shipping, Customer Support, Inventory, Analytics, Chat, FAQ, Gallery, Form, Video, Map, Forum, Events, Music, Other
What's included
Delivery Time
3 days
7 days
12 days
Number of Plugins/Extensions Installed
0
3
10
Optional add-ons You can add these on the next page.
Additional Page (+ 1 Day)
+$25
Additional Product (+ 1 Day)
+$25
Additional Plugin/Extension Installed (+ 2 Days)
+$25
Responsive Design (+ 2 Days)
+$25
Payment Gateway Setup (+ 2 Days)
+$25
Bubble.io App Improvements
They did a great job executing the plan I provided
Website developer and designer
Tajinder is the best and most competent web developer and web solutionist I have worked with. I recommend him fully and will be working on him with all my biggest and advanced projects with web development. Shopify is the platform we used mostly.
Xperience Lending Team
URGENT: Bubble.io - Very Small Edit
Tajinder was very professional, prompt and completed the task exactly how requested! Would recommend.
Landing Page Design and Development
Full Stack Developer, Laravel/React/Next.js/Node | Bubble.io Developer
Chandigarh, India
- 2:43 am local time
★ UPWORK TOP-RATED PLUS Web Developer !!
★ 150+ SUCCESSFUL PROJECTS !!
★ 13000+ UPWORK HOURS !!
★ 100+ EXCELLENCE FEEDBACK !!
★ Experienced Web Developer | Front-end & Back-end Expert :: Wordpress, Shopify, PHP, Bubble.io, Laravel / React / Node.js Developer & Designer !!

With over 11 years of dedicated experience in web design and development, I bring a wealth of expertise to craft exceptional digital solutions. Proficient in both front-end and back-end development, I am dedicated to delivering results that exceed expectations. My diverse skill set includes:

🚀 Frameworks/CMS/Libraries:
✅ Expertise in Codeigniter 2 & 3, Laravel +5 for robust web applications.
✅ Customizing WordPress, Shopify, and Shopify Plus to perfection.
✅ Mastery of Magento, Squarespace, Webflow, and Kajabi for dynamic websites.
✅ Leveraging Bootstrap, jQuery, Vue.js, React.js, Node.js, and Yii2 for enhanced user experiences.

✅ Programming Languages:
PHP, Swift, SQL, HTML/HTML5, CSS/CSS3, JavaScript, JSON, Ajax

🎯 What Sets Me Apart:
My commitment is to provide exceptional performance that fulfills your needs, ensuring project delivery within specified timelines while upholding the highest quality and security standards.

🏆 Proven Track Record:
I have an extensive portfolio of successful collaborations with startups and larger projects, consistently earning high praise and recommendations from satisfied clients. My focus on detail, strategic problem-solving, and dedication to perfection is reflected in my feedback scores.

Let's embark on a journey to transform your ideas into impeccable web solutions. Reach out today, and together we'll create digital experiences that stand out in the crowd.

I am looking forward to hearing from you soon.
Tajinder Singh

#webdeveloper #webdevelopment #reactdeveloper #node.jddeveloper #backenddeveloper #fullstackdeveloper #bubble.io #nocodeexpert #bubbleexpert #bubble.iospecialist #css #html

Web developer expert on Upwork.
- Bubble.io expert Upwork,
- No code expert Upwork,
- React.js developer expert upwork,
- Backend developer expert on Upwork.
- Product-Oriented Bubble.io Developer | Bubble.io expert.
- Bubble.io Developer | FlutterFlow Development | No-Code Expert.
- Bubble.io Developer | Bubble expert | Bubble API | UI UX.
- No code Bubble.io Developer, Botpress, ChatGPT 4, Chatbot, Voiceflow.
- Bubble.io Developer | Bubble | No-Code App Developer | Bubble MVP.
- NoCode developer | Bubble.io Developer | Bubble.io Startup MVP Builder.
- Bubble.io Expert | Full Stack Developer.

#WebDevelopmentExpert #FrontEndDeveloper #BackEndDeveloper #WebDesignGuru #CodeIgniterPro #LaravelWizard #WordPressMaster #ShopifyExpert #MagentoMaestro #WebflowSavvy #UIUXWhiz #BootstrapNinja #JavaScriptGuru #ReactRockstar #NodejsEnthusiast #PHPWizard #DigitalSolutionist #TechInnovator #QualityFirst #TimelyDelivery #ClientSatisfaction #WebDevSolutions #CreativeCoder #ProblemSolver #ExperiencedDev #StartupPartner #WebSolutions #InnovativeDesigns
Steps for completing your project
After purchasing the project, send requirements so Tajinder can start the project.
Delivery time starts when Tajinder receives requirements from you.
Tajinder works on your project following the steps below.
Revisions may occur after the delivery date.
Scope Defining
Once we know the site's goals, we can define the scope of the project.
Designing
After the creation of a sitemap, developing wireframes, and planning a roadmap, it's time to lay hands on the website design.
Review the work, release payment, and leave feedback to Tajinder.