You will get a Shopify store build out for your E-Commerce business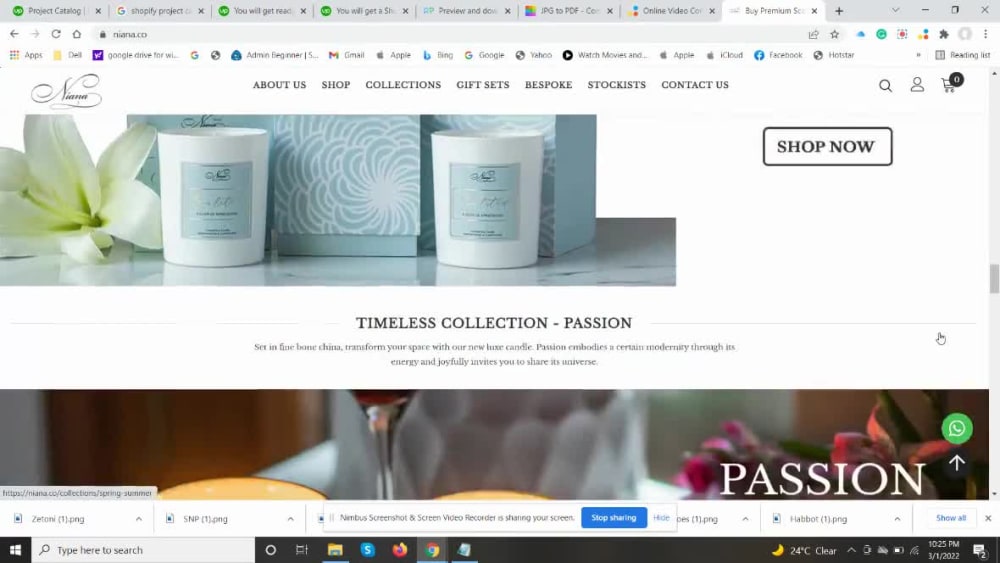 You will get a Shopify store build out for your E-Commerce business
Number of Revisions

Unlimited

Number of Plugins/Extensions Installed

3
6 days
delivery —
Dec 16, 2023
Revisions may occur after this date.
Upwork Payment Protection
Fund the project upfront. Priyank gets paid once you are satisfied with the work.
Project details
You will get a functioning Shopify store, with the ability to process payments for your goods and services. I am deeply familiar with the platform and its nuances. I love to work with small businesses and startups. Selling things online may be new to you, am I am here to help with that journey!

Shopify is a scalable platform that offers top-rated features and is easy to customize and build on for future business needs.

✅ PSD ➡️ Shopify template coding
✅ Shopify New Store Builds
✅ Shopify Theme customizations
✅ Shopify Store Setup
✅ App installations

Shopify is one of my favorite platforms to develop. Theme customizations are one of my specialties. I also excel at finding solutions and workarounds for custom features within the Shopify ecosystem.

I have spent a notable amount of time working with small businesses to enhance their digital presence. It can be overwhelming at times for a small business owner to handle their website. I do a great job of finding solutions that work well for every client.
Platform Shopify
Supported Plugin Types Payment, Social Media, Dropshipping, Shipping, Customer Support, Marketing, Inventory, Analytics, Chat, FAQ, Gallery, Form, Video, Finance, Map, Membership, Events, Music, Other
What's included
Delivery Time
6 days
9 days
12 days
Unlimited
Unlimited
Unlimited
Number of Plugins/Extensions Installed
3
6
9
Optional add-ons You can add these on the next page.
Additional Page (+ 2 Days)
+$10
Additional Product (+ 1 Day)
+$5
Frequently asked questions
Live Cricket Score API for WordPress Site
Finish the build of my wordpress site with payment and user login integration.
Priyank did a fantastic job finishing my website. I had paid the original developer to finish it, but it never got done. I hired Priyank to complete it instead. A job that the first guy told me would take 2-3 months took Priyank less than a week! I highly recommend his services. A++
PHP Engineer
Expert Needed for Shopify Store Redesign
I will hire this freelancer for future projects. He is a very enthusiastic person with both technical and creative expertise.
Customizing my Email Subscribing
Overall good value.
Expert web developer WordPress | PHP | CI | Shopify | API |
Rajkot, India
- 3:19 am local time
About Me
—————————————————
❝ Development is not just a job for me, it's my passion & hobby. ❞

Expert with: Shopify, Big-commerce, WordPress, Woo Commerce, Laravel, jQuery, NodeJS, PHP, Html, CSS/SCSS, Bootstrap
Also works with NodeJS, Angular2, Gulp, Webpack

**** More than 4 years of extensive hands-on experience in technologies like ****

PHP/MYSQL,
WORDPRESS,
CODEIGNITER,
LARAVEL,
HTML/CSS3/BOOTSTRAP ,
JS/JQUERY/AJAX

Content Management System: Shopify, WordPress, Big-commerce, Squarespace
Database : MySQL , MongoDB , PostgreSQL , SQL Server
Website SEO, Website optimization, Website Security, Website Hosting and Migration

- Strong in Developing Web Apps using PHP and CMS (WordPress, Drupal)
- Strong in Developing Enterprise level Web Apps using PHP/MySQL and MVC Frameworks - CodeIgniter & Laravel
- Making Dynamic themes using WordPress and Bootstrap Responsive Design
- Good in Customizing WordPress, Magento, Drupal, Squarespace, Joomla
- PDF to WordPress theme development
- WordPress Theme and Plugin Developments
- Graphic Design (Adobe Photoshop), PSD to HTML
- Third-party API integration and API web services development

I value time and have respect for each other's time. I pride on completing work in a few minutes to hours (depending on assignments). So, if you love speed, respond and I will deliver.

My testimonials speak for me and my work.

Some so many Lazy Developers can help you but I am a SUPERFAST Developer & I want you to Superfast to finish your project Superfast ;)

Let's talk :)
Priyank A.!
Steps for completing your project
After purchasing the project, send requirements so Priyank can start the project.
Delivery time starts when Priyank receives requirements from you.
Priyank works on your project following the steps below.
Revisions may occur after the delivery date.
Project Overview & Gather Business Data
Better understand selling goals, and requirements for store. Gather all relevant business data like Addresses, admin email addresses, shipping information, contact info, etc.
Gather business media
Send all relevant media: Logo, images, banner images, brand guidelines, etc...
Review the work, release payment, and leave feedback to Priyank.