You will get a short-term rental website/software like Airbnb, Booking, Expedia, VRBO
Elio M.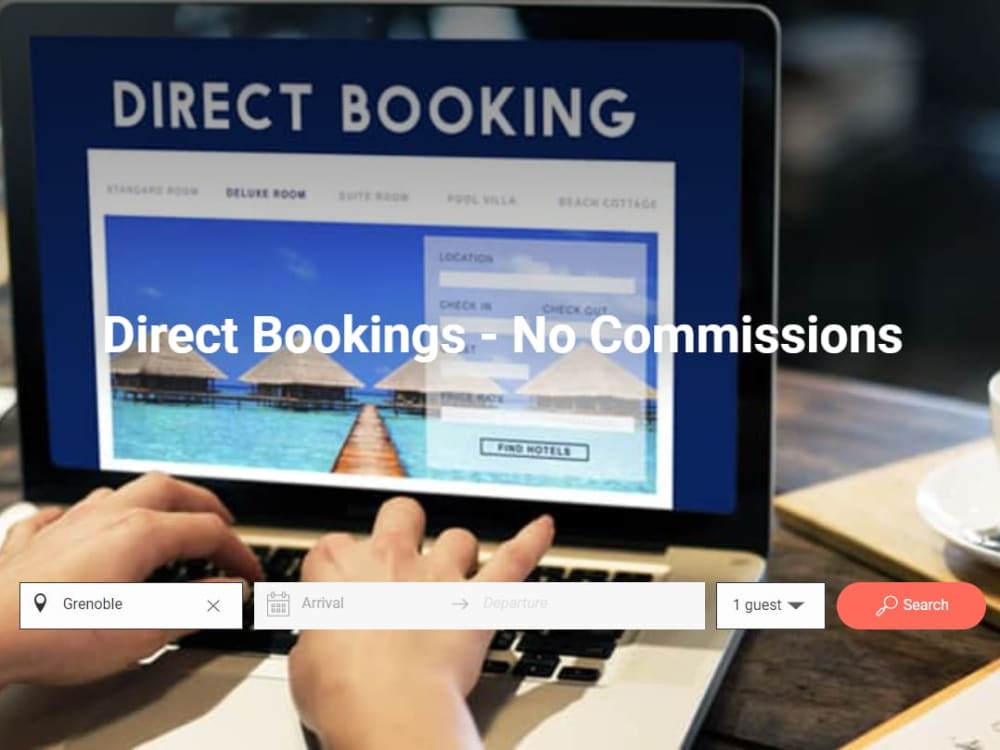 You will get a short-term rental website/software like Airbnb, Booking, Expedia, VRBO
Elio M.
Starter Package
I'll show you a DIY direct booking website. Standard and Advanced for more.
Number of Plugins/Extensions Installed

2
4 days
delivery —
Dec 14, 2023
Revisions may occur after this date.
Upwork Payment Protection
Fund the project upfront. Elio gets paid once you are satisfied with the work.
Project details
You will get a travel website with Design customization, Responsive design and Content upload. I am a "Vacation Rental Specialist" since 2014. I make websites for Vacation Rentals, Holiday Homes, BnB(s), Hotels, Villas, Resorts, Homes, and Apartments.

Mondosol has 9 years of experience on Airbnb, VRBO, HomeAway, Booking.com, TripAdvisor, Lodgify, Wheelhouse, PriceLabs, Mailchimp, WordPress, and Shopify.

Mondosol is helping worldwide Rental Owners increase Bookings and show their property to people on the Internet.

★ WHY ME?
My Clients include the third biggest Professional host of Airbnb Featured in "La Repubblica" n.1 newspaper in Italy

★ WHAT'S INCLUDED?

✔ Easy to Manage calendars, bookings, rates and payments for all your properties.
✔ Easily take credit card payments and worldwide currencies securely on your SSL-protected website with Paypal and Stripe.
✔ Website Builder with optimized and professional templates mobile-friendly.
✔ Channel Manager to sync calendars, rates and reservations on Booking.com, Airbnb, HomeAway/Vrbo and Expedia.
✔ Booking Software so guests can book direct with you from day one.
✔ Communication: Video Training, Live Chat/Consulting on demand.
Website Specialization Business, Education, Entertainment, Blog, Portal, Brochure, Other
Supported Plugin Types Social Media, Gallery, Marketing, Analytics, Video, Payment, Chat, Customer Support
WordPress Plugins Mailchimp, Facebook, PayPal, YouTube, LinkedIn, Twitter
What's included
Delivery Time
4 days
8 days
12 days
Number of Plugins/Extensions Installed
2
4
6
Optional add-ons You can add these on the next page.
Additional Page (+ 2 Days)
+$99
Additional Plugin/Extension Installed (+ 2 Days)
+$99
Design Customization (+ 8 Days)
+$199
Content Upload (+ 10 Days)
+$399
Channel Management (+ 4 Days)
+$199
Dynamic Pricing Integrations (+ 8 Days)
+$199
Custom Automated Messaging (+ 10 Days)
+$299
Frequently asked questions
Expert with Design Social Video Marketing eLearning eCom
Expert with Design Social Video Marketing eLearning eCom
Honefoss, Norway
- 11:35 am local time
Ehi, I know what you like. Yes. Experiences in Marketing (over a decade of studies and experience), Content Creation (Blog and Social Media) and Languages, Computer, Design, Customer Service and Accounting.
TESTIMONIALS 👇👇
"I will hereby recommend Elio Mondello as an hard working business partner. I have known Elio for almost one and a half year and during this period he have been working hard to success as an Entrepreneur."
- Svein Eystein Lindberg

"Elio is a very committed as a salesman, always improving his selling skills with new methods, always open to new ideas. Not surprisingly after working in Yellow Pages as an advertising account, he succeeded becoming an entrepreneur following his passions."
- Tommaso Piazzi

"Elio Mondello gives you everything you need to become a profitable real estate investor... without owning real estates! GIVES"
– RENTAL SCALEUP

"Using Airbnb's online marketplace, Elio Mondello was able to create the THIRD AIRBNB ACCOUNT on short-term rental businesses."
– INCIPIT CONSULTING


I have been using Upwork for more than a decade to recruit as the chief operating officer of Mondosol (#21 Startup company by StartUp Ranking) leader in Education and Hospitality (ranked #3 in Airbnb Italy). I know how difficult it is to find the right Freelancer that will add value to your company and your life. I have over 24 years of industry experience and hold a master's degree from MU. During my professional career I had the opportunity to work with over 40000 clients spanning virtually every industry, including start-ups and fortune 500 clients.


__________________________________________________

LIFE STORY:

I started my first business in high school with no investment and grew it to become one of the premier full-service marketing agencies in the North of Italy area. After that I created other 3 startups and fail my way to success with international awards.


My unique life allows me to understand business and outwork everyone. I built my company from the ground up, received my graduate degree from one of the top programs in the country at MU, had the opportunity to work with corporations like Yellow Pages and Google.

I learn from the best companies (Hubspot and Instant Customer) innovative marketing strategy to help start-ups expand in highly competitive environments. My experience helped me build a very diverse skill-set that few people possess.


__________________________________________________


ACHIEVEMENTS:

Achieved 10000 likes on Facebook paid media in a highly competitive education vertical, 600 followers on Twitter and 800 connections on LinkedIn.

Implemented several learning sites with more than 1000% increased in traffic by Alexa Ranking and Google Analytics.

Achieved with email, social media and affiliate marketing campaign 166 Signups with 203 daily active users. that generated a sales increase of 2-300% growth year over year .

Obtained publication in the top magazine and newspaper in Italy for one of the top Airbnb account and hospitality brand.

Reached the Superhost Status, Professional Host with 750 listings created in Airbnb in less than 24 months, without the use of paid media.

Obtained 250% growth in 23 properties and 155 listings in many countries like Italy, Malta, Spain, US Florida and Georgia, Mexico and Malaysia.

Realized over 150% growth in website traffic for all company websites within 1 year through the use of social media and unique marketing strategy.

As social entrepreneur, speaker and philanthropist with a mission to help others managed a crowdfunding campaign in a highly competitive industry.
Maverick Award for cross channel marketing (video, audio, text creation and list building) from Instant Customer and Traffic Geyser in San Diego, California.

Organized events up to 2000 people and prompted others for up to 6000 people for Tony Robbins, Robert Kiyosaki, Harv Eker, Les Brown, etc.

4 languages and multicultural experience in more than 6 countries helping hundreds of individuals come across language and cultural obstacle.

I have launched and scaled a short-term rental empire and I know teach others how to set up their own hosting businesses, leverage other's properties with memorable experience.

__________________________________________________


OFFER:


Hey! I'm Elio.
An entrepreneur, speaker and business coach whose mission is to help you launch and scale your own empire.

Learn with me:
- how to lead your company
- build a trusted marketplace
- find people to launch, discover, and scale your company around the world online.

I have launched 3 companies reaching 10000s of people so I can help you with your social media Facebook, Twitter, LinkedIn. Create learning, content and ecommerce sites with more than 1000% increased in Alexa Ranking in less than a year.
Steps for completing your project
After purchasing the project, send requirements so Elio can start the project.
Delivery time starts when Elio receives requirements from you.
Elio works on your project following the steps below.
Revisions may occur after the delivery date.
Start the project following the steps here.
When I will start your project? I will start the project when you sign up for the software I use with my link. On the website choose a plan and a template.
Gather elements
I will collect all the media files, design layout, and special instructions and agree with the overall instruction with the client.
Review the work, release payment, and leave feedback to Elio.