You will get a Simple Purchase Order Template with google Script Automation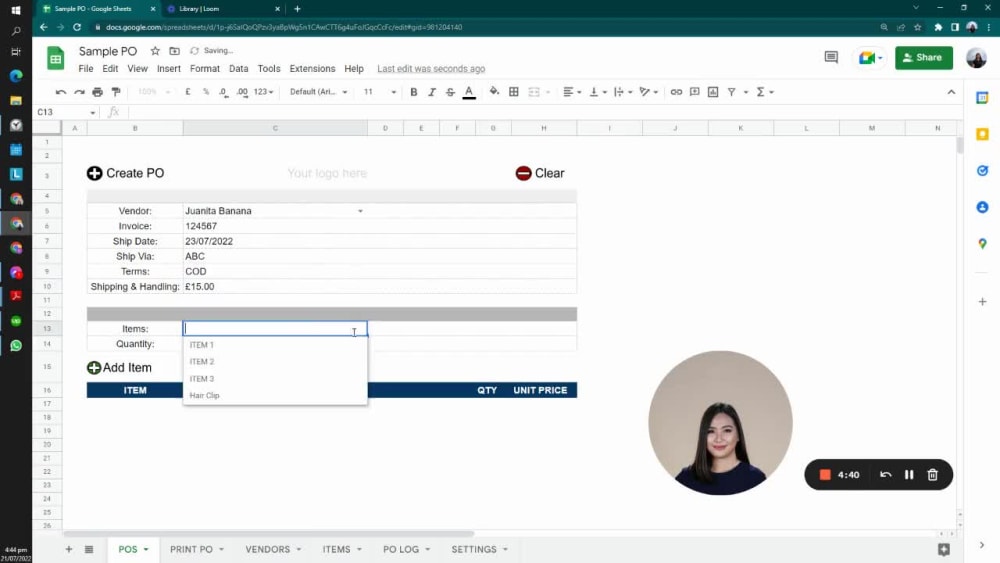 You will get a Simple Purchase Order Template with google Script Automation
Simple Purchase Order
Purchase order template in Google Sheet
1 day
delivery —
Sep 23, 2023
Revisions may occur after this date.
Upwork Payment Protection
Fund the project upfront. Rolaine Keith gets paid once you are satisfied with the work.
Project details
This is a Simple Purchase Order template made in Google Sheets,
It has Google Script Automation which includes:
* Purchase Order with Clear, Add item, and Create PO functionality
* After clicking Create PO Button, it will populate the details in the Purchase Order tab that is already formatted for PDF download
* Purchase Order Log (History)
What's included
Delivery Time
1 day
2 days
3 days
Optional add-ons You can add these on the next page.
Data Entry - Duplicate removals
Digital File Clerk
Build Calculator in Google Sheets O-Ring Calculations
She does a great job, I have already hired her on another contract.
Excel Spread Sheet Templates
Google sheets match / index
Rolaine did a great job , thanx
Hello! I'm Laine, I help Business Owners, Business Professionals free up their time for Data Entry tasks, Light Project Management and other Admin Stuffs, We'll work together towards your Business Success!

Here are my skills that can help your business:
- Excel & Google sheets ( INDEX MATCH, PIVOT, IF,IFNA, COUNTIFS,BASIC FUNCTIONS)
( Create System/ Trackers on excel and Google sheets, Directory and Dashboards )

- Able to use templates in Appsheet

- Typeform, Google Form ( able to configure add-ons for email notifications )

- Microsoft Office Apps ( PowerPoint, Word )

- Google Apps ( Drive, Sheets, Docs, Calendar )

- Trello, Clickup, Notion (Basic Operations)

- Dropbox/ Google Drive
( Store and Organize Company Files )

- PDF Conversions

** Graphic design:
Tools: Canva and Adobe Photoshop
( Create Digital Marketing Tools on Canva, Edit photos on Photoshop )

**Critical and Analytical thinking skills, Integrity and Loyalty

Exeperience:
- Virtual Admin Assistant for a Car Insurance Company
- Virtual Assistant and Sales Admin Coordinator
- Digital File Clerk
- Bidding officer ( Medical & industrial Products)
- Project Coordinator (Telecommunications Company)



Steps for completing your project
After purchasing the project, send requirements so Rolaine Keith can start the project.
Delivery time starts when Rolaine Keith receives requirements from you.
Rolaine Keith works on your project following the steps below.
Revisions may occur after the delivery date.
Vendor Data
Sample Data: NAME ,COMPANY NAME,STREET ADDRESS,CITY,STATE,ZIP,PHONE NUMBER ,EMAIL,TAX RATE
List of Items/Product
ITEM DESCRIPTION UNIT PRICE
Review the work, release payment, and leave feedback to Rolaine Keith.