You will get a data analysis report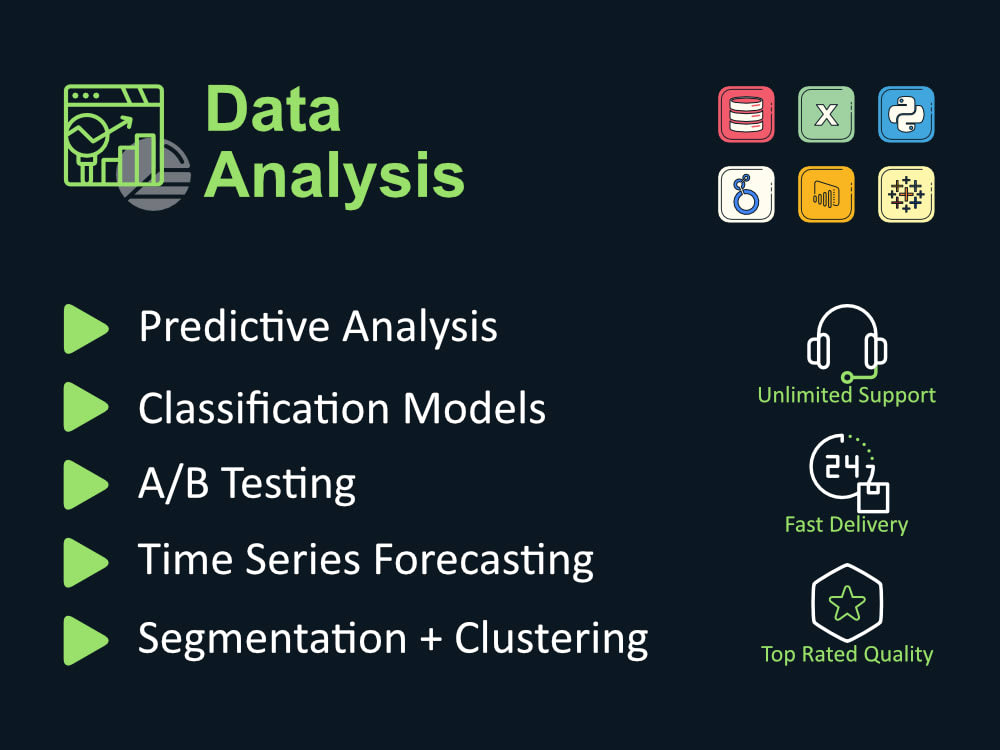 You will get a data analysis report
Number of Revisions

Unlimited
3 days
delivery —
Dec 5, 2023
Revisions may occur after this date.
Upwork Payment Protection
Fund the project upfront. Mina gets paid once you are satisfied with the work.
Project details
Thank you for your interest in my project. I bring over 3 years of robust experience as a data analyst, dedicated to driving business growth through data-driven insights.

My diverse data analysis services include:
 • Predictive analysis employing regression models
 • Crafting classification models
 • A/B testing for optimized strategies
 • Time series forecasting for future trends
 • Segmentation and clustering for enhanced targeting

I'm proficient in executing these analyses using Python, SQL, or spreadsheet tools such as Excel and Google Sheets.

To commence our journey, I'll need to gain a deep understanding of the specific business challenge you seek to address. With this clarity, I'll design a tailored approach and provide a project quote.

As a bonus, I'm delighted to offer the creation of a polished business presentation to effectively communicate your findings during important meetings.

Elevate your business decisions through the power of data analysis. I eagerly await the opportunity to collaborate.

Mina
$250
Number of Revisions

Unlimited
You will get An Amazing Process Flowchart, Layout, or Organizational Chart
Thanks Mina!
Edits to Tableau Dashboard
Mina is quick to respond, does great work and does requested changes quickly. A+. Look forward to working with him again.
Excel Spreadsheet Analysis and Report
Mina was really wonderful. He did the work in such a short space of time to a very high standard. He was very responsive. I absolutely will use again.
Data analysis
Upgrade of a Google Studio presentation
very good job, MIna is very accessible and great communication
Data Analyst with 300+ Projects and Udacity Certifications

I am a highly experienced data analyst with over 300 projects completed on multiple platforms. I am proficient in a variety of data analysis and visualization tools, including Tableau, Power BI, Google Data Studio, Python, SQL, PowerApps, Power Automate, and AppSheet. I am also proficient in Excel and Google Sheets.

I have Udacity certifications in the following areas:
+ Data Analyst Nanodegree
+ Data Visualization Nanodegree
+ Data Analysis and Visualization with Power BI Nanodegree
+ Marketing Analytics Nanodegree
+ SQL Nanodegree
+ Predictive Business Analytics

I am skilled in creating beautifully designed dashboards with great interfaces and color schemes using any of the above-mentioned tools. I am also adept at communicating data insights to stakeholders in a clear and concise manner.

I am a highly motivated and results-oriented individual with a proven track record of success. I am also a team player and I am able to work independently.

I am available for freelance or full-time positions. If you are looking for a data analyst who can help you make sense of your data, please contact me today.


Steps for completing your project
After purchasing the project, send requirements so Mina can start the project.
Delivery time starts when Mina receives requirements from you.
Mina works on your project following the steps below.
Revisions may occur after the delivery date.
Business Issue Understanding
This initial phase focuses on understanding the business issue that our clients have, and then converting this knowledge into project objectives and requirements from a business perspective.
Data Understanding
This phase starts with an initial data collection and proceeds with activities to get familiar with the data, to identify data quality problems, and to discover first insights into the data.
Review the work, release payment, and leave feedback to Mina.