You will get Premium Service Website Design and Development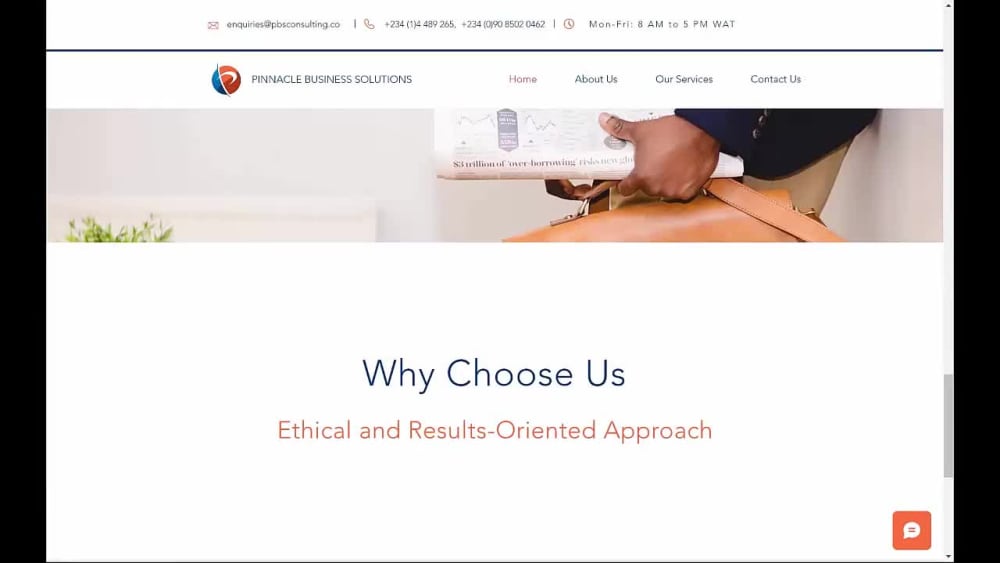 You will get Premium Service Website Design and Development
Number of Plugins/Extensions Installed

5
7 days
delivery —
Oct 7, 2023
Revisions may occur after this date.
Upwork Payment Protection
Fund the project upfront. Jeremiah gets paid once you are satisfied with the work.
Project details
The premium service website is designed to create an online presence for your brand
through a responsive website that embodies your brand values and provides all the
information potential customers will need. It is built to showcase the service offering with
an opportunity for the services to be booked or purchased straight from the site. Listed
below are the features that come with the Premium Service Websites that we design;
● Responsive design & development
● 5 Revisions
● 14 Days Follow Up
● Mobile tracking
● Live Chat Feature
● Up to 100 Products
● Online Booking
● Monetize Gallery
● Payment Integration
● 1-Year Free Hosting
● 4-Months Free Management
● Priority Support
Platform Wix
Website Specialization Business, Education, Entertainment, Nonprofit, Podcasting, Blog, Portfolio, Wedding, Portal
Supported Plugin Types Social Media, Gallery, Marketing, Events, Customer Support
What's included
Delivery Time
7 days
7 days
7 days
Number of Plugins/Extensions Installed
5
8
10
Optional add-ons You can add these on the next page.
Additional Page (+ 3 Days)
+$100
Additional Product (+ 3 Days)
+$100
Additional Plugin/Extension Installed (+ 3 Days)
+$100
eCommerce Functionality (+ 3 Days)
+$500
Color Palette Help for Brand Guide
Graphic designer for website in Nigeria
Graphic Designer needed for 1 Flyer
Graphics designer || UI/UX designer || Wix Expert
Lagos, Nigeria
- 7:07 am local time
Are you struggling to stand out in a crowded market? Is your business lacking a unique brand identity or having visibility issues? Do you want to attract more potential customers and increase your sales by 10x? As a freelance Visual designer, I can help you achieve all of this and more.

I have a passion for crafting memorable logos and identities that speak to a brand's core values while being minimalist, modern, scalable, functional, and usable across platforms. My expertise in creating compelling and aesthetically pleasing visuals has helped over 30 businesses achieve visibility on social media, doubling their sales.

If your business is lacking compelling visuals to attract the clients you need, I can provide you with top-notch designs that will help you tell your brand story. I specialize in creating brand identities that embody your brand's values in their look and feel, speak your brand's voice, and communicate your brand's values. Additionally, I can create a functional and pixel-perfect website using Wix that will help you engage with your customers.

I am also proficient in using software such as
- Adobe Photoshop,
- Adobe Illustrator,
- Figma.

These tools enable me to create high-quality designs that are visually stunning and convey your brand's message effectively. With my skills and 4years plus experience, I can help you create designs that will make your business stand out from the competition.

My expertise includes but is not limited to,

- Brand identity design,
- Logo design,
- Social media designs,
- Brand strategy,
- Print publication and brochures,
- Social media banners,
- Branding and marketing visuals,
- Wix website design,
- UI/UX design, and
- Product management.

So, if you're hungry to transform your business's visibility with top-notch visuals, send me a message and let's get started on your next project!
Steps for completing your project
After purchasing the project, send requirements so Jeremiah can start the project.
Delivery time starts when Jeremiah receives requirements from you.
Jeremiah works on your project following the steps below.
Revisions may occur after the delivery date.
Progress report
we would communicate about the progress of the project based on your convenience.
Review the work, release payment, and leave feedback to Jeremiah.