You will get premium wordpress website in divi, astra, elementor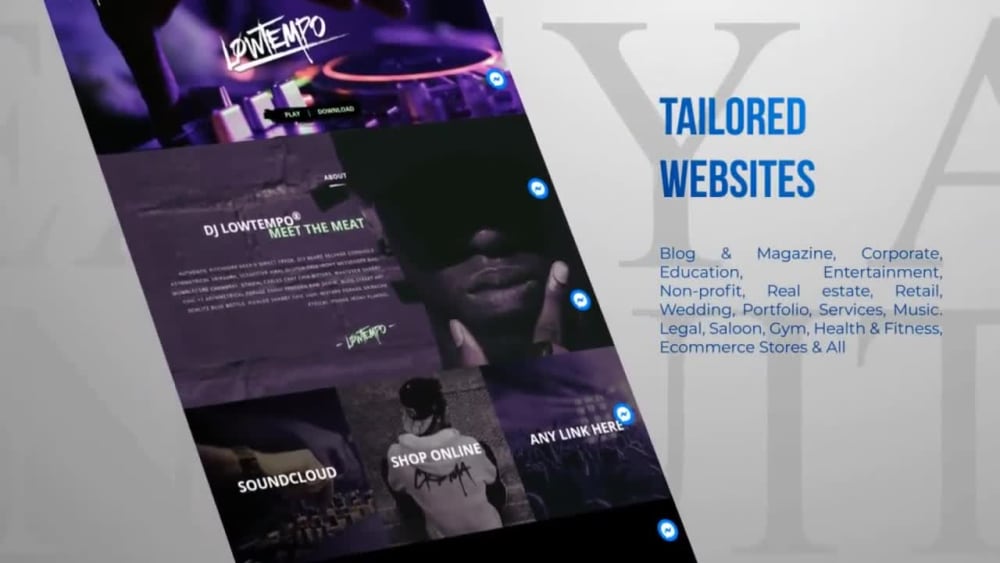 You will get premium wordpress website in divi, astra, elementor
Number of Plugins/Extensions Installed

1
1 day
delivery —
Oct 1, 2023
Revisions may occur after this date.
Upwork Payment Protection
Fund the project upfront. Bilal gets paid once you are satisfied with the work.
Project details
I will design and develop a fully dynamic & responsive Website or Landing Page for you that will be eye-catching, responsive, and Google-friendly at affordable rates. Whether it is the Business site, Landing page, Blog site, Portfolio, eCommerce, or any type of Elementor, Astra pro or Divi website.

Fully Functional and Responsive site (Mobile, Tab, Desktop)
Professional and Modern eye-catching site
PSD, XD, Figma to WordPress
Live chat, Contact
Features Included In this Gig:
Install & Setup Divi theme.
Install the required plugin
Demo import
Theme customization
Fix any issue or errors
Popup for converting lead generation and collecting email
Easy to use admin panel and User Manual to manage your website later.
Ecommerce Functionalities
Best UI/UX

Please contact me before placing an order to discuss your needs via live chat or in inbox.

Thanks
Website Specialization Business, Education, Entertainment, Nonprofit, Online Communities, Podcasting, Blog, Portfolio, Wedding, Forms, Job Board, Portal, Crowdfunding, Brochure, Wiki/Knowledge, SaaS, Other
Supported Plugin Types Social Media, Gallery, Marketing, Analytics, Video, Events, Shipping, Forum, Music, Payment, Form, Chat, Map, Membership, FAQ, Customer Support, Inventory, Other
WordPress Plugins Contact Form 7, WordPress SEO by Yoast, Mailchimp, Facebook, PayPal, YouTube, LinkedIn, AdSense, Vimeo, ClickBank, OpenCart, WooCommerce, W3 Total Cache, All in One SEO Pack, Instagram, Gravity Forms, Twitter, Akismet, Amazon, AWeber, GetResponse, Elementor, WPLMS, WP Rocket, BuddyPress, bbPress
What's included
Delivery Time
1 day
4 days
10 days
Number of Plugins/Extensions Installed
1
3
10
Optional add-ons You can add these on the next page.
Additional Page (+ 2 Days)
+$80
Frequently asked questions
Format My WP Website's Content (Elementor)
Building Website
Bilal did a great job with the changes for my website. I will continue to rehire him. He's the best!
Elementor design from Figma At the first half the work was doing great and it was going smooth.
At the second half of the work, it was kind of botched as it was well described that we'd need to custom make selections and he just used blocks on elementor and it was not even interactive. Why have buttons for selections if they are not even clickable and they don't show other things? I am kind of lost, this is not worth 140 dollars in any ways.
Create a website
I would definitely rehire Bilal. This is probably the 7th time I've hired him. He is great at making websites and can get it done very fast. Highly recommended!
Elementor WordPress Menu and Submenu Bilal was amazing! Everything went perfect! I found the unicorn freelancer on UpWork!!
Will be working with him again!
Web Developer | UI/UX | WordPress and Elementor Expert
Islamabad, Pakistan
- 8:41 pm local time
Looking for a top WordPress developer on Upwork? With over 5+ years of experience, I specialize in creating fast, secure, and easy-to-manage websites. I'm dedicated to delivering 100% value, and I'm available for new projects. I'm well-versed in WordPress, WooCommerce, PHP, HTML/CSS, and Javascript. I also excel in crafting web applications and maintaining sites and mobile apps. With 5+ years of expertise and hundreds of projects completed, I maintain a Top Rated badge and specialize in customizing WordPress websites and e-commerce solutions. Let's work together to grow your online presence.

🎨𝗦𝗸𝗶𝗹𝗹𝘀:
🔹 Website Design, Development, and Redesign
🔹 Expert in UX/UI design for web and mobile platforms
🔹 Crafting visually appealing and responsive websites.
🔹 Website Redesign and Customization
🔹 Full-stack developer proficient in WordPress, PHP, HTML5, CSS3, and Javascript.
🔹 cPanel, Database, and file structure.
🔹 WordPress Template Web Design including various themes
🔹Troubleshooting, and Maintenance
🔹 Implementing web security and SEO best practices
🔹 WordPress E-commerce Sites with WooCommerce integration
🔹 Responsive WordPress Websites, PSD to WordPress, and Landing Page
🔹 WordPress Bug Fixes and restoring hacked websites
🔹 Website Server Migration
🔹 WordPress Performance Optimization
🔹 Building new websites from scratch
🔹 WordPress Installation, Setup, and migration services
🔹 WordPress Multi-Site, Membership websites, and Multilingual websites
🔹 Long-term website maintenance, ongoing WordPress website support
🔹 Working experience with top WordPress plugins such as Contact Form 7,
🔹 LiveChat, Gravity Forms, Jetpack, Yoast SEO, Wordfence Security,
🔹 WP Rocket, WP Mail SMTP, WooCommerce, and more
🔹 Expert in eCommerce design
🔹 Adept at creating responsive designs
🔹 Specialization in SaaS and web app design
🔹 Competent in HTML, CSS, JS, and WordPress
🔹 Strong background in graphic design and illustrations
🔹 Profound understanding of analytics
🔹 Server hosting migration for popular hosting providers like Siteground, wpengine, etc.

📝 𝗔𝗰𝘁𝗶𝗼𝗻 𝗣𝗹𝗮𝗻 𝗕𝗿𝗲𝗮𝗸𝗱𝗼𝘄𝗻
🔸 Define Project Scope (Discovery Phase)
🔸 Comprehensive Research and Plan Design
🔸 Design Phase
🔸 Client Collaboration and Iterative Feedback
🔸 Development Phase
🔸 Rigorous Testing and Quality Assurance
🔸 Website Launch (Deployment)
🔸 Post-Launch Evaluation
🔸 Client Training and Handover

🤔𝗪𝗵𝘆 𝗪𝗼𝗿𝗸 𝗪𝗶𝘁𝗵 𝗠𝗲?
I offer a wealth of expertise and a well-documented track record in the art of crafting exceptional websites. Here are some key aspects that encapsulate my professional profile:
🔹Flexible time availability
🔹Crisp and clean - technology lover, interested in cutting-edge web technologies
🔹Communicator, professional, and friendly
🔹Detail-oriented and organized
🔹Strong problem-solving skills
🔹Top rated
🔹Quick learner and adaptable
🔹Exceptional attention to user experience (UX)
🔹Proficient in responsive design
🔹Deadline-driven and reliable

✨Your project deserves the best, and I'm ready to make it happen. Reach out to explore the possibilities.


𝗟𝗮𝘀𝘁 𝗨𝗽𝗱𝗮𝘁𝗲𝗱: September 25, 2023

Steps for completing your project
After purchasing the project, send requirements so Bilal can start the project.
Delivery time starts when Bilal receives requirements from you.
Bilal works on your project following the steps below.
Revisions may occur after the delivery date.
Start
We will do a meeting to discuss the project, in detail and I will then start working.
First Look into the work
In this step, hopefully, half the project will be covered, but before this of course we will be doing regular meetings to discuss the project.
Review the work, release payment, and leave feedback to Bilal.