You will get Professional WordPress Website In Elementor Pro, Divi, WpBakery, Oxygen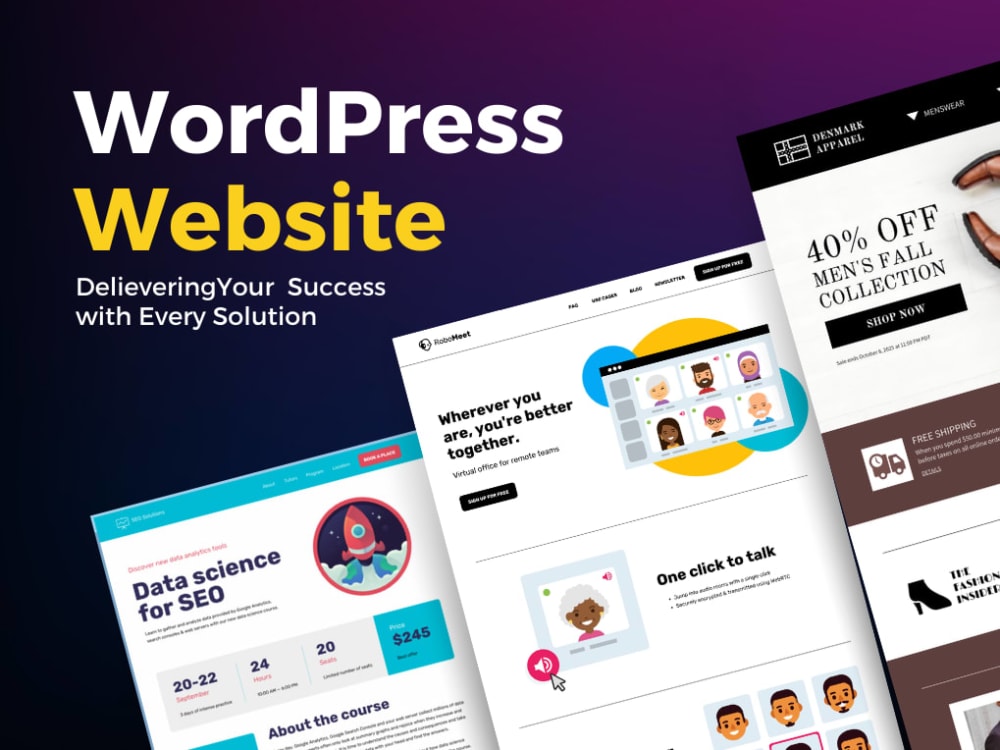 You will get Professional WordPress Website In Elementor Pro, Divi, WpBakery, Oxygen
Basic
1-3 Page website Landing Page Single Product Website, Forms, Slider
Number of Plugins/Extensions Installed

8
3 days
delivery —
Oct 7, 2023
Revisions may occur after this date.
Upwork Payment Protection
Fund the project upfront. Feroz gets paid once you are satisfied with the work.
Project details
About This Project:

Are you looking for elegant and professional WordPress website development or website design WordPress for Your New Business Or Brand? Or Want to Revamp your Existing WordPress site With New Look and 100% Responsive Layout? Then You Are at the Right Place. I will do professional WordPress website development or design WordPress SITE for your Business or Brand to Grow your Customers.

This Will Include:

✳️ Elegant, attractive, and eye-catching design with Blog

✳️ Responsive to any device (Desktop, mobile, tablet)

✳️ Search engine friendly(Yoast SEO)

✳️ Contact form and call to action

✳️ Social media integration

✳️ Domain integration with hosting

✳️ Server setup and migration from local to live

✳️ E-commerce functionality with content uploaded (if required)

✳️ Google maps and google analytics integration

✳️ All required WordPress plugins installed

I Can Design Websites.

✅ Business
✅ Fashion
✅ Music
✅ Gym
✅ Food
✅ Service
✅ Sports
✅ E-Commerce store
✅ Informative Site
✅ Entertainment
✅ Photography
✅ Landing page
✅ Hotel Booking
✅ Portfolio
and much more...

If you have any queries related to just message me I will completely guide you.
Website Specialization Business, Education, Entertainment, Nonprofit, Online Communities, Podcasting, Blog, Portfolio, Wedding, Forms, Job Board, Portal
Supported Plugin Types Social Media, Gallery, Marketing, Analytics, Video, Events, Shipping, Forum, Music, Payment, Form, Chat, Map, Membership, FAQ, Customer Support, Inventory, Other
WordPress Plugins Contact Form 7, WordPress SEO by Yoast, Mailchimp, Facebook, PayPal, YouTube, LinkedIn, AdSense, Vimeo, ClickBank, OpenCart, WooCommerce, W3 Total Cache, All in One SEO Pack, Instagram, Gravity Forms, Twitter, Akismet, Amazon, AWeber, GetResponse, Elementor, WPLMS, WP Rocket, BuddyPress, bbPress
What's included
Delivery Time
3 days
6 days
8 days
Number of Plugins/Extensions Installed
8
10
15
Optional add-ons You can add these on the next page.
Additional Page (+ 1 Day)
+$40
Frequently asked questions
Single Page WooCommerce Form, Conditional Form Elements, Payment Processing and Verification
Build a complex WordPress Site
WORDPRESS & WOOCOMMERCE secure updates plugins and system-updates
PHP support for existing application
Feroz is a very competent developer and has great communication skills to go with it.
WordPress Developer Teacher/Coach
Feroz was kind and helpful. He gave me useful advice to fix some website issues.
Expert Wordpress Developer | ELEMENTOR | Customization | Shopify | WIX
Bahawalpur, Pakistan
- 10:55 pm local time
Let's Turn Your Idea into an Outstanding Product!

A Professional Web Developer with Comprehensive Expertise is here!

I am a web development veteran with over 3 years and 820+ Hours of project experience using different CMS platforms!

My Skill Sets:

WordPress Solution
Plugin Customization
Any WordPress Theme
Speed Optimization
Domain & Hosting Setup
Elementor
Shopify
E-commerce Websites
Business Websites
Wix

Here is a list of my additional skills:

HTML5, CSS3
SASS/LESS
JavaScript
MySql
Bootstrap 4/5, TailWind CSS

During all my 3 years in the web development field, I had such experiences:

➤ Secure Website
➤ Customization and maintenance of already developed applications
➤ Responsive & Mobile Friendly
➤ E-commerce with various payment methods
➤ Social Media Integration like FB, Instagram, and Twitter
➤ Speedy Website
➤ Search Engine Optimization Friendly URLs
➤ User-friendly and attractive layout
➤ Highly Professional Design

Feel free to contact me for your project.
Steps for completing your project
After purchasing the project, send requirements so Feroz can start the project.
Delivery time starts when Feroz receives requirements from you.
Feroz works on your project following the steps below.
Revisions may occur after the delivery date.
Review Clinet Details
I will review all the details provided by client in document or any format check the scope of project.
Requirement Analysis
Discuss the project requirements and analyze the details provided.
Review the work, release payment, and leave feedback to Feroz.