You will get to develop android and IOS using react native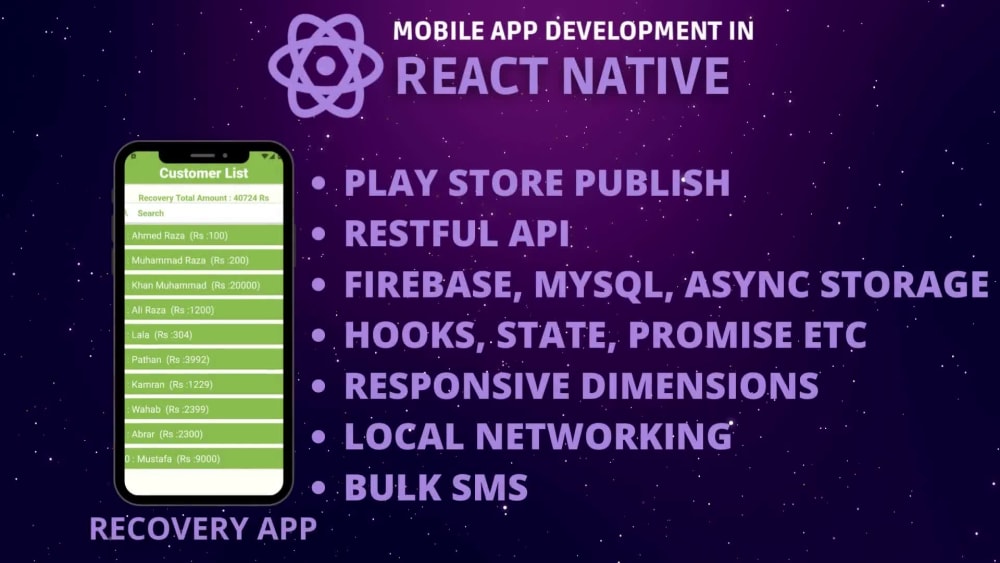 You will get to develop android and IOS using react native
10 days
delivery —
Dec 11, 2022
Revisions may occur after this date.
Upwork Payment Protection
Fund the project upfront. Ahmed gets paid once you are satisfied with the work.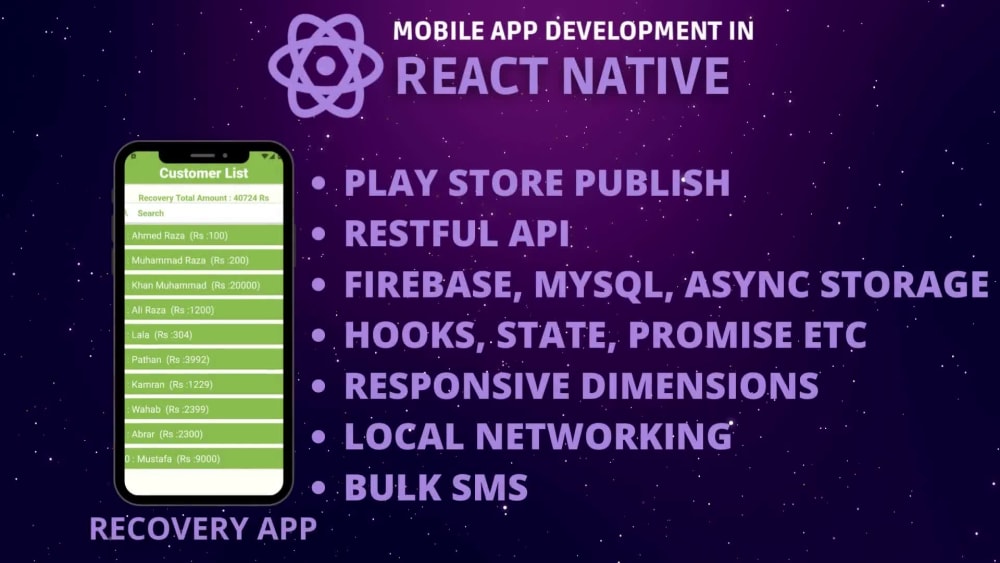 Project details
Hello, I'm Ahmed R. I have more than 5-year experience in a React Native. If you are looking for Native Android, iOS or Web App at a reasonable price, you are at the right place. I will maintain google and Apple guidelines so no chance of your app being banned/rejected.

Services that I provide:

Develop App with React Native material design
Integrating Mobile Ads with Admob
Email, Google, Facebook User Authentication
Integrating Firebase, Google APIs (maps, youtube API, etc)
Connect apps with servers & perform CRUD operation using PHP and MySQL.
Use of all kind of widgets.
Fix all bugs

Features Your App May Include:

Responsive App UI.
Beautiful Design And Solid User Experience.
Website to App Conversion.
Native Performance.
Firebase Integration.
Social Media Integration.
Local Notifications.
Push Notifications.
Location Services.
Google Maps Integration.
Map Navigation Integration.
API Integration.
Database Integration.

Benefits:

Faster development. Users from Android and iOS get the same experience.
Lower costs. Reusable code.
A single codebase.
100% Fast and guaranteed delivery
Free support and consultation

If You have any query, Please feel free to ask me anything.
Platform Android
App Type Native App
Development Technology React Native
App Purpose Chat, Delivery, Education, Maps & Navigation, Music, News, Restaurant, Shopping, Streaming, Travel
Expertise Design, Localization, Performance Optimization
What's included
Delivery Time
10 days
20 days
30 days
Optional add-ons You can add these on the next page.
About Ahmed
Hello there

I have 5+ Years of experience

Key Skills :
---------
✨ Design and Develop Website site from scratch.
✨ Website site customization.
✨ WordPress site customization.
✨ React Native Apps Development/Customization
✨ Desktop Software Development/Customization
✨ E-Commerce Website.
✨ Payment gateway integration.
✨ API Integration.
✨ Fix errors.
✨ Website Maintenance
✨ Video Editing
✨ Logo Designing
✨ Microsoft Access

•Front-end - HTML, CSS, Bootstrap, WordPress, ReactJS, JavaScript, jQuery, Ajax
•Back-end - PHP, Laravel, CodeIgniter, NodeJS, HTML
•Designing - Photoshop, Adobe XD, Adobe Illustrator, Corel Draw.
•Video Editing - Adobe Premiere, Filmora, Movave, Canva.

Hi! This is Ahmed, I Work at Madina Software House And We Work as Team, My Father is the Owner of Madina Soft. My Father's Experience in MS Access, Accounting Software 20 Years Old. We Already Have Many Software Developed Mobile Apps, Desktop Applications, and Web Applications. Just make the changes you want. My Experience is 5 Years in PHP, MySQL, CSS, JavaScript, jQuery, Bootstrap, Ms Access, React Native, C#, SQL Server, E-Commerce, Web Development, Networking, API And Desktop Development Etc. I Especially Solved problems in these programming languages. We Work Globally, especially in Pak

Looking very forward to working with you.
Steps for completing your project
After purchasing the project, send requirements so Ahmed can start the project.
Delivery time starts when Ahmed receives requirements from you.
Ahmed works on your project following the steps below.
Revisions may occur after the delivery date.
Tell Me Your Requirements
If your app is complex, then it depends on your project. How they take time.
Review the work, release payment, and leave feedback to Ahmed.