You will get website to organize your school online
Ravshanbek M.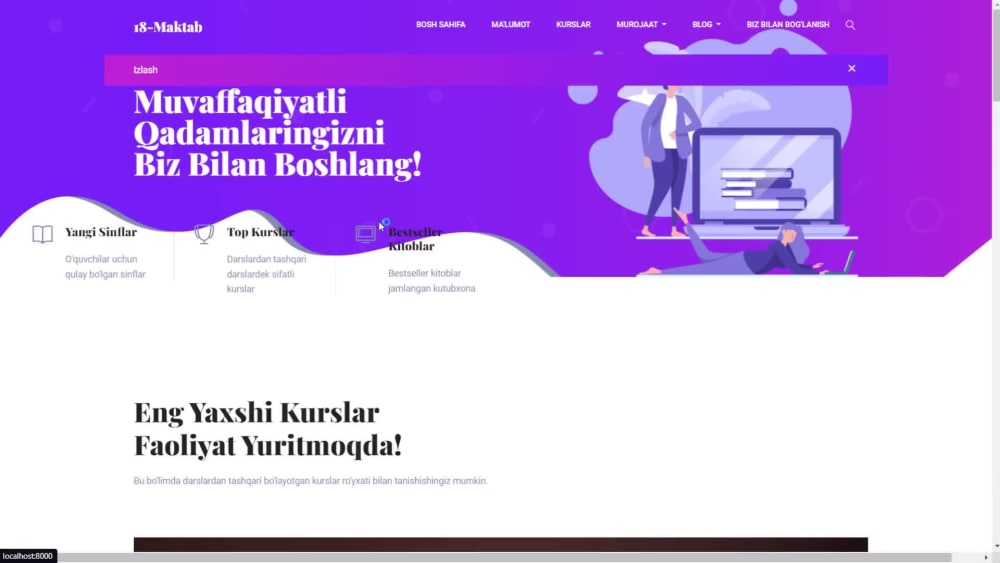 You will get website to organize your school online
Ravshanbek M.
Online systemization (CRM)
Allows to systematize schools or educational centers online
10 days
delivery —
Dec 9, 2023
Revisions may occur after this date.
Upwork Payment Protection
Fund the project upfront. Ravshanbek gets paid once you are satisfied with the work.
Project details
Through this project, you will have the opportunity to systematize your school or similar educational institution online.
In addition, through the project, you will be able to advertise the available courses online and collect students. If you want more features, we can prepare blogging pages or user interaction functions for you.

The work will be 100% quality and safe!
Programming Languages HTML & CSS, JavaScript, Python
Coding Expertise Cross Browser & Device Compatibility, Performance Optimization, Security
What's included
Delivery Time
10 days
10 days
15 days
Optional add-ons You can add these on the next page.
Additional Page (+ 2 Days)
+$10
Content Upload (+ 5 Days)
+$15
Source Code (+ 2 Days)
+$10
About Ravshanbek
Fergana, Uzbekistan
- 11:18 am local time
I am a developer with 2 years of experience in creating sites of varying complexity. Do you want to win your business, do you want more people to use your services, or do you want to do your work online - I can help!

* I have enough experience in Python (basic), Django / DjangoRestFamework, Aiogram (telegram bot) technologies

* I can only work on your project completely from start to finish, make it perfect!

* Regular communication is really important to me, so let's keep in touch!

* The future of your little project is in your hands! I will help you!
Steps for completing your project
After purchasing the project, send requirements so Ravshanbek can start the project.
Delivery time starts when Ravshanbek receives requirements from you.
Ravshanbek works on your project following the steps below.
Revisions may occur after the delivery date.
we send the project to the client in the form of a video
Review the work, release payment, and leave feedback to Ravshanbek.