You will get WIX Website & Development Services - Affordable & Reliable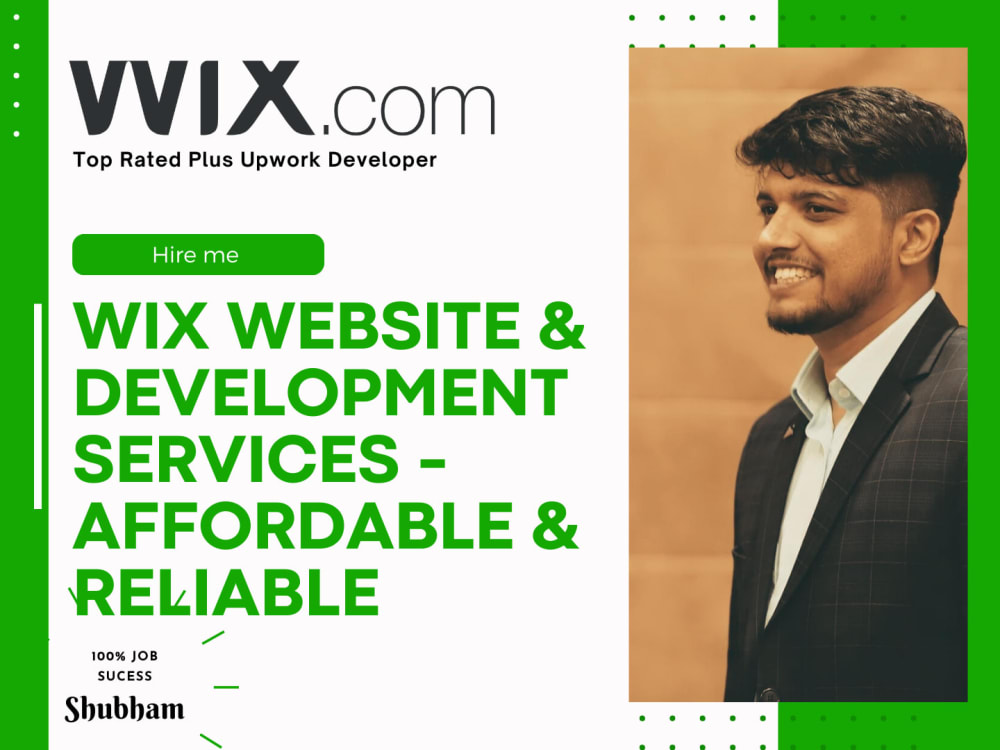 You will get WIX Website & Development Services - Affordable & Reliable
Number of Revisions

Unlimited

Number of Plugins/Extensions Installed

10
7 days
delivery —
Oct 5, 2023
Revisions may occur after this date.
Upwork Payment Protection
Fund the project upfront. Shubham gets paid once you are satisfied with the work.
Project details
Wix - Wix Web Design - Wix Design - Wix Website - Wix Website Builder - Wix Website Designer


Professional Wix Web designer with more than 8 years of experience. I have designed and created over 400 Wix websites. I can design or redesign your Wix website according to your preferences. I can assist you with migrating your other platform website WordPress, Webflow, or Shopify to the Wix platform smoothly.

You will get an Attractive, Elegant & Professional Wix website with full functionality & User-friendly Interface.

What do I have for you in this Package?

Wix site from scratch
Wix Fully Website Design
Redesign an existing Wix site
Clone a website in the Wix platform
Wix Custom Layouts
Wix landing page
Wix e-commerce store
Responsive & User-friendly Wix Website
Wix SEO
Wix Website Speed Optimization
Safe & Secure Wix Website
Full Functionality setup on Wix

Why Choose Us?

1. Our Agency has completed 3000 projects on Upwork.
2. Highly Professional & Dedicated services.
3. More than 8 years of work experience.
4. Revision & Mockup until the final approval.
5. Lifetime Post-Completion support.
Platform Wix
Website Specialization Business, Education, Entertainment, Nonprofit, Online Communities, Podcasting, Blog, Portfolio, Wedding, Forms, Job Board, Portal, Crowdfunding, Brochure, Wiki/Knowledge, SaaS, Other
Supported Plugin Types Social Media, Gallery, Marketing, Analytics, Video, Events, Shipping, Forum, Music, Payment, Form, Chat, Map, Membership, FAQ, Customer Support, Inventory, Other
$100
Number of Revisions

Unlimited

Number of Plugins/Extensions Installed

10
Optional add-ons You can add these on the next page.
Additional Page (+ 3 Days)
+$50
Additional Product (+ 3 Days)
+$50
Additional Plugin/Extension Installed (+ 3 Days)
+$50
Wordpress Training
Great person to work with. I will hire Shubham again.
URGENT web development issue
Wordpress, Elementor, & Blog Upload Manager
Amazing work! Fast and efficient.
Build a Website Using Wordpress + Elemetor Pro
Provided ehat I asked, corrected any issues and responded in timely manner. All work done on schedule with good quality.
Mobile Site Speed Project
Wordpress Developer | Elementor | Speed Optimization | Security | SEO
Delhi, India
- 3:18 am local time
Best Service with best quality, affordable price & ♥
🌟 TOP 1% PHP, Wordpress Developer and Shopify Developer on Upwork.
🌟 TOP-RATED PLUS consistently from the past 8 years

✅ Senior Full Stack Developer
🏆 Worked with Fortune 400+ companies
🏆 Senior Full Stack Developer and Designer
🏆 9000+ Upwork hours
🏆 100+ Successful Projects On Upwork.

I have been involved in digital for the past 10 years and solely worked with the WordPress platform as a WordPress designer and developer for just over ten years. Over this time, I have worked with large global businesses, education such as universities, online platforms, PR agencies, charities, SMB's, and start-ups, to name but a few.

My core expertise are -

» Wordpress Development from Scratch
» Theme Development & Modification
» SEO friendly Design
» WooCommerce & Shopify complete eCommerce Solutions
» Astra theme & Elementor Page Builder.
» Divi Theme & Divi Builder
» PSD to HTML Conversion
» PSD to Wordpress Conversion
» Adobe XD to WordPress Conversion
» Learndash, LMS, BuddyBoss theme, Membership, Memberium, InfusionSoft, Buddypress
» Plugin Integration
» Aweber, Mailchimps Integration
» Custom Solution
» Custom Dashboard Development
» API Integration
» Stripe, Authorize.net & all kind of payment gateway Integration
» And everything what we can do with WordPress

I am able to at your time convenience and able to work according to your timezone. You wouldn't wait for my reply or email. I'm always available for my client, you will get my reply within 1-2 minutes.

I have been freelancing for a number of years and specialize in anything Wordpress, from full site setup and theme customization to minor tweaks. I am fully experienced in all aspects of web site design using Wordpress and can also advise on SEO best practices and website optimization.

Types of websites I can create:

Startup Business Websites
SMB Websites
Directory Websites
Educational Websites (LMS)
Social Media Sites
Recruitment Websites
Education Websites
eCommerce Websites
Estate Agency Websites
and much much more...

WordPress Themes:

Divi Wordpress theme, Avada Wordpress theme, Flatsome Wordpress theme, The 7 Wordpress theme, Bridge Wordpress theme, Betheme Wordpress theme, Porto Wordpress theme, Astra Wordpress theme

Learning Management Systems (LMS):

Learnpress Wordpress theme (LMS) Wordpress theme, Eduma (LMS) Wordpress theme,
Masterstudy (LMS) Wordpress theme

Directory WordPress Themes:

Houzez Wordpress directory theme, ListingPro Wordpress directory theme, Kleo Wordpress directory theme, Listify Wordpress directory theme, MyListing Directory, DirectoryPro Wordpress directory theme, BuddyPress, Listable Wordpress directory theme, JobCareer Wordpress directory theme, Javo Directory Wordpress directory theme, Wilcity Directory, Job Monster Wordpress directory theme

As a WordPress developer, I follow modern web development practices and use new technologies; as a person who never stops learning; as a person who is trustworthy, responsible, respects deadlines, and knows that customer satisfaction is essential.

Please remember your satisfaction is my business.

Please feel free to contact me anytime.

Thank you.
Shubham Vijay
TOP 1% PHP, Wordpress Developer and Shopify Developer on Upwork.


#Elementor - Elementor Pro - Elementor Expert - PSD to Elementor - Elementor Website - WordPress website design - WordPress Theme - WordPress Developer - WordPress Expert - WordPress Plugin and Theme customization - WordPress website design and development - Responsive WordPress website - WordPress Malware removal - WordPress speed optimization - WordPress landing pages - WordPress SEO plugin - WordPress ecommerce website design - Wordpress Guru - WordPress website developer - WordPress designer - wordpress website design - Woocommerce
Steps for completing your project
After purchasing the project, send requirements so Shubham can start the project.
Delivery time starts when Shubham receives requirements from you.
Shubham works on your project following the steps below.
Revisions may occur after the delivery date.
Client sends all the details
Review the work, release payment, and leave feedback to Shubham.