You will get Woocommerce Developer | Woocommerce Designer | Woocommerce Store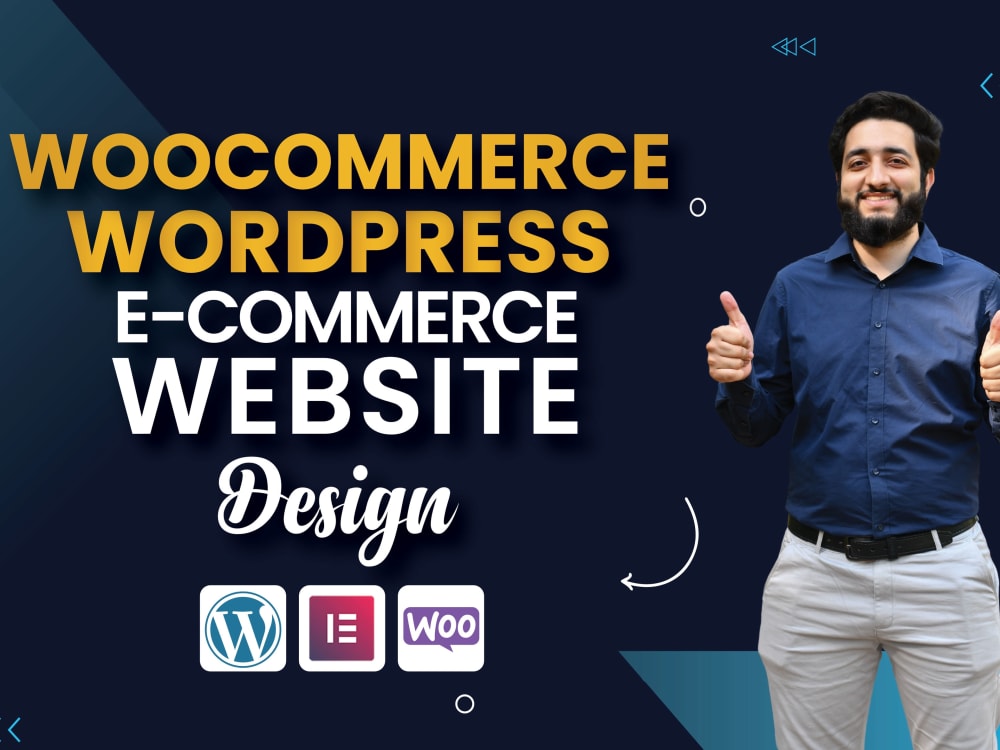 You will get Woocommerce Developer | Woocommerce Designer | Woocommerce Store
Woocommerce Beginner
Woocommerce store with 3-4 pages+ responsive design
5 days
delivery —
Dec 5, 2023
Revisions may occur after this date.
Upwork Payment Protection
Fund the project upfront. Hammad gets paid once you are satisfied with the work.
Project details
You will get a professional Ecommerce Website. Which you can manage easily. I will also send you some tutorials in the end that will help you to change things if you need at any time.
Platform WooCommerce
Supported Plugin Types Payment, Social Media, Dropshipping, Shipping, Customer Support, Marketing, Inventory, Analytics, Chat, Gallery, Form, Video, Finance, Map, Membership, Forum, Events, Music, Other
What's included
Delivery Time
5 days
10 days
15 days
Optional add-ons You can add these on the next page.
Additional Page (+ 2 Days)
+$20
SImple Products (+ 2 Days)
+$20
Domain Integration (+ 1 Day)
+$10
Variation Products (+ 3 Days)
+$30
Real Estate Landing Page
Duplicate website from one host to another
A woo commerce store in WordPress.
Hammad was very accommodating in creating my website. With quick response time, he ensured I got all my requests fulfilled and answered all my questions satisfactorily. It was a pleasure to work with him.
Solved Wordpress issues + Migration to new hosting Manually + Domain Transfer
Another successful project by Hammad. Thank you for working in such a quick and efficient manner. Hammad produces clean results and the on top of the quality of service he provides, the communication has also been outstanding. I highly recommend Hammad for anything wordpress or website related. I look forward to working with you again.
Migrate Wordpress Website from Digital Ocean to Bluehost
Hammad Shahzad is a very talented individual. He was able to migrate my website from one host to another with no trouble whatsoever. He demonstrated great knowledge and showed that he is a subject matter expert with wordpress websites. Looking forward to doing more work with Hammad in the near future. Thanks for your professional service.
Top Wordpress Developer | WooCommerce Expert | Elementor Expert | SEO
Lahore, Pakistan
- 10:42 am local time
🏆 Top 10% of talent on Freelancer
🌟 5-star reviews from 99% of clients
✅ 350+ successful website launches
💎 Collaborated with 35+ creative agencies
✅ 2500+ hours dedicated to Freelancer
📈 45% increased in conversion rate


Hi! I'm Hammad Shahzad, a Top WordPress Designer and E-commerce Expert with 5 years of experience. With ⭐⭐⭐⭐⭐ 350+ reviews online, I am here to take your business to new digital heights.

From custom theme designs to e-commerce and custom plugin development, I will help you transform your personal or business concept into a successful Shopify/WordPress-based website or Any platform of your own choice.

🙌 If it's a yes, it would definitely be a long-term & profitable partnership for both of us. Let's chat!
Steps for completing your project
After purchasing the project, send requirements so Hammad can start the project.
Delivery time starts when Hammad receives requirements from you.
Hammad works on your project following the steps below.
Revisions may occur after the delivery date.
Start working on project
We will start working on your project and ask questions if more information is needed.
Check for Issues
When it's complete will deliver the website to check if everything is working fine.
Review the work, release payment, and leave feedback to Hammad.