You will get a go-to-market research to enhance your go-to-market strategy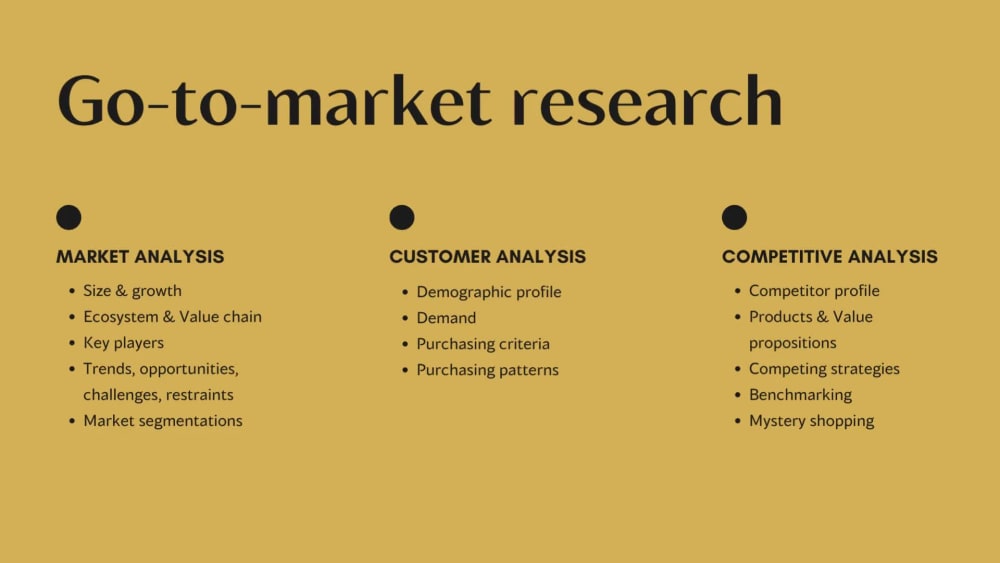 You will get a go-to-market research to enhance your go-to-market strategy
TAM Calculation or Analysis
8 days
delivery —
Feb 16, 2023
Revisions may occur after this date.
Upwork Payment Protection
Fund the project upfront. Kim gets paid once you are satisfied with the work.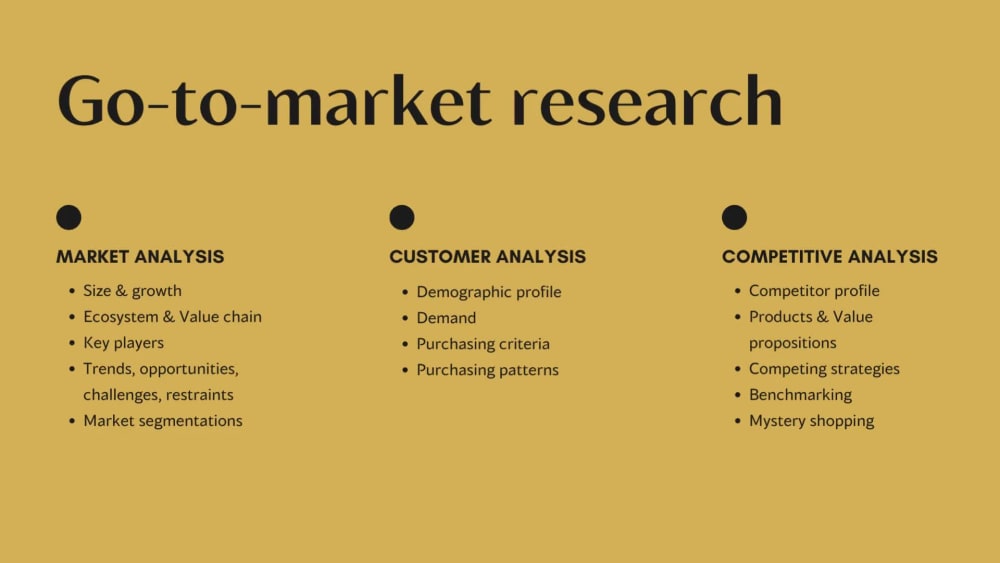 Project details
This is an all-in-one market research service that enables you to
1. Evaluate your market potential
2. Mitigate entry barriers
3. Localize product-market fit solution
4. Penetrate the local ecosystem
5. Fine-tune your positioning strategy
6. Optimize your targeting & prospecting efforts

I have spent 6 years assisting businesses in Vietnam, Singapore & Ukraine to launch new products, acquire new clients, & enter new markets.

This market research consists of 3 components

1. Market analysis
 • Size & growth
 • Ecosystem & Value chain
 • Key players
 • Trends, opportunities, challenges, restraints
 • Market segmentations

2. Customer analysis
 • Demographic profile
 • Demand
 • Purchasing criteria
 • Purchasing patterns

3. Competitive analysis
 • Competitor profile
 • Products & Value propositions
 • Competing strategies
 • Benchmarking
 • Mystery shopping

Upon request, I will provide further recommendations on
 • How to modify/localize your product for the optimal fit?
 • How to position your solution outstandingly?
 • Which channels are most effective to market your solution?

Customization & tailor-made research is also available upon your request.
Language English, Vietnamese
Research Method Qualitative, Quantitative
$395
TAM Calculation or Analysis
Frequently asked questions
Community & Social Engagement in Vietnamese Language
Community & Social Engagement in Vietnamese Language
Seeking freelancers to conduct in-store product research in Vietnam
Sales, Market analysis, Business Development Consultant
Ho Chi Minh City, Vietnam
- 11:45 am local time
Assisting organizations to develop their product portfolios & sales
strategies, identify & seize new business opportunities across current
and new markets, and transform these opportunities into thousands
of dollars revenue from B2B & B2C channel since 2013.

Experienced in international business with 4 years exposing
intensively to international working environment and international
customers.

Skilled in Market research, Product development, Portfolio
management, Strategic prospecting, Negotiation, Sales
presentations, Networking, Customer relationship
management. Growing in Management, Digital marketing, Project
management.
Steps for completing your project
After purchasing the project, send requirements so Kim can start the project.
Delivery time starts when Kim receives requirements from you.
Kim works on your project following the steps below.
Revisions may occur after the delivery date.
Confirm research requirements & expected outcomes
Outline the research contents, identify suitable methods & resources
Review the work, release payment, and leave feedback to Kim.