You will get very structured Google Ads campaigns tailored to your business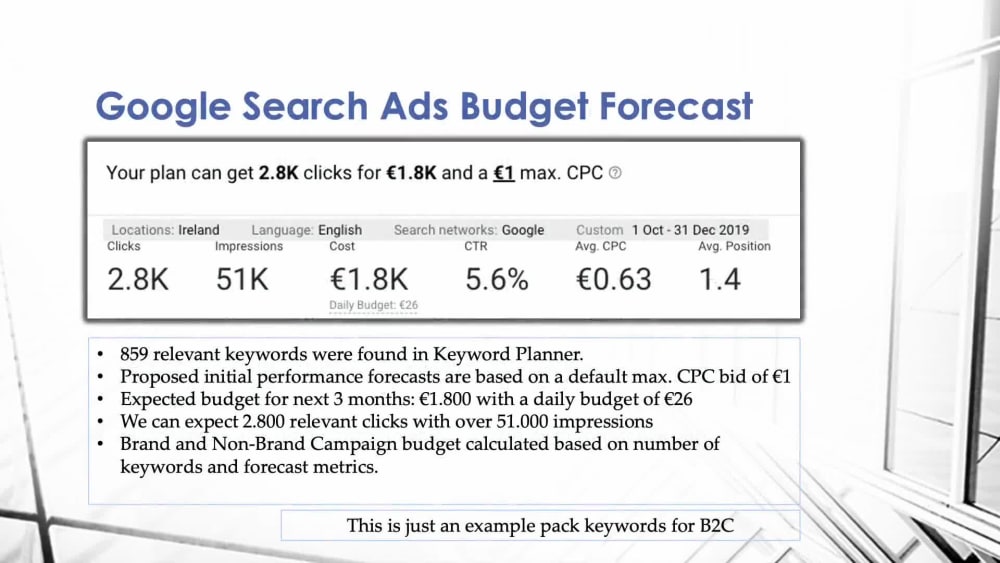 You will get very structured Google Ads campaigns tailored to your business
1 Detailed Campaign setup
5 Ad Groups 3 Ad texts variations 1 Ad Extension
Number of Keywords Researched

25

Number of Bidding & Budget Suggestions

1
1 day
delivery —
Nov 29, 2023
Revisions may occur after this date.
Upwork Payment Protection
Fund the project upfront. Arturs gets paid once you are satisfied with the work.
Project details
I am certified in PPC (Google Ads, Facebook Ads, Bing Ads) and Graphic design. This is my area of expertise and I pride myself on providing first-class solutions.

If you have ever worked with an agency, you probably realized that they are not result-oriented, which is why many intermediaries slow down the process, all I can say about today's agencies is that they are all focused only on collecting monthly payments.

What you can expect if you choose to work with me:
 • Top Quality work (Google Ads and Facebook ads campaigns & Professional Reporting)
 • Perfect Communication (I can jump on a call almost anytime and resolve any issue in 1-4 hours)
 • Eliminate any Waste spend (I will adapt any latest technologies to beat your competitors and maximise your ROAS (Return Of Ads Spend)

I am certified in Google Search Ads, Google Display Ads, Google App Ads and Google Video Ads from the Academy of Google.
Search Engines Google, Bing
What's included
Delivery Time
1 day
3 days
5 days
Number of Keywords Researched
25
75
250
Number of Bidding & Budget Suggestions
1
3
5
Google Ads and Facebook Ads Expert (PPC)
Delgany, Ireland
- 5:27 pm local time
👨‍🎓Graduated in Digital Marketing | Ex Google Worker | Google & Facebook Ads ROAS Expert 🚀 | 8+ Years of Experience ✨ | Upwork Top Rated 🏆 | Shopify Expert | PPC Campaign Management & ROI Optimization 💼 | Tag Manager 🏷️ | GA4 Reporting 📊 | Google Certification ⭐⭐⭐⭐⭐

Introduction:
Welcome to my Upwork profile 👋. With over 8 years of specialized experience in Google Ads, I've advised more than 100 distinguished clients globally 🌍, helping them maximize returns on their advertising investments 💸. Based in Ireland and having spent several years in the US, my proficiency in PPC campaign management and ROI optimization ensures your business reaches its performance milestones 📈

Why Choose Me?
A poorly executed advertising campaign not only incurs costs 💰💰💰 but also forgoes potential revenue. Hence, my approach emphasizes transparent communication throughout the campaign lifecycle 🔄. I design campaigns that align closely with your business objectives 🎯 and effectively engage your target market 👥

Services:
✅ Google Ads, Facebook Ads & Bing Ads Setup and Tune-up
🎯 Precision-Driven Keyword Research
📊 Conversions, Events, and Goals Tracking via Google Analytics
📈 Continuous Monitoring for Peak ROI
🌍 Cultural & Behavioral Insights for New Markets
📑 Tailored PPC Marketing Strategy
🔧 Google Tag Manager Setup
🔗 Google Analytics Linking & Reporting
🛒 E-commerce Site Management

Process Overview
Planning & Forecasting 📈: Initial analysis and strategic planning.
Implementation ⚙️: Deployment of the customized ad campaign.
Monitoring 🖥️: Real-time performance tracking.
Optimization 🔍: Data-driven adjustments for maximum ROI.
Reporting 📊: Comprehensive performance analytics.
Q&A Meeting 💬: Addressing queries and discussing forward strategies.

Why I'm Your Best Choice?
I have a consistent history of delivering robust campaigns that drive business growth. With meticulous attention to detail, I commit to bringing the best value possible from your advertising budget.

Contact Me!
If you seek expertise in PPC campaign management, don't hesitate to get in touch. Let me leverage my extensive experience to elevate your business to unparalleled heights.

Testimonial
"I am passionately committed to delivering a unique digital marketing approach for each client, regardless of the project size. Whether it's a minor PPC campaign or a major advertising initiative, my service aims to exceed your expectations."

Thank you for considering my professional expertise. I look forward to potential collaborations.
Steps for completing your project
After purchasing the project, send requirements so Arturs can start the project.
Delivery time starts when Arturs receives requirements from you.
Arturs works on your project following the steps below.
Revisions may occur after the delivery date.
Draft version for final approval
I will send you a draft version for your approval
Review the work, release payment, and leave feedback to Arturs.