You will get a high-quality Australian children's short story audiobook narration
Jad J.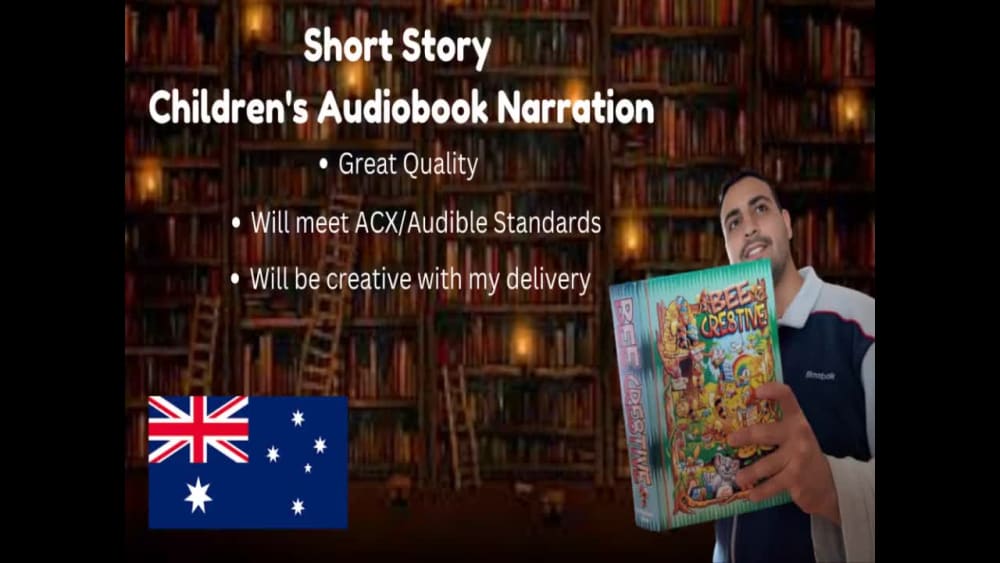 You will get a high-quality Australian children's short story audiobook narration
Jad J.
2 days
delivery —
Sep 26, 2023
Revisions may occur after this date.
Upwork Payment Protection
Fund the project upfront. Jad gets paid once you are satisfied with the work.
Project details
Hello! Nice to meet you, my name's Jad. I will be offering voice-over services for your short children's story and audiobook in an Australian accent, feel free to listen to some of my sample demos in my portfolio.

I believe choosing me to voice your stories will leave you with a great, personable, high-quality, and unique experience that will leave you and your readers satisfied. I will deliver your basic requests within 1 day or less :)! I provide 1 free revision with each order, additional revisions will cost $10 each.

My services include:

Short Story Children's Book Narration
Short Audiobook Narration
Character Voices & Impressions
Some Animal Voices If Needed
Can meet the ACX/Audible Requirements & Standards If Needed
Australian Accent Primary, But Can Also Do British Accent On Request.
And Potentially More! Just ask :)

Please message me first if you have any questions so that I can deliver your work in a satisfying way that meets your requirements. Be as clear as possible when placing an order :). Excited to hear from you!

*Disclaimer: I will NOT be including background music unless you have a licensed track that you'd like me to add.
Gender Male
Purpose Audiobook, Dubbing/Impersonation, Video Narration
Language English
Accent Australian English Accent
Age Range Adult
Tone Angry, Calming, Cute, Energetic, Funny
What's included
Delivery Time
2 days
5 days
8 days
Background Music (Per Each Track)
Optional add-ons You can add these on the next page.
Frequently asked questions
About Jad
High Quality Australian English Male Voice Over/Dubbing
High Quality Australian English Male Voice Over/Dubbing
Melbourne, Australia
- 3:23 pm local time
Hey :)! My name's Jad nice to meet you! Since childhood I've always loved imitating different kinds of voices, acting, writing, and singing and was always told I had a talent for many things by friends and family, so now I want to entertain and help you guys here on Upwork by sharing my talent and skills with you and providing you with high quality work to the best of my ability.

My recording equipment to provide you with high quality and clean audio includes: An Audio Technica AT2020 Microphone & Shock Mount, Stadium Pro Mic Stand, Pop Filter, and audio editing using Audacity software on my laptop. I'll provide you with voice over work for the following things:

- Anime/Animation Characters
- Villain Character Voice
- Cartoon
- Video Games
- Impersonation/Imitation/Character Acting
- Commercials
- Radio
- Youtube Videos
- Ads For Everything
- Learning & Education Content
- Short Story Children's Audiobooks And Other Audiobooks
- Phone IVR Voicemail Messages
- Evil/Scary/Demonic/Monster Voiceover
- Jingles
- Movie Trailer
- I can also provide audio editing and enhancement for your voice over work
- And Potentially More! Just ask :), I can't wait to hear from you and work with you!
Steps for completing your project
After purchasing the project, send requirements so Jad can start the project.
Delivery time starts when Jad receives requirements from you.
Jad works on your project following the steps below.
Revisions may occur after the delivery date.
You purchase the project and send me the requirements.
After you place an order and send me the requirements I can begin working on your project.
I complete the project based on the requirements you've sent me.
Review the work, release payment, and leave feedback to Jad.