You will get a Professional American Female Voice Over
Nicole M.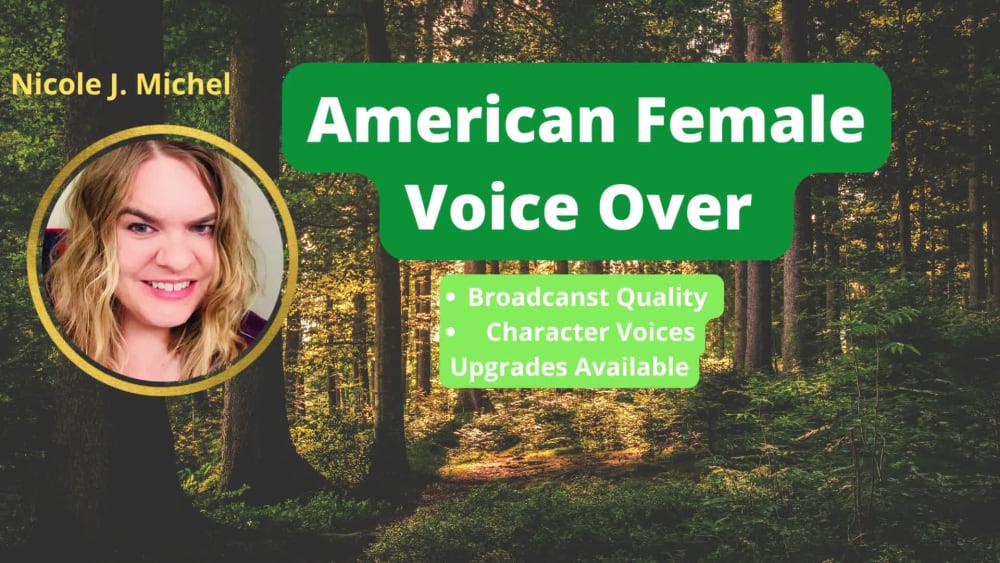 You will get a Professional American Female Voice Over
Nicole M.
up to 600 words of audio
I can provide up to 600 words of high quality voice-over for this low price .
3 days
delivery —
Sep 24, 2023
Revisions may occur after this date.
Upwork Payment Protection
Fund the project upfront. Nicole gets paid once you are satisfied with the work.
Project details
You will get a professional high quality audio file of your voice over script of 600 words or less. If you have longer projects that you would like me to work on please contact me.. My prices are negotiable.
Gender Female
Purpose eLearning, Video Narration, Webinar
Language English
Accent American English Accent
Age Range Adult
Tone Calming, Casual, Corporate, Emotional, Energetic
Optional add-ons You can add these on the next page.
Additional Split File (+ 1 Day)
+$5
Frequently asked questions
About Nicole
Pacific Grove, United States
- 9:39 am local time
I am an aspiring Voice Talent, with 12 years of vocal training in singing. This training has given me the range and versatility to pursue voiceover and voice acting work. I am interested in all kinds of projects E-learning, webinars, narration, advertisements Etc. If you are looking for an American Female voice talent check out my demos. I look forward to working with you.
Steps for completing your project
After purchasing the project, send requirements so Nicole can start the project.
Delivery time starts when Nicole receives requirements from you.
Nicole works on your project following the steps below.
Revisions may occur after the delivery date.
Clinet purchases the Project and sends requirements
Please include a clear copy of the script with any notes about tone or direction that you would like to hear in the audio.
I will record your audio and send it back to you
Please make sure that we are able to communicate and send files easily and clearly.
Review the work, release payment, and leave feedback to Nicole.