You will get a professional dutch IVR or voicemail greeting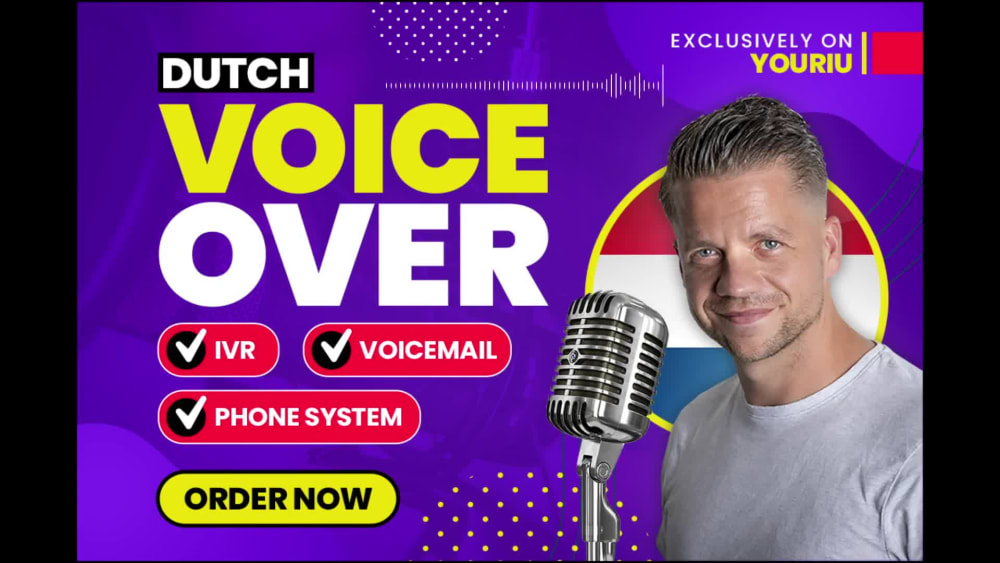 You will get a professional dutch IVR or voicemail greeting
2 days
delivery —
Oct 6, 2023
Revisions may occur after this date.
Upwork Payment Protection
Fund the project upfront. Youri gets paid once you are satisfied with the work.
Project details
✅ This project is for 75 words. If you would like to order more, add the additional words below from the addon section. 🎙🎤

Welcome. My name is Youri - I will record your male professional IVR Voice Over or Voicemail Greeting etc. in Dutch (Nederlands) or English TODAY!

I deliver in HQ WAV, mp3 or uLaw formats

✅ MY BASIC $10 GIG INCLUDES:

· 75 words;
· HQ WAV, mp3 or uLaw formats
· 100% Satisfaction

Maybe you don't even have a script?
DON'T WORRY, I'LL WRITE IT FOR YOU. JUST CONTACT ME!

Maybe you need it now?
DON'T WORRY, I DELIVER IN 24 HOURS!

❤️ I am at your service, so feel free to place an order now.
Thank you for your trust in my service!

Youri

#voiceover #ivr #phonesystem #voicemail #dutchvoiceover #nederlands #Dutch #NL
Gender Male
Purpose eLearning, Phone System & IVR, Podcast
Language Dutch
Age Range Adult
Tone Authoritative, Calming, Casual, Corporate, Energetic
What's included
Delivery Time
2 days
2 days
2 days
Background Music (Per Each Track)
Optional add-ons You can add these on the next page.
Frequently asked questions
Dutch Voice Overs - Voice Recorder for Online Course
.
Voice Over in Austrian german and Dutch
quality of recording isnt the great, at least in my case
Hiring Dutch voice actor/actress
voice over talents for Elearning
Thanks for your work, very good work experience, hope we can work again on a new project.
Dutch Voice actors (male & female) for meditation app
Very nice working with Youri! Very communicative and fast and quality delivery!
I will be your professional dutch nederlandse voice over
Nunspeet, Netherlands
- 9:55 pm local time
Looking for a 100% native Dutch (Nederlands) male voice over?

I am here to offer you my professional voice over services. I had the pleasure of working with top brands such as Unilever, NS(Nederlandse spoorwegen), Arriva, Philips, Friesland Campina, SONOS, Politie Nederland, Trigion, Intratuin and many more.

PROFESSIONAL MALE
VOICE-OVER FOR:

- Commercials
- Training narrations / eLearning
- Explainer videos
- IVR / On Hold prompts / Phone System
- Anything requiring a voice!

WHAT YOU CAN EXPECT:

-️ A Fresh, natural and warm voice
-️ Unlimited usage (send me a message for the requirements)
-️ High-end Recording, Editing and Voice-cleaning
-️ 100% Satisfaction

WHAT I NEED:

* Your script
* Your desired tone and style for the script. I take the time to read and analyze your script to ensure that I deliver the best voice that fit your specific project needs.


EXTRA'S:
24-hour service, time-synced audio, background music and many more.

Studio:
Vocal booth: Whisper room | Mic: Sennheiser MKH416 | Pre-amp: dbx 286s, Audient | Monitoring: Beyerdynamic DT-770 Pro

I look forward to work with you and bringing your project to life.
Steps for completing your project
After purchasing the project, send requirements so Youri can start the project.
Delivery time starts when Youri receives requirements from you.
Youri works on your project following the steps below.
Revisions may occur after the delivery date.
Project steps:
1. Gather requirements 2. Recording audio 3. Making the audio clean and smooth 3. Deliver final audio
Review the work, release payment, and leave feedback to Youri.