You will get a legal documents translation from Spanish to English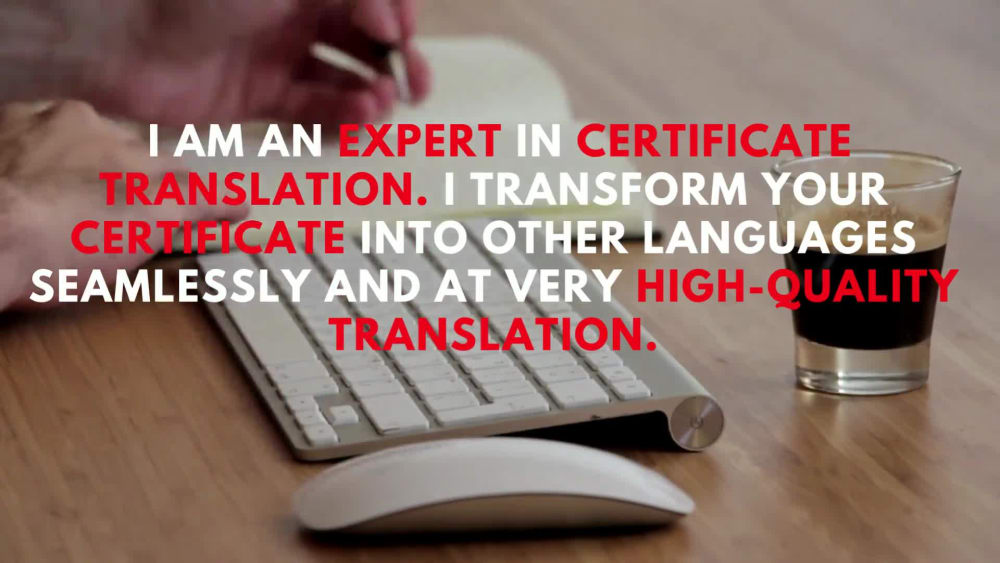 You will get a legal documents translation from Spanish to English
1 day
delivery —
Dec 10, 2022
Revisions may occur after this date.
Upwork Payment Protection
Fund the project upfront. Umer gets paid once you are satisfied with the work.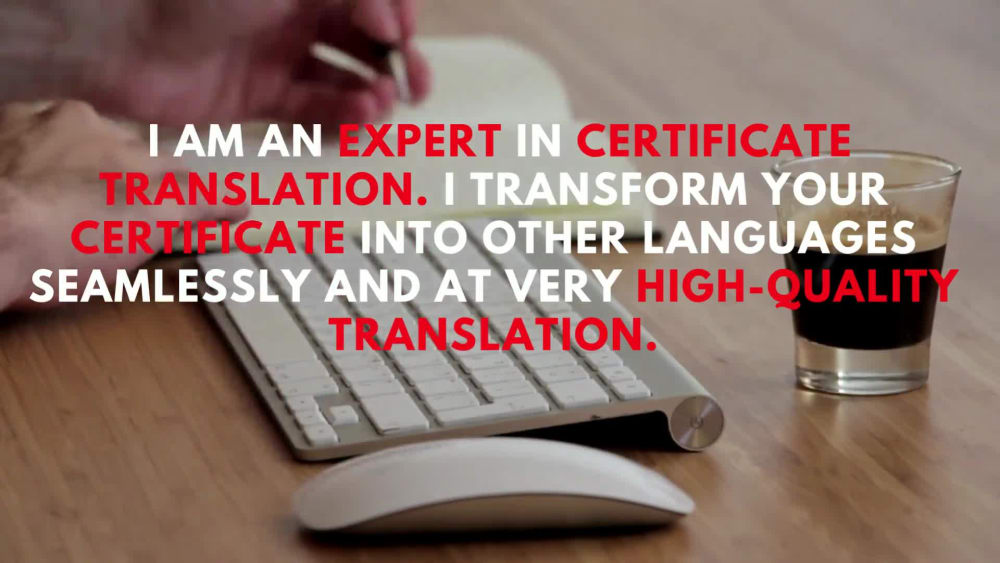 Project details
I will provide you with a high-quality Spanish to English translation and formatting of any birth, marriage, and death certificates for your Legal application at any Spanish consulate and in Spain.
With accuracy certificate and certified stamp translation.

Le proporcionaré una traducción y formato de alta calidad de español a inglés de cualquier certificado de nacimiento, matrimonio y defunción para su aplicación legal en cualquier consulado español y en España.
Con certificado de precisión y traducción certificada de sellos.

$15/page
$15/página

I also translate:
También traduzco:

- Naturalization documents
- Documentos de naturalización

- Divorce decrees
- Sentencias de divorcio

- Other related documents
- Otros documentos relacionados
Translate From Spanish
Translate To English
What's included
Delivery Time
1 day
1 day
2 days
Bahasa Malaysian to English
Bahasa Malaysian to English
Sworn or Certified Translator
Karachi Goth, Pakistan
- 1:49 am local time
Hello everyone!

Whether you're looking to have your content localized in order to expand your potential customer base or simply need to have a document translated, you have come to the right place. I will provide you with high-quality texts that read as if they were originally written in any language.

My name is Umer, I am a sworn translator (also called certified translator) I can translate official documents in any language I am certified from Karachi University in Pakistan, which means I have a formal status by the authorities. My translation is certified to be equivalent to the original source document, and it has the same legal value. Also, my translation is 100% acceptable in France, Spain, and Germany. Different types of documents could require a sworn translation: civil certificates, wills, notary contracts, technical, legal, etc.

What value do I provide to my client?

✅ High-Quality translations
✅ Fast delivery
✅ Fair price

MY SPECIALTIES

✅ Stamps translation
✅ Degree, Diploma, or Certificate Translations
✅ Other Academic Document Translations
✅ Legal Document Translations
✅ Sworn Translations
✅ Government Documents
✅ Business Documents
✅ Contracts
✅ Bank Documents
✅ International Law Documents
✅ Insurance Documents
✅ Contract Documents
✅ Tax Documents
✅ Property Documents
✅ Corporate Documents
✅ Commercial Documents
✅ General Translations
✅ And more

I will go above and beyond to make sure all my clients would be happy to hire me again.
My rate depends on deadlines, difficulty, and topic but starts at 0.05 USD per word.

Feel free to contact me at any time.



Steps for completing your project
After purchasing the project, send requirements so Umer can start the project.
Delivery time starts when Umer receives requirements from you.
Umer works on your project following the steps below.
Revisions may occur after the delivery date.
Check the document
Firstly, I will check your source document and confirm that everything's OK, I can perfectly deal with it and it will be ready for D-day. Price could be adjusted depending on the exact number of words (or further editing requirements).
Guidelines (if any)
Then you give instructions or guidelines (if any). For example: what should NOT be translated.
Review the work, release payment, and leave feedback to Umer.