You will get High-converting sales landing page copywriting for your info-product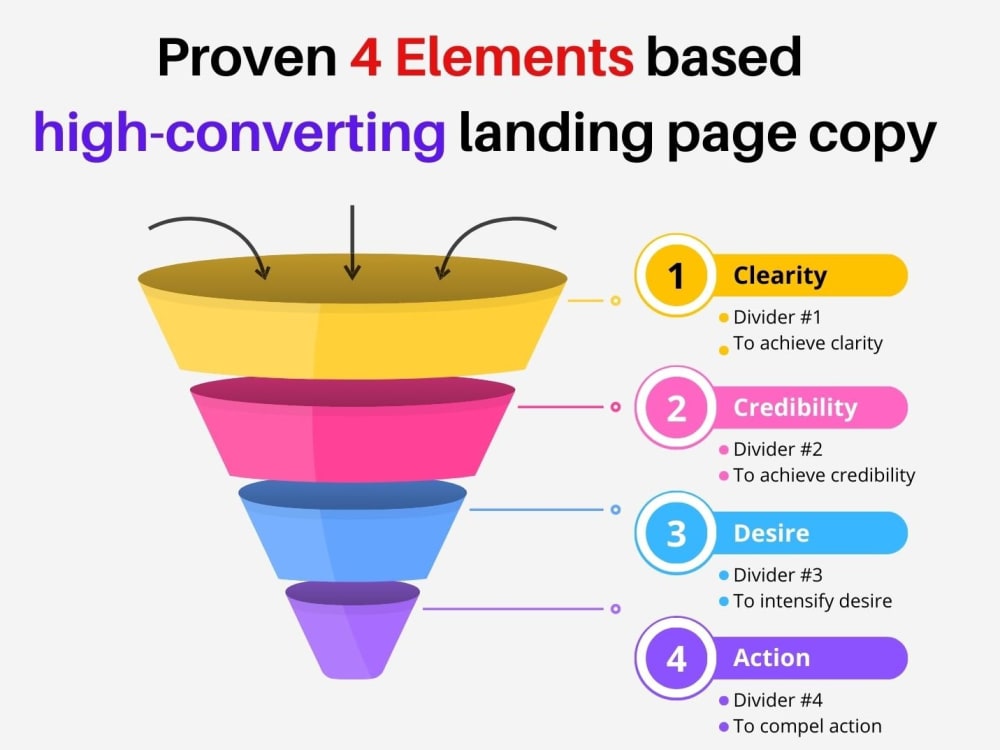 You will get High-converting sales landing page copywriting for your info-product
Less Friction Sales Copy
Short-form sales landing page copy for hot audience
2 days
delivery —
Sep 24, 2023
Revisions may occur after this date.
Upwork Payment Protection
Fund the project upfront. Muhammad Sami gets paid once you are satisfied with the work.
Project details
As a high-quality sales page/landing page copywriter, I specialize in creating highly converting copy for info products.

My proven four-step approach distinguishes me from other copywriters relying solely on cleverness.

 • First, I achieve clarity using simple language that clearly answers the "what"
 • Next, I earn credibility with social proof
 • After that, I ethically intensify desire by tapping into hidden psychological loopholes that pique curiosity
 • Then, using FOMO and call-to-action copywriting techniques, I propel readers to take immediate action

My four-step approach of clarity, credibility, desire, and action delivers the high-converting sales copy and landing page copy business owners need.

Unlike other sales copywriters, I structure my copy using this proven framework for maximum conversion.

So, if you're an info-product owner seeking an expert sales page copywriter or landing page copywriter to create high-converting sales copy that sells, hit me up.

And let's convert your traffic.
Sales Copy Type Sales Promotion
Language English
What's included
Delivery Time
2 days
4 days
6 days
Customer Experience Research
Customer Lifecycle Messaging
Copy for Folding Bike Website
He is awesome
Provide Turnitin report for a paper
Provide Turnitin report for a paper
Very helpful and professional freelancer, highly recommended
Marketing Strategist | Copywriter : Front end funnels & Upsells
Lahore, Pakistan
- 3:50 am local time
"𝑻𝒉𝒆 #1 𝒓𝒆𝒂𝒔𝒐𝒏 𝒚𝒐𝒖𝒓 𝒔𝒂𝒍𝒆𝒔 𝒇𝒖𝒏𝒏𝒆𝒍 𝒊𝒔𝒏'𝒕 𝒄𝒐𝒏𝒗𝒆𝒓𝒕𝒊𝒏𝒈 𝒊𝒔 𝒄𝒐𝒑𝒚𝒘𝒓𝒊𝒕𝒊𝒏𝒈" - Russel Brunson

Have you ever wondered why 𝟵𝟬% 𝗼𝗳 𝗰𝗼𝗺𝗽𝗮𝗻𝗶𝗲𝘀 𝗳𝗮𝗶𝗹 within their first year? 🤔

The reason is simple. They are unable to write content for their brand that resonates with their target audience and distinguishes them.

The 𝘄𝗼𝗿𝗹𝗱 𝗵𝗮𝘀 𝗰𝗵𝗮𝗻𝗴𝗲𝗱 a lot. People's attention spans have been 𝗿𝗲𝗱𝘂𝗰𝗲𝗱 𝘁𝗼 𝘀𝗲𝗰𝗼𝗻𝗱𝘀.

⏱ You have only 𝟳 𝘀𝗲𝗰𝗼𝗻𝗱𝘀 to capture your audience's interest and give them a cause to continue scrolling through your website.

And to do so, you'll need to 𝗴𝗼 𝗶𝗻𝘁𝗼 𝘆𝗼𝘂𝗿 𝗿𝗲𝗮𝗱𝗲𝗿𝘀' 𝗵𝗲𝗮𝗱𝘀. Find out what their specific problems are. Their 𝗳𝗶𝗿𝗲𝘀 𝘀𝗵𝗼𝘂𝗹𝗱 𝗯𝗲 𝗳𝗮𝗻𝗻𝗲𝗱. 🧨

Call out their most vehement foes. And deal with any objections they may have 𝗯𝗲𝗳𝗼𝗿𝗲 𝘁𝗵𝗲𝘆 𝗲𝘃𝗲𝗿 𝗺𝗲𝗻𝘁𝗶𝗼𝗻 them. ✌

And that is precisely where 𝗜 𝗰𝗼𝗺𝗲 𝗶𝗻.

With my 𝗲𝘅𝘁𝗲𝗻𝘀𝗶𝘃𝗲 𝗰𝗼𝗽𝘆𝘄𝗿𝗶𝘁𝗶𝗻𝗴 𝘁𝗿𝗮𝗶𝗻𝗶𝗻𝗴 and years of expertise, I know just 𝗵𝗼𝘄 𝘁𝗼 𝗴𝗿𝗮𝗯 𝘆𝗼𝘂𝗿 𝗿𝗲𝗮𝗱𝗲𝗿𝘀 by the neck and utilize phrases that make them buy your products/services right now.

❓𝐈𝐧 𝐰𝐡𝐢𝐜𝐡 𝐚𝐫𝐞𝐚𝐬 𝐈 𝐜𝐚𝐧 𝐡𝐞𝐥𝐩 𝐛𝐮𝐬𝐢𝐧𝐞𝐬𝐬𝐞𝐬 𝐫𝐚𝐜𝐤 𝐮𝐩 𝐩𝐫𝐨𝐟𝐢𝐭𝐬?

✔ Landing Page, Sales Page
✔ Product Descriptions
✔ Email Copy
✔ Facebook, Instagram, and Google Ads
✔ Video Sales Letters
✔ Website Copy

And 𝘁𝗵𝗲𝗿𝗲'𝘀 𝗮 𝗹𝗼𝘁 𝗺𝗼𝗿𝗲...

𝐀𝐫𝐞 𝐲𝐨𝐮 𝐫𝐞𝐚𝐝𝐲 𝐭𝐨 𝐭𝐮𝐫𝐧 𝐲𝐨𝐮𝐫 𝐯𝐢𝐬𝐢𝐭𝐨𝐫𝐬 𝐢𝐧𝐭𝐨 𝐡𝐚𝐩𝐩𝐲 𝐛𝐮𝐲𝐞𝐫𝐬 𝐚𝐧𝐝 𝐬𝐤𝐲𝐫𝐨𝐜𝐤𝐞𝐭 𝐲𝐨𝐮𝐫 𝐛𝐮𝐬𝐢𝐧𝐞𝐬𝐬? 💲

Feel free to 𝘀𝗲𝗻𝗱 𝗺𝗲 𝗮 𝗺𝗲𝘀𝘀𝗮𝗴𝗲 and we can discuss anything you have questions on!! 😊
Steps for completing your project
After purchasing the project, send requirements so Muhammad Sami can start the project.
Delivery time starts when Muhammad Sami receives requirements from you.
Muhammad Sami works on your project following the steps below.
Revisions may occur after the delivery date.
First draft of the sales landing page copy
Review the work, release payment, and leave feedback to Muhammad Sami.