You will get a streaming web application like Netflix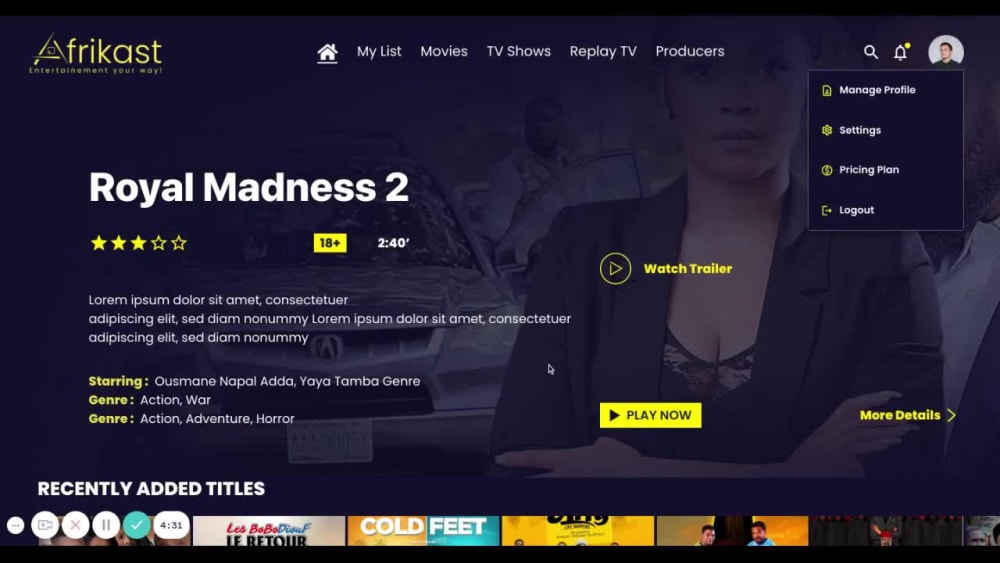 You will get a streaming web application like Netflix
Number of Revisions

Unlimited
15 days
delivery —
Dec 18, 2023
Revisions may occur after this date.
Upwork Payment Protection
Fund the project upfront. Zaid gets paid once you are satisfied with the work.
Project details
I can make React web applications for your. This is responsive streaming website with very user friendly design. You can also make changing on demand.
Programming Languages JavaScript
Coding Expertise Cross Browser & Device Compatibility, PSD to HTML, Performance Optimization
$600
Number of Revisions

Unlimited
Optional add-ons You can add these on the next page.
Additional Page (+ 2 Days)
+$100
Application Developer | Mobile | Web | Android | IOS
Islamabad, Pakistan
- 7:36 pm local time
Mobile Application development on the iOS platform with Swift and Objective C for iPhone, iPad and Apple TV and on Android Platform with Java, Kotlin and XML. I've worked on apps that are related to Online Streaming, Security Protocols and Communication with Gadgets. Some Applications include communication with Web Servers for Core Functionalities and Data Handling

Web Application development on various platforms like Asp.Net , Javascript (React.js and Node.js), HTML (CSS, jQuery , Javascript, PHP, AJAX). I have worked on web apps related to Management Systems ,Server Sides for iOS / Android Application and Websites.

I have created and improved successful applications (Mobile & Web)for clients in areas of entertainment, fitness and commerce.

Things I can do for you :
- Build an app from scratch to Deployment.
- Build an app with dedicated Server Side
- Update or fix existing applications for quality enhancements
- Integrate new or existing applications with required backends
- Perform code reviews

Previous to Freelancing , I have experience at the executive level in Information Technology at companies working in vast field of Projects and Technologies. I have developed skills in development as well as management.

I welcome discussing your projects with me and I can use my abilities to covert them into virtual representations and might be able to add quality improvisations.
Steps for completing your project
After purchasing the project, send requirements so Zaid can start the project.
Delivery time starts when Zaid receives requirements from you.
Zaid works on your project following the steps below.
Revisions may occur after the delivery date.
Receive changing document.
Receive a document from the client that has requested changing.
develop
Develop the system according to client demand.
Review the work, release payment, and leave feedback to Zaid.