You will get virtual assistance for data entry and web research
Wali K.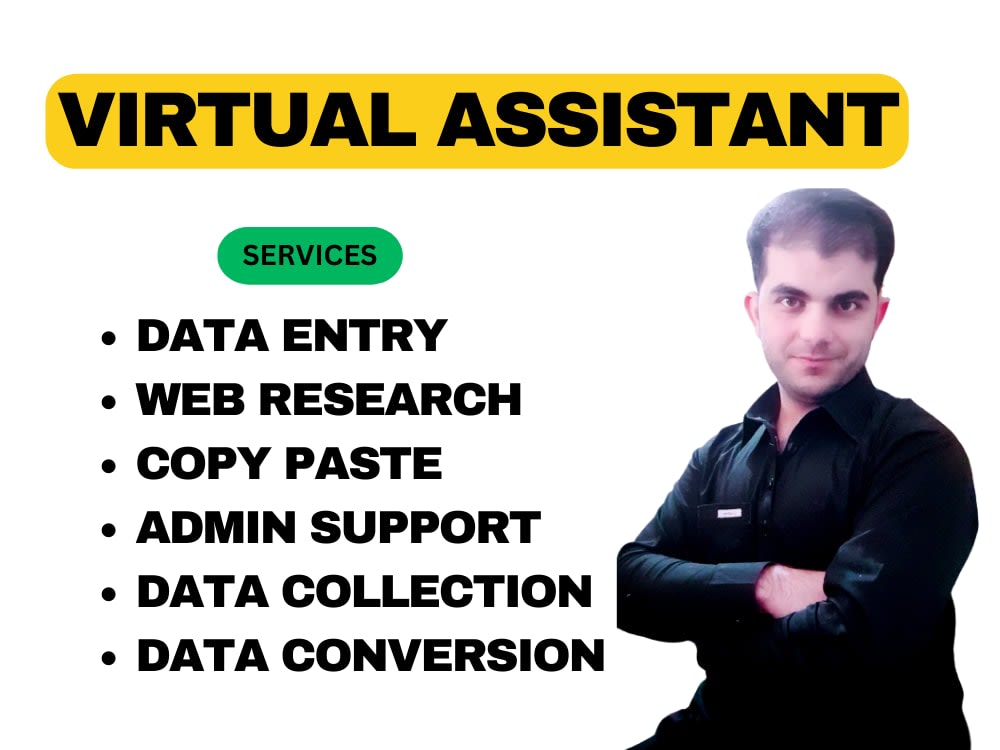 You will get virtual assistance for data entry and web research
Wali K.
Basic
Virtual assistant for 2 hours as per buyer's instruction.
Number of Hours of Work

2
1 day
delivery —
Sep 29, 2023
Revisions may occur after this date.
Upwork Payment Protection
Fund the project upfront. Wali gets paid once you are satisfied with the work.
Project details
Hello!

Welcome to my Upwork catalog!

My name is Wali Khan, and I am an experienced virtual assistant with a passion for data entry and web research. I have extensive experience in various data entry tasks. As your VA, I will work with you to understand your unique needs and tailor my services to meet them. Whether you need help with a one-time project or ongoing data entry support, I am here to help.


My Services:

Data entry
Web research
Admin support
Google Map lead generation
Copy-paste jobs
Document preparation
Email management
File conversion
Arranging data in an Excel sheet
PDF to Excel or Word
CRM Data entry
Mailing list creation
Data from the web to Excel sheet or word
Google docs
Google spreadsheet


And much more.....


Why Should you hire me?


24/7 Online Active
100% Accuracy & Quality assurance.
On-time Delivery.


Contact me now to get started!

Thank you for considering my services, I look forward to working with you!



Best regards,



Wali Khan
Data Entry Type Copy Paste, Data Cleansing, Document Conversion, Error Detection, Online Research, Word Processing
Data Entry Tool CRM Software, ERP Software, Google Docs, Google Sheets, Medical Records Software, Microsoft Excel, Microsoft Office, Microsoft Word
What's included
Delivery Time
1 day
2 days
3 days
About Wali
Virtual Assistant,Data Entry,Admin support
Virtual Assistant,Data Entry,Admin support
Chaman, Pakistan
- 8:09 pm local time
Hello!

Welcome to my profile!

My name is Wali Khan, and I am a professional Virtual Assistant specializing in Data Entry and Admin Support, Lead Generation With over 3 years of experience in this field, I have developed a strong knowledge of Data entry, Web Research, MS Office, Spreadsheets, docs, google Drive, and other tools or commands for entering data into systems. I am committed to meeting my client's needs. Let's work together to make your project a success!

Client satisfaction is my top priority

Steps for completing your project
After purchasing the project, send requirements so Wali can start the project.
Delivery time starts when Wali receives requirements from you.
Wali works on your project following the steps below.
Revisions may occur after the delivery date.
Gather Requirements of Project
First I will gather requirements of projects and ask related question that I want about project.
Deliver First Small Sample
Before fully starting the project I will send you a small sample if you need
Review the work, release payment, and leave feedback to Wali.