You will get data entry and research services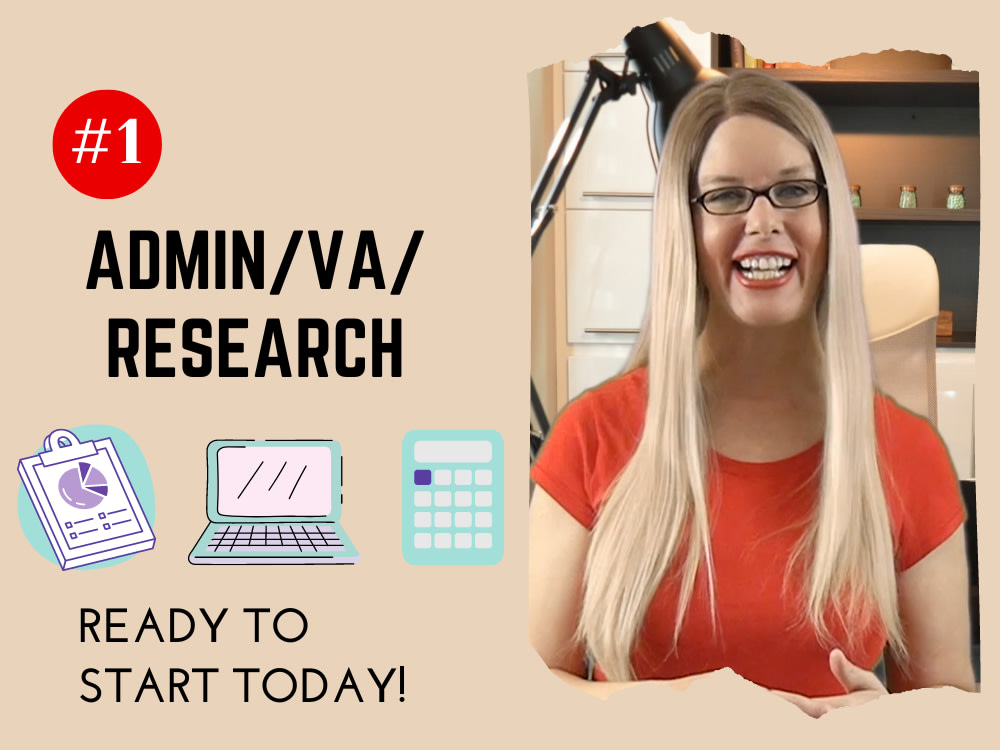 You will get data entry and research services
Starter
5 hours of virtual assistance
Number of Hours of Work

5
10 days
delivery —
Oct 2, 2023
Revisions may occur after this date.
Upwork Payment Protection
Fund the project upfront. Regina gets paid once you are satisfied with the work.
Project details
Hi, my name is Regina, and I would love to help with your project! :-)

I offer a wide range of virtual assistance services, including list building, research, CRM clean-up, data entry, data migration, data analysis, contact/prospect/event list building, email cleaning/verification, product listings (Amazon/Shopify/Etsy/eBay), internet research, market research, and website/blog upload/formatting/management. Choose me for cost-effective, scalable, and professional support to streamline your tasks, boost productivity, and meet your specific needs with precision.
Data Entry Type Copy Paste, Data Cleansing, Document Conversion, Error Detection, Online Research, Word Processing
Data Entry Tool CRM Software, ERP Software, Google Docs, Google Sheets, Medical Records Software, Microsoft Excel, Microsoft Office, Microsoft Word
What's included
Delivery Time
10 days
10 days
10 days
Responsive and understanding, Regina is top notch.
Regina completed the work and did a stellar job! I found her pleasant and willing to make snap adjustments to the project based on an evolving project, and I appreciated her direct and open dialog with me about that project. She managed expectations well and delivered exactly as promised.
Very efficient and organized, completed the task with faster than expected time.
Regina was great to work with! I highly recommend her!
Email Marketing | SEO | Social Media | Content Strategy - LET'S CHAT
Sacramento, United States
- 8:19 pm local time
Hi, my name is Regina, and I'd love to head up your email marketing, social media marketing, and SEO efforts.

Are you looking for someone to take point with your audience segmentation, sales cycle, and customer journey? Perhaps you need campaigns created from scratch, or maybe you'd like to improve your current campaigns. No matter what stage of development you're in, I can help. With the correct marketing strategies in place, I can improve and enhance what you are currently doing.

My expertise is in creating custom workflows, automation, funnels, and marketing campaigns. I bring your brand to life, and craft bite-sized glimpses into your business with compelling content that resonates and converts.

I understand the importance of communicating your message powerfully in a way that promotes user action and account growth. I will help you achieve an instant connection with your prospects, expand your reach, and maximize every possible conversion.

Client happiness is my number one priority, which is demonstrated by my many repeat clients. With a BA in Business, a minor in Computer Science, and over $800,000 earned as an Upwork Top Rated Marketer, I am in a unique position to use my experience to put you many steps closer to your target audience.

CERTIFICATIONS:
I am a Klaviyo certified expert and am also certified in Google Analytics, HubSpot, Zoho, MailChimp, LinkedIn SBM, Instagram, and Facebook Campaign Setup.

Below are some of the services that I provide.

EMAIL MARKETING AUTOMATION: 📌
✔️ Digital Marketing
✔️ Landing Page Design
✔️ Form Creation
✔️ Automation Setup
✔️ Funnels
✔️ Triggers
✔️ Workflows

EMAIL MARKETING PLATFORMS: 📌
✔️ Shopify & Klaviyo email marketing
✔️ HubSpot
✔️Zoho
✔️SalesForce
✔️MailChimp
✔️Go High Level
✔️Contant Contact
✔️Kajabi
✔️& more!

EMAIL MARKETING CAMPAIGNS: 📌
✔️New Lead Campaign
✔️Promotional Campaign
✔️Seasonal/Holiday Campaign
✔️Triggered Email Series
✔️Post-Purchase Drip
✔️Connect Via-Social Campaign
✔️Monthly Newsletter (good for current clients)
✔️Cart Abandonment Campaign
✔️Re-Engagement Campaign (good for stale/old clients)

SOCIAL MEDIA MANAGEMENT: 📌
✔️Content Calendar Creation
✔️Content Strategy
✔️Social Posting
✔️Graphic Design
✔️Engagement
✔️Outreach

SOCIAL MEDIA PLATFORMS: 📌
✔️LinkedIn
✔️Facebook
✔️Instagram
✔️YouTube
✔️Twitter
✔️Pinterest

Thank you for taking the time to read my profile. If you feel that I am a good fit, please message me or invite me to your job.

I look forward to hearing from you soon! :-)


Steps for completing your project
After purchasing the project, send requirements so Regina can start the project.
Delivery time starts when Regina receives requirements from you.
Regina works on your project following the steps below.
Revisions may occur after the delivery date.
Client purchases the project and sends requirements.
Review the work, release payment, and leave feedback to Regina.