You will get one sheet metal design and a 2d dxf file for cnc cutting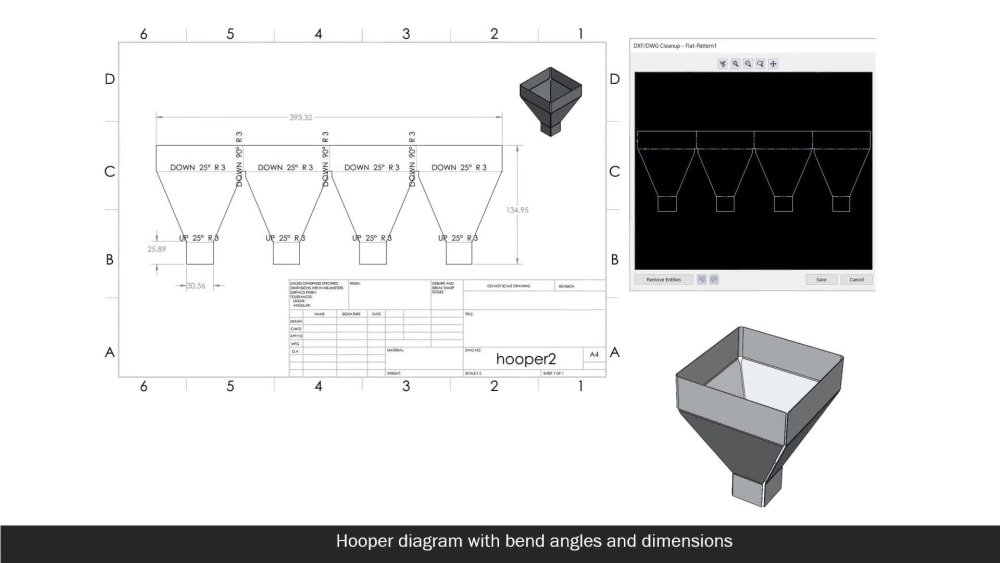 You will get one sheet metal design and a 2d dxf file for cnc cutting
Number of Technical Drawings

1
2 days
delivery —
Oct 4, 2023
Revisions may occur after this date.
Upwork Payment Protection
Fund the project upfront. Shravan L gets paid once you are satisfied with the work.
Project details
you will get a 3d model of the sheet metal part and its 2D technical drawing and a clean dxf file for the CNC feed.
with 10+ years of sheet metal design experience in Solidworks. i will provide step file, Solidworks, STL file with the best design practices followed.
Materials Metal
Field of Expertise Appliances, Automotive, Machinery
Design Software SolidWorks
File Format DWG, PDF, SLDDRW, SLDPRT, STEP
What's included
Delivery Time
2 days
3 days
4 days
Number of Technical Drawings
1
2
3
Optional add-ons You can add these on the next page.
Additional Technical Drawing (+ 1 Day)
+$30
Concept Development (+ 2 Days)
+$100
Simple Site Plan
Convert Pics to AUTOCAD 3-D, STEP , SOLID WORKS
30 minute consultation
Site Plan Drafting
Shravan did a great job converting a site layout hand sketch to a DWG and PDF. He worked quickly and produced a good product.
You will get One Enclosure Design for your New Product in stl, obj Format
Fantastic work! Shravan went above and beyond on this project. We will definitely work with him in the future.
CAD/Mech Engineer, 3D&2D-Solidworks,Creo,Onshape,AutoCAD,Fusion,Mozaik
Mumbai, India
- 5:18 am local time
---------------------------------------------------------------
CAD Software Expertise: Solidworks, Creo, Autocad, Onshape, Mozaik Design CNC,
Fusion 360, SketchUp, KeyShot, MicroStation, MS Visio, Mozaik Design, Mozaik CNC, Kitchenette & Cabinets Design Gcode Pattern Nesting Optimization DXF CNC Manufacturing Design
---------------------------------------------------------------
I can provide all types of Computer-Aided Design services, primarily using SolidWorks, Creo, AutoCAD. I believe in honesty and complete devotion to work. Build long-term relationships where possible. I am not just out for what I can get!
Services include, but are not limited to:

✔Skills
✦3D Modeling & Technical Drawings
✦Innovative electronic enclosure Design
✦Plastic product design
✦Mechanical product design
✦Kitchenette & Cabinets Design, office furniture Design
✦Mold Tool & Design
✦KeyShot Rendering of Industrial 3D CAD Models
✦Animation of 3D CAD Models in Solidworks Composer
✦Digital Assembly Instructions Manual in Solidworks Composer
✦Rendered Images High Quality of 3D CAD in KeyShot
✦Concept ideas sketch to Prototype 3D model
✦3d print-ready design modeling
✦CAD sheet metal design
✦3D CAD modeling and assemblies
✦Product Development
✦CAD/CAM
✦PDF to DWG
✦Paper to Cad
✦Image to CAD
✦Converting Pdf to AutoCAD
✦Isometric P&ID Drawings
✦Creating Dynamic Blocks in AutoCAD
✦Electrical schematics drafting
✦Evacuation Fire plans
✦Evacuation emergency plan
✦Floor plan drawings
✦Architectural Drafting
✦Civil & Structure Drafting
✦Woodworking furniture drawings
✦Parking Plans
✦Shop Drawings
✦Patent Drawings
✦Technical Drawings
✦Manufacturing drawings
✦Fabrication drawings
✦GD&T drawings


✔MOZAIK DESIGN:

✦I have done several projects on Mozaik for custom cabinets,
Desks, display Power, pigeon hole unit, wardrobes and Kitchenette etc .
✦Have done Mozaik 3D, Multiprint drawings, nesting and optimization, Gcode , pattern etc.
✦can do dxf CAD to mozaik, pattern doors, setting up libraries, custome hardwares and fasteners such as lockdowel, rafix etc.
✦Clients: CCGS, SPOKE Building and Interiors and more..

✔ EXPERIENCE: 12+ yrs, covering a range of industries/categories.

Area Covered: Working remotely throughout the world.

✔EDUCATION SUMMARY:

✦ Bachelor in Mechanical Engineering
✦ AMIE (Associate Member of Institution of Engineers INDIA)
✦ Chartered Engineer

✔CERTIFICATIONS:

✦ Certified Solidworks Professional (CSWP)
✦ Certified OnShape Professional (udemy)
✦ Certification in AutoCAD
✦ Certification in Mozaik Design Software (Kitchenette & Cabinets Design, office furniture Design)
✦ Certified in Basic Photography & Videography
✦ Certification From Central Coast Fire Safety (ccfs) Australia:
• Certified In Fire Warden Refresher
• First Attack Fire Equipment
• General Evacuation Awareness
Steps for completing your project
After purchasing the project, send requirements so Shravan L can start the project.
Delivery time starts when Shravan L receives requirements from you.
Shravan L works on your project following the steps below.
Revisions may occur after the delivery date.
Sheet metal design steps involved
1) Client describes the project requirement. he gives the reference sketches, dimensions 2) 3d model and drawing submitted to the client for review. 3) after review, corrections done if any 4) Final files delivered to the client
Review the work, release payment, and leave feedback to Shravan L.