You will get a stock market screener and software tool with candlestick chart of data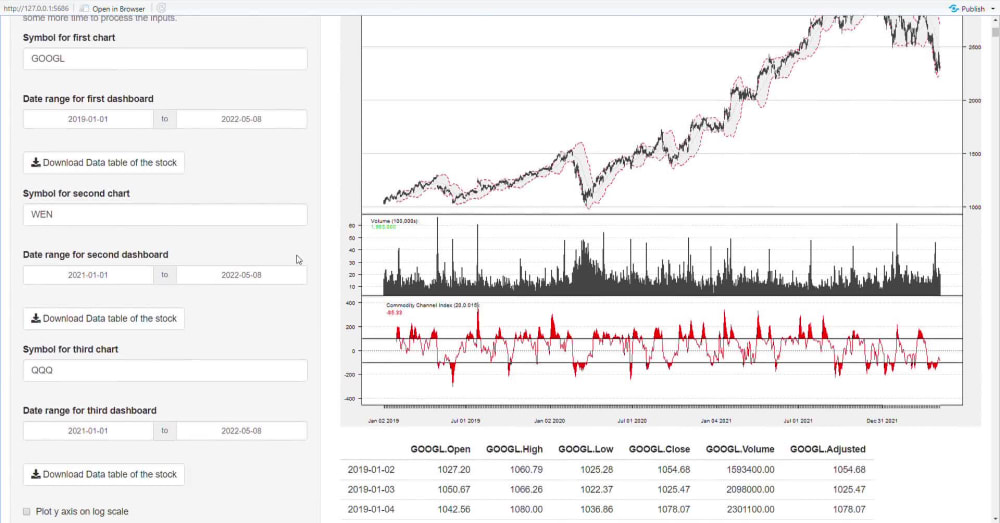 You will get a stock market screener and software tool with candlestick chart of data
Scrape 20 stock|Unlimited date
I will extract stock data of up to 20+ stocks for an unlimited date range
Number of Pages Mined/Scraped

20

Number of Sources Mined/Scraped

20

Number of Revisions

Unlimited
1 day
delivery —
Dec 7, 2023
Revisions may occur after this date.
Upwork Payment Protection
Fund the project upfront. William gets paid once you are satisfied with the work.
Project details
Data mining and extraction of stock market data have never been easier thanks to this software. The software is designed in R Shiny and other related libraries in R. Data is extracted from Yahoo Finance website and is displayed in the mainframe of the software and can also be downloaded to your computer as an excel file. The data of each stock mined includes open, high, low, close, adjusted close prices, and the volume of trade for each day. Data is extracted on a day-to-day basis. The custom number of stock symbols you can extract at the same time is set to 3 but can be customized to fit your organization's needs. The date range can also be customized to meet your data needs. The software also generated a candlestick chart to give meaning to the raw data and has also been fitted with a volume column graph chart, Bollinger band index Chanel and a commodity index Chanel to show trends of the data extracted.
We also offer excel upgrades to the software purchase for easy data analysis.
What's included
Delivery Time
1 day
5 days
30 days
Number of Pages Mined/Scraped
20
100
Number of Sources Mined/Scraped
20
100
Unlimited
Unlimited
Unlimited
Optional add-ons You can add these on the next page.
Additional Page Mined/Scraped
+$10
Additional Source Mined/Scraped
+$10
Frequently asked questions
R Shiny developer |Data Analysis |Data Visualization |Stock Analysis
Voi, Kenya
- 1:09 am local time
2+ Years Experience in R | R Shiny | Data Visualization | Plotly | GGplot2 | Statistical Charting | Financial Charting | Stock Analysis | Scraping Historical data | Financial data extraction | Stock screener | Excel.

WHAT PROJECTS ARE CONSIDERED TO BE IDEAL FOR ME?
*Data visualization web app in R shiny
*Building shiny UI and shiny dashboards in R shiny
*Statistical, Basic and financial data visualization charts in R shiny
*Building historical stock market data scraping software in R shiny and extraction of the OHLC data with financial charts
*Building financial data scraping software in R shiny
*Extracting Options chain data, cryptocurrency data, dividend data, Federal reserve economic data, Financial periodic returns data, and stock splits data
*Extracting US, Japan, and worldwide stock market OHLC data
*Developing financial script extractors in R shiny
*Building stock screener with an easy-to-use UI in R shiny

THE ADVANTAGES OF HIRING ME ARE:
*Data extraction is made easy by my already developed scripts, thus fast project delivery.
*You get an error-free software
*My software is cost-free since they don't require subscriptions and it will reduce your workload in future
*I build software according to your preference and you can even request improvements to the software
*This won't just be a project, but an investment

ABOUT ME
I am an R shiny enthusiastic and have been developing software for 2+ years now. I am a 3rd-year student in the Multimedia University taking Bsc. Mathematics and Computer science majoring in Statistics.
Steps for completing your project
After purchasing the project, send requirements so William can start the project.
Delivery time starts when William receives requirements from you.
William works on your project following the steps below.
Revisions may occur after the delivery date.
BUYING AND INSTALLING THE SOFTWARE
Install R and R Studio. On the console tab, type; install.packages("shiny") To install the shiny library and type; install.packages("quantmod") To install the quantmod library. Open the source code file in your RStudio application and run the app
Review the work, release payment, and leave feedback to William.