You will get wordpress site speed optimization with gtmetrix and google page insight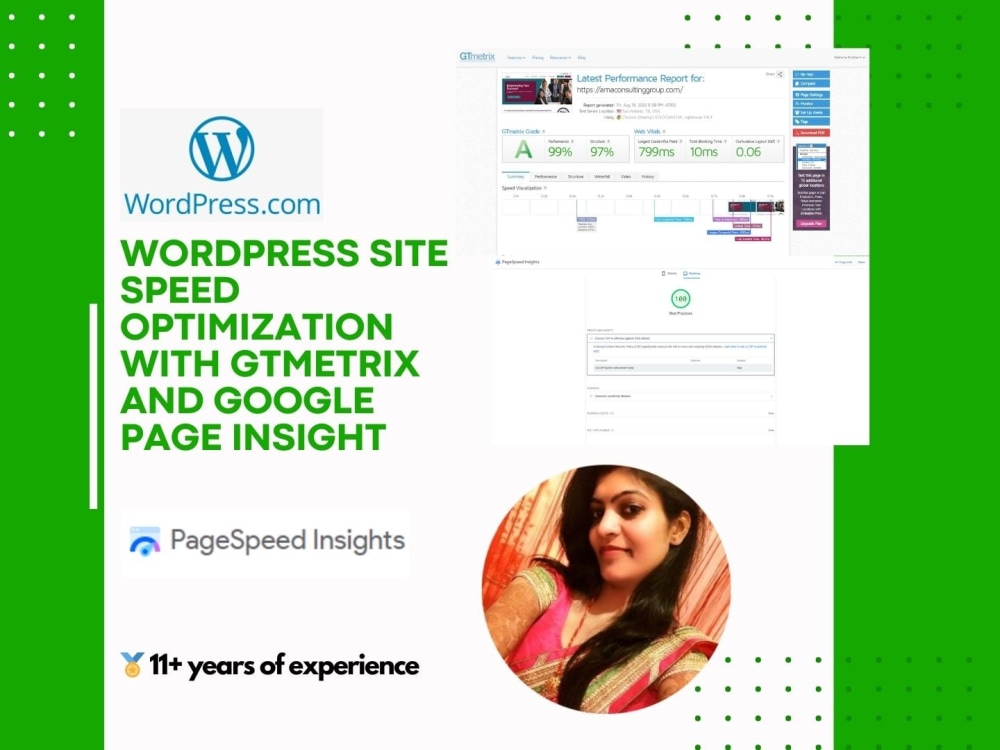 You will get wordpress site speed optimization with gtmetrix and google page insight
1 day
delivery —
Dec 6, 2023
Revisions may occur after this date.
Upwork Payment Protection
Fund the project upfront. Anshu gets paid once you are satisfied with the work.
Project details
I will increase the speed of your WordPress site will provide you 90+ score in speed test tool with Free lifetime technical support

My Task will be :

☆ Full Website Backup
☆ Page & Browser Cache
☆ Minifying JS/CSS/HTML files
☆ Lazy Load Images
☆ Image Optimization
☆ Woocommerce Optimization
☆ Database Optimization
☆ 404 Check & Fix (All)
☆ Inline & Combine JS/CSS
☆ PHP Version Update
☆ Font Optimization
☆ Cache Preloading
☆ GZIP File Compression
☆ Hosting Migration
☆ Bonus advice on how to keep the speed up all time.
☆ At least 10x improvement in overall site performance.

Please check below steps what I usually follow for optimization.

☆ Specify image dimensions
☆ Enable gzip compression
☆ Leverage browser caching
☆ Minify CSS
☆ Optimize images
☆ Specify a Vary: Accept-Encoding header
☆ Avoid a character set in the meta tag
☆ Minify JavaScript
☆ Specify a cache validator
☆ Combine images using CSS sprites
☆ Avoid CSS @import
☆ Specify a character set early
☆ Avoid bad requests
☆ Enable Keep-Alive
☆ Put CSS in the document head
☆ Remove query strings from static resources
☆ Serve resources from a consistent URL
☆ Serve scaled images
Website Specialization Business, Entertainment, Nonprofit, Online Communities, Podcasting, Blog, Portfolio, Wedding, Forms, Job Board, Portal, Crowdfunding, Brochure, Wiki/Knowledge, SaaS, Other
Supported Plugin Types Social Media, Gallery, Marketing, Analytics, Video, Events, Shipping, Forum, Music, Payment, Form, Chat, Map, Membership, FAQ, Customer Support, Inventory
WordPress Plugins Contact Form 7, WordPress SEO by Yoast, Mailchimp, Facebook, PayPal, YouTube, LinkedIn, AdSense, Vimeo, ClickBank, OpenCart, WooCommerce, W3 Total Cache, All in One SEO Pack, Instagram, Gravity Forms, Twitter, Akismet, Amazon, AWeber, GetResponse, Elementor, WPLMS, WP Rocket, BuddyPress, bbPress
What's included
Delivery Time
1 day
2 days
3 days
Optional add-ons You can add these on the next page.
On-Page SEO (+ 1 Day)
+$50
Frequently asked questions
WordPress, Page Speed Optimization Expert (AMP, Elementor, DIVI)
Delhi, India
- 12:11 am local time
🏆 200+ Jobs complete in Upwork
🏆 1000+ Hours on Upwork
🏆 10 Year exp in Wordpress and Speed optimization

✅ Elementor Developer
✅ Page Speed Optimization
✅ Wp Bakery/ DIVI Developer
✅ Theme Customization
✅ Theme Development
✅ XD to WordPress
✅ Convert HTML / PHP to WordPress
✅ Frontal Technology (HTML/HTML5, PHP, CSS/CSS3, LESS, SAS, JavaScript, JQuery, AJAX
✅ WordPress Website Maintenance
✅ Page Speed Optimization
✅ On-Page SEO
✅ Improve Website Security
✅ WIX , Shopify and Squrespace into Wordpress Converter

Are you tired of slow website loading times that result in a poor user experience and lost revenue? As a website speed optimization expert, I can help you improve your website's loading times and boost its performance.

Here's what I offer:

☆Comprehensive website speed analysis to identify performance bottlenecks.
☆Optimization of images and other media files to reduce file sizes without compromising quality.
☆Caching implementation to reduce server response times and speed up page loads.
☆Optimization of HTML, CSS, and JavaScript code to reduce file sizes and minimize HTTP requests.
☆Database optimization to reduce server load and improve query performance.
☆Content Delivery Network (CDN) implementation to distribute content across multiple servers and improve global website accessibility.
☆Minification of files to remove unnecessary code and reduce file sizes.
☆GZIP compression implementation to reduce file sizes and improve website loading times.
☆Removal of unnecessary plugins and scripts that slow down website performance.

I have extensive experience working with website speed optimization tools and techniques, such as GTmetrix, Google PageSpeed Insights, and Pingdom, and I can implement the best practices to optimize your website for speed and performance.

Please check below steps what I usually follow for optimization.

☆ Specify image dimensions
☆ Enable gzip compression
☆ Leverage browser caching
☆ Minify CSS
☆ Optimize images
☆ Specify a Vary: Accept-Encoding header
☆ Avoid a character set in the meta tag
☆ Minify JavaScript
☆ Specify a cache validator
☆ Combine images using CSS sprites
☆ Avoid CSS @import
☆ Specify a character set early
☆ Avoid landing page redirects
☆ Minimize redirects
☆ Minify HTML
☆ Avoid bad requests
☆ Enable Keep-Alive
☆ Inline small CSS
☆ Inline small JavaScript
☆ Minimize request size
☆ Optimize the order of styles and scripts
☆ Put CSS in the document head
☆ Remove query strings from static resources
☆ Serve resources from a consistent URL
☆ Serve scaled images

I have experience working with a variety of content management systems and web technologies, including WordPress, Shopify, Magento, and more.

Don't let slow website loading times negatively impact your business. Let me help you improve your website's speed and performance. Contact me today to get started!

Steps for completing your project
After purchasing the project, send requirements so Anshu can start the project.
Delivery time starts when Anshu receives requirements from you.
Anshu works on your project following the steps below.
Revisions may occur after the delivery date.
Image Optimization
As a general rule of thumb, larger files take longer to download than smaller files. Web page download time, also known as the Page Load Time depends on the total size of content assets being downloaded from hosting servers to the requesting browser.
Optimize CSS Code and Delivery
Yet, modern websites coded in CSS are better at downloading content from hosting servers to requesting browsers efficiently and accurately. Optimization, therefore, isn't all about minifying file size.
Review the work, release payment, and leave feedback to Anshu.