You will get Top 30 social bookmarking backlinks for your website
Regie F.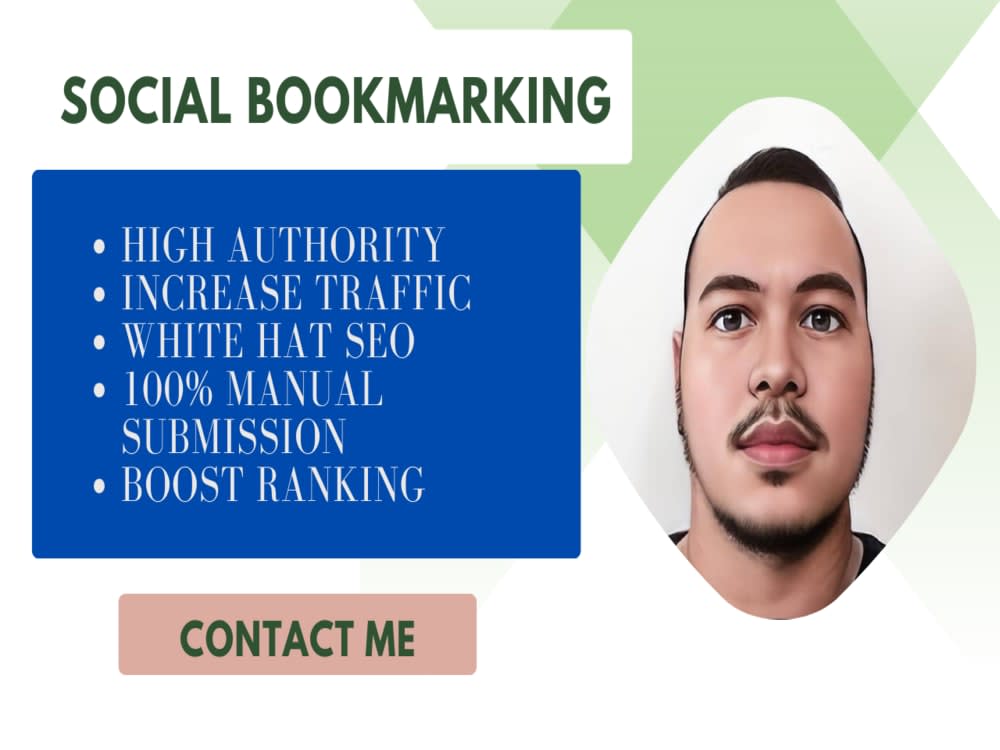 You will get Top 30 social bookmarking backlinks for your website
Regie F.
TOP 30 Social Bookmarking
I will submit all your URLs manually to the TOP 30 social bookmarking websites.
2 days
delivery —
Sep 30, 2023
Revisions may occur after this date.
Upwork Payment Protection
Fund the project upfront. Regie gets paid once you are satisfied with the work.
Project details
✔️What is social bookmarking and its purpose?
Social bookmarking is the process of saving and organizing web pages or URLs on social platforms. Users can access and share their bookmarks, creating collections of valuable resources for discovery.

✔️Benefits of social bookmarking:
Increased website traffic and improved search engine rankings through backlinks and domain authority.
Broader audience reach and enhanced brand visibility.
Quicker indexing of web pages by search engines.
Networking opportunities and long-term exposure for bookmarked content.

✔️What I offer:
I provide 30 high-authority social bookmarking backlinks to boost your website's Google ranking and increase traffic. Social bookmarking is a popular off-page SEO strategy, offering free quality backlinks and exposure to a targeted audience.

✔️What you will get:
All Live links
100% Manual Submission.
Permanent Backlinks
No automated tools will use.
100% Customer Satisfaction.
Full report with MS Excel Sheet


✔️What Do I Need From You?
Website URL
Title (Optional)
Keyword
Description
keywords

Feel free to reach out to me for any questions or assistance. I am here to help you succeed! Don't hesitate to get in touch.
Industry Expertise Aerospace, Art & Design, Automotive, Aviation, Cryptocurrency & Blockchain, Education, Energy & Utilities, Finance & Accounting, Food & Beverage, Government & Public Sector, HR & Business Services, Insurance, Legal, Manufacturing & Construction, Media & Entertainment, Military & Defense, Music, Nonprofit, Real Estate, Retail & Consumer Goods, Science & Medicine, Sports & Recreation, Supply Chain & Logistics, Tech & IT, Travel & Hospitality
Language English
Virtual Assistant - LinkedIn Specialist
Virtual Assistant Needed to Perform SEO Tasks
Regie is amazing. He is honest, trustworthy, and well organized. I have already hired him for another project on Upwork and raised his pay!
Searching for Virtual Assistant for Lead Generation & Doing tasks
Fantastic freelancer with great knowledge and can follow directions with ease.
Downloading files & structuring PDF files
Absolute great worker and really cares to do the job successfully. The communication is always awesome! Thanks. This job is finished.
Build cold email list
Exceptional VA: WP Elementor, SEO VA Pro, Lead Gen Researcher, AdminVA
Exceptional VA: WP Elementor, SEO VA Pro, Lead Gen Researcher, AdminVA
Cebu City, Philippines
- 7:14 pm local time
👋 Hello! I'm Regie, your virtual assistant from Cebu City, Philippines. I'm here to help your small business 24/7 in three BIG ways: administrative tasks, SEO to boost your online search visibility, and lead generation to find potential customers.

With over 4 years of experience, I can enhance your business's online presence and streamline operations.

Think of me as a friendly helper who can get things done. I'll stand by you and support you as long as we trust each other.

✨ I specialize in Lead Generation Research. I can identify potential clients and customers for your business, helping you grow and expand your reach.

✨ Data Entry is another area where I excel. I'm meticulous and detail-oriented, ensuring your data is accurately organized and managed.

✨ When it comes to building websites, I'm your go-to person. I'm skilled in using WordPress and the Elementor website builder to create stunning and functional websites that perfectly represent your brand.

✨ Need assistance with administrative tasks? I can help as a Virtual Assistant, managing various administrative duties, including Email Management, Data Mining, Social Media Support, and even Canva Graphic Design, freeing up your time for more critical tasks.

🚀 I'm also experienced in Search Engine Optimization (SEO). As an SEO Virtual Assistant, I can optimize your website with skills such as Keyword Research, On-Page Optimization, Off-Page Optimization, and Local SEO, improving its search engine rankings and visibility.

🚀 If you're looking to boost your local shop's online presence, I'm a Local SEO Citation Builder Pro. I can help you list your business on local directories and websites, making it easier for local customers to find you.

🚀 When it comes to Web 2.0, I'm well-versed in platforms like Weebly, Wix, Jimdo, WordPress.com, Google Sites, Strikingly, Bravenet, and Site123. I can create Web 2.0 properties on these platforms to enhance your online presence and backlink profile.

So, whether you need assistance with lead generation, data entry, website building, administrative tasks, SEO, local SEO citation building, or even graphic design and web 2.0 property creation, I've got you covered.

Let's work together to take your business to the next level! Contact me now to discuss how I can assist you in achieving your business goals.

🚀 Essential VA Qualities I Embrace: 🧑
I apply these qualities in both my personal and work-related life because they pave the way for success.
• Attention to Detail
• Trustworthiness
• High Reliability
• Willingness to Learn
• Tech Savviness
• Professionalism
• Problem-Solving Skills
• Self-Motivation
• Multitasking
• Time Management
• Flexibility
• Teamwork
• Communication Skills

🚀 Why Trust Me: 🤝🏽
I have extensive experience working independently and have successfully completed over 15 projects in the past. I excel in meeting deadlines, keeping you updated, and paying meticulous attention to all the details.

My primary focus is ensuring I meet your needs, and I'm committed to exceeding your expectations.

All of my clients eventually become my friends because I believe in the value of long-lasting friendships, showing respect, being open, and building trust. On Upwork, I've had the privilege of working with amazing clients, and I haven't encountered any issues so far.

Even though they come from diverse backgrounds and cultures, the most important thing for me is genuinely understanding their needs.

📧 Reach out to me anytime if you need a dedicated freelancer from the Philippines.

💝 Thanks for visiting my mini-profile.

Warm Regards,
Regie
Steps for completing your project
After purchasing the project, send requirements so Regie can start the project.
Delivery time starts when Regie receives requirements from you.
Regie works on your project following the steps below.
Revisions may occur after the delivery date.
You will get the excel file report.
I will provide a detailed excel report with 100% satisfaction (username, password and live links). I will also provide 2 revisions for this project if needed.
Review the work, release payment, and leave feedback to Regie.