You will get top local citations for your local business
Regie F.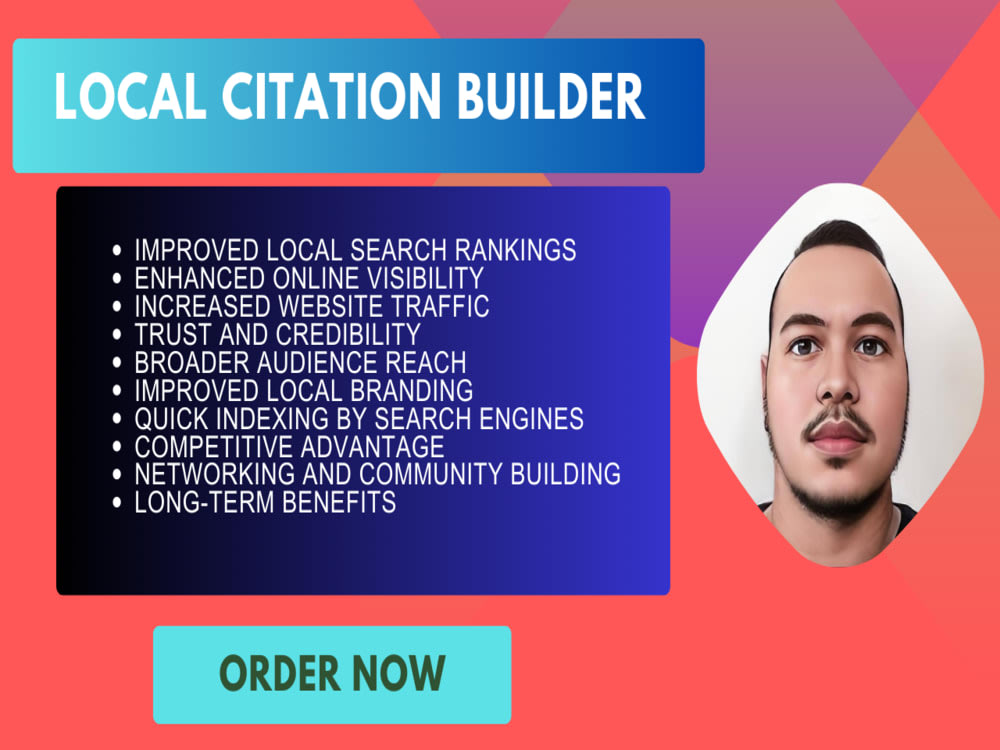 You will get top local citations for your local business
Regie F.
10 citations
I will create 10 citations for your local business.
Number of Business Locations

10

Citations & Directories Review
2 days
delivery —
Dec 12, 2023
Revisions may occur after this date.
Upwork Payment Protection
Fund the project upfront. Regie gets paid once you are satisfied with the work.
Project details
Local citations, including NAP (Name, Address, Phone), are pivotal for local SEO. They affirm your business's legitimacy and local relevance across online platforms, boosting visibility for potential customers.

My Citation Building Approach:
I emphasize top-tier citations and directories, guaranteeing precise details. Existing entries are verified to prevent duplicates, and new accounts are generated as needed. Citations significantly amplify your business's local prominence and search ranking.

What I need from you:

What Do We Need From You?
1. Business Name
2. Address
3. Phone Number
4. Business Email
5. Website
6. Business Description
7. Optional (Hours, Keyword,Category, Social Links)

Service Features:
US, UK, CA, AUS,DUBAI, IRELAND(anywhere in the world)
Provide live links and pending screenshots as proof of your pending Citations.
Create a new account for every listing
100% NAP Citations.
Citations w/ Logo & Other Images
Full Reports with login information (Excel File)
100% Manual Work
Highly recommended in Search Engines

If you need a citation builder, feel free to contact me.
What's included
Delivery Time
2 days
4 days
6 days
Number of Business Locations
10
25
60
Citations & Directories Review
Virtual Assistant - LinkedIn Specialist
Virtual Assistant Needed to Perform SEO Tasks
Regie is amazing. He is honest, trustworthy, and well organized. I have already hired him for another project on Upwork and raised his pay!
Searching for Virtual Assistant for Lead Generation & Doing tasks
Fantastic freelancer with great knowledge and can follow directions with ease.
Downloading files & structuring PDF files
Absolute great worker and really cares to do the job successfully. The communication is always awesome! Thanks. This job is finished.
Build cold email list
Your Virtual Right Hand: Versatile VA for Every Need
Your Virtual Right Hand: Versatile VA for Every Need
Cebu City, Philippines
- 4:15 pm local time
👋I'm Regie, Your one-stop virtual assistant for Administrative tasks, SEO, WordPress, and lead generation.🤝🏽

My services include:👨‍💼👨‍💼👨‍💼👨‍💼👨‍💼

📈📈Administrative Support:
Free up your time for critical tasks with my proficiency in email management, data mining, web research, data entry, social media support, and Canva graphic design.

⚙️⚙️WordPress Website Management:
Maintain and optimize your WordPress websites to ensure they are always up-to-date, secure, and performing at their best.

📊📊Search Engine Optimization (SEO) and Local SEO:
Enhance search engine rankings and visibility through keyword research, on-page optimization, off-page optimization, and local SEO.

💯💯Lead Generation:
Identify potential clients and customers using a variety of email finder tools, including Snov.io, Hunter.io, and Skrapp, to help your business grow.



Why Trust Me: 🤝🏽🤝🏽🤝🏽🤝🏽🤝🏽
✅Proven Track Record: Over 15 completed projects with a commitment to meeting deadlines and exceeding expectations.

🔍Meticulous Attention to Detail: I take pride in ensuring accuracy and quality in every task.

🤝🏽Client Satisfaction: Building lasting relationships is my priority, and my values of open communication, respect, and trust have earned me the satisfaction of diverse clients on Upwork.



Why Hire Me: 🚀🚀🚀🚀🚀
🤝🏽Committed Freelancer: I connect well with clients who approach projects seriously and offer flexibility tailored to your business needs.

⏰Dedicated and Responsive: I'm available to collaborate anytime, ensuring timely and efficient support.

🎯 Types of Businesses that Can Hire a Virtual Assistant:
Small Businesses, Entrepreneurs/Startups, Online Retailers/E-commerce, Consultants/Coaches, Real Estate Agents, Healthcare Professionals, Law Firms, Financial Services, Marketing Agencies, Tech Companies/Startups, Travel Agencies, Event Planners, Fitness Professionals, Restaurants/Food Businesses, Nonprofit Organizations, Academic Institutions, Construction/Contractors, IT/Software Development, Manufacturing Companies, Fashion/Beauty Businesses, Insurance Agencies, HR and Recruitment Agencies, Photographers/Graphic Designers, Freelancers/Solopreneurs, Government Agencies, Architecture Firms, Research and Development Companies, Language Schools/Tutors, Transportation/Logistics Companies, Pet Care Services.

📧 Reach out to me anytime if you need a reliable virtual assistant from the Philippines. 🇵🇭

💝 Thanks for visiting my profile. 👓

Warm Regards,
Regie 👨‍💼
Steps for completing your project
After purchasing the project, send requirements so Regie can start the project.
Delivery time starts when Regie receives requirements from you.
Regie works on your project following the steps below.
Revisions may occur after the delivery date.
I will submit your business information to the top local citation websites.
After I have done everything I will send you the log-in information and the live links to the top local citations. All the details are in the excel file.
Review the work, release payment, and leave feedback to Regie.