You will get a Castilian Spanish Corporate Video Narration (200 words)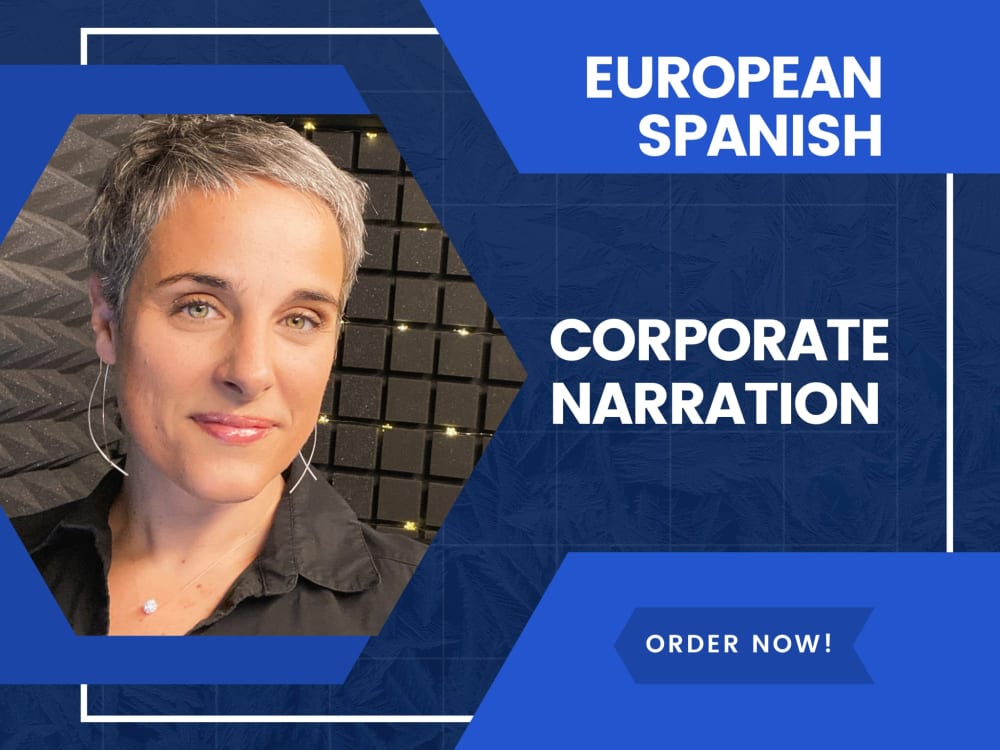 You will get a Castilian Spanish Corporate Video Narration (200 words)
I will narrate up to 200 words
I will narrate up to 2 min. video (about 200 words).
2 days
delivery —
Sep 27, 2023
Revisions may occur after this date.
Upwork Payment Protection
Fund the project upfront. Eva gets paid once you are satisfied with the work.
Project details
If you need a professional Neutral European Spanish (Castilian) voice over for your project, I'm the right person for you. This project offers voice over from 20$ (200words, about 2 Minutes)

*E-learning
*Youtube Channels
*Podcast
*Corporative
*Audiobooks
*App's
*Commercial

I have a sweet and versatile sound, and I'd be more than happy to lend my voice to your project.

My background as an actress, musician, and music production makes the perfect combination for our collaboration.

My professional equipment:
Microphones: Neumann TLM103
Interface: RME Babyface Pro
Computer: MacBook Pro 2,7 GHz Quad-Core Intel Core i7 Memory: 16 GB
Software: Reaper, Izotope RX8
Headphones: Beyerdynamic DT 770 Pro

Looking forward to working with you!

Eva Folch
Gender Female
Purpose eLearning, Video Game, Video Narration
Language Spanish
Accent European Spanish Accent
Age Range Adult
Tone Calming, Casual, Corporate, Dramatic, Energetic
Optional add-ons You can add these on the next page.
Background Music (Per Each Track)
+$20
Sync to Video (+ 1 Day)
+$10
Frequently asked questions
Talento de voz para el curso de arte de Feefal "Introduction to Digital Coloring"
Voice Recordings of Words in Spanish for Spain for Vocabulary Training It has been such a pleasure to work & collaborate with Eva on this project!

Eva is a voice talent expert who has previously already done professional recordings for children, be it for children applications and several animation films and audiobooks for children. She has also done recordings for learning material softwares many times, both for children and for adults.
Eva is also a proud volunteer in Learning Ally since 2019, a non-profit education solutions organization that helps kids with reading problems and dyslexia.

Outside of the above mentioned professional expertise, great communication and fast correspondence and availability, Eva has a nice, warm and reliable voice, and a good modulation of words which is essential for our needs. She also provided the recordings in exceeding quality, which made her a perfect fit for our project!

Highly recommended & hope to have the opportunity to collaborate again with Eva!
Denise
Spanish voice over recording - 1,200-words script
Excellent in all respects!
Locutora para el curso de Neimy "Figure Drawing for Beginners"
Eva quickly delivered the voice over for a 5 hours long art course in less than a week's time! She was not only quick but also very accurate and provided the corrections for the voice recordings almost immediately. If you are looking for a great quality Spanish voice and an excellent service, Eva is the right person to hire!
Locutora para nuestros cursos de arte
As always, it has been a great experience working with Eva! She has a great voice, communication is nice and friendly and she pays attention to every detail. Furthermore, she always delivers her job before her deadline. A++
European Spanish (Castilian) & Catalan Voice Over Talent
Bonn, Germany
- 7:47 am local time
European SPANISH VOICE OVER Talent & SINGER. ✅ TOP RATED - 100% job success ✅ My voice is warm, versatile, professional, and reliable and I'll be perfect for your Project. Whether you need a Corporate read, Natural, Professional Upbeat, Conversational or Friendly... I'm the right Talent for your female voice-over!

I'm a native Spanish Voice Talent (European - Castilian), from Barcelona, Spain.

I promise to deliver exactly what you expect! Professional and high quality recordings that sound exactly like what you can hear right in my demo.

What can you expect from me:

❇️ Professionalism
❇️ Fast Delivery
❇️ Award Winning Quality
❇️ Friendly Service

I'm focused on providing great voice overs experiences in Spanish (Castilian-European) for a variety of markets:

✓ E-learning content,
✓ Explainer/How-to videos,
✓ Training,
✓ Podcasts,
✓ Advertising,
✓ Audiobooks,
✓ Meditations,
✓ Video Games
✓ And more!

I have more than 20 years of experience on stage, a bachelor's and Master's degree in MUSIC from the "Royal Conservatory of Music in Den Haag". Because of my music production and acting experience, I found in Voice Over the perfect combination for me, and I love it!

Listen to my voice on my profile and contact me if you have any questions. I'll be happy to help you!

If you are not ready to book me yet, make sure to save me on your favorites list 💚, so you can find me again quickly for future projects.

Let's work together!

Regards,
Eva Folch


Steps for completing your project
After purchasing the project, send requirements so Eva can start the project.
Delivery time starts when Eva receives requirements from you.
Eva works on your project following the steps below.
Revisions may occur after the delivery date.
Send me the script
Send me the script with precise instruction of how do you want it? What type of voice, pace, feeling...the more precise you are the closer to the desired end product we will be!
Give me you deadline?
Let me know how much time do I have to do the job, and I will agree only if I have the time to make it!
Review the work, release payment, and leave feedback to Eva.