You will get Professional Cover Letter Writing/ Translation Services
Rosita K.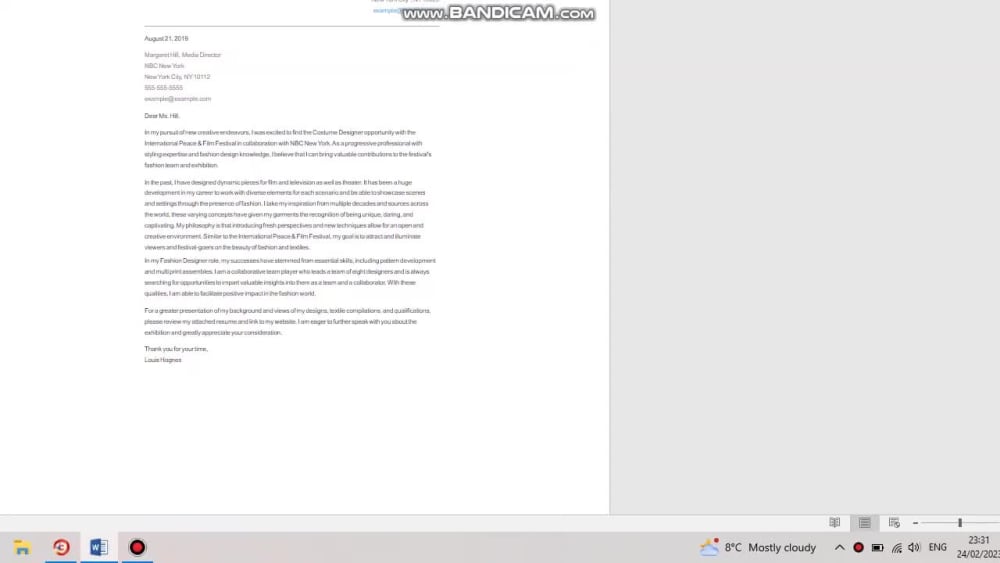 You will get Professional Cover Letter Writing/ Translation Services
Rosita K.
Number of Targeted Cover Letters

1
1 day
delivery —
Jun 4, 2023
Revisions may occur after this date.
Upwork Payment Protection
Fund the project upfront. Rosita gets paid once you are satisfied with the work.
Project details
With experience in both cover letter writing and translation, I am able to offer a unique combination of skills to you. I can write effective cover letters tailored to specific jobs and industries, as well as translate existing cover letters into different languages, ensuring that the translated version accurately conveys the intended message and tone. I pride myself on ability to provide fast and reliable services while maintaining high quality standards, ensuring timely delivery of projects.
Language English, Bulgarian, Croatian, Czech, Danish, Dutch, Estonian, Filipino, Finnish, French, German, Greek, Italian, Korean, Latin, Latvian, Lithuanian, Norwegian, Polish, Portuguese, Romanian, Russian, Serbian, Slovak, Spanish, Swedish, Welsh
$10
Number of Targeted Cover Letters

1
Optional add-ons You can add these on the next page.
Additional Targeted Cover Letter
+$7
About Rosita
London, United Kingdom
- 6:19 am local time
Hi, my name is Rosita, and I have a deep passion for languages. From a young age, I have been captivated by the unique sounds, structures, and nuances of different languages and cultures. I find it fascinating how languages can shape the way we think, communicate, and see the world.

Over the years, I have honed my language skills through dedicated study and practice. I am fortunate to be fluent in several languages, including Spanish, French, Portuguese and Arabic. I am always seeking new opportunities to use my language skills, whether it's through travel, meeting new people, or working on translation projects.

I believe that language learning is a lifelong journey, and I am always looking for new ways to expand my horizons. I see language as a bridge between different cultures, and I feel fortunate to be able to use my skills to connect with people from all around the world.
Steps for completing your project
After purchasing the project, send requirements so Rosita can start the project.
Delivery time starts when Rosita receives requirements from you.
Rosita works on your project following the steps below.
Revisions may occur after the delivery date.
Step 1
Receive requirement from client with details: such as outcome desired.
Step 2
Prepare provisional project.
Review the work, release payment, and leave feedback to Rosita.